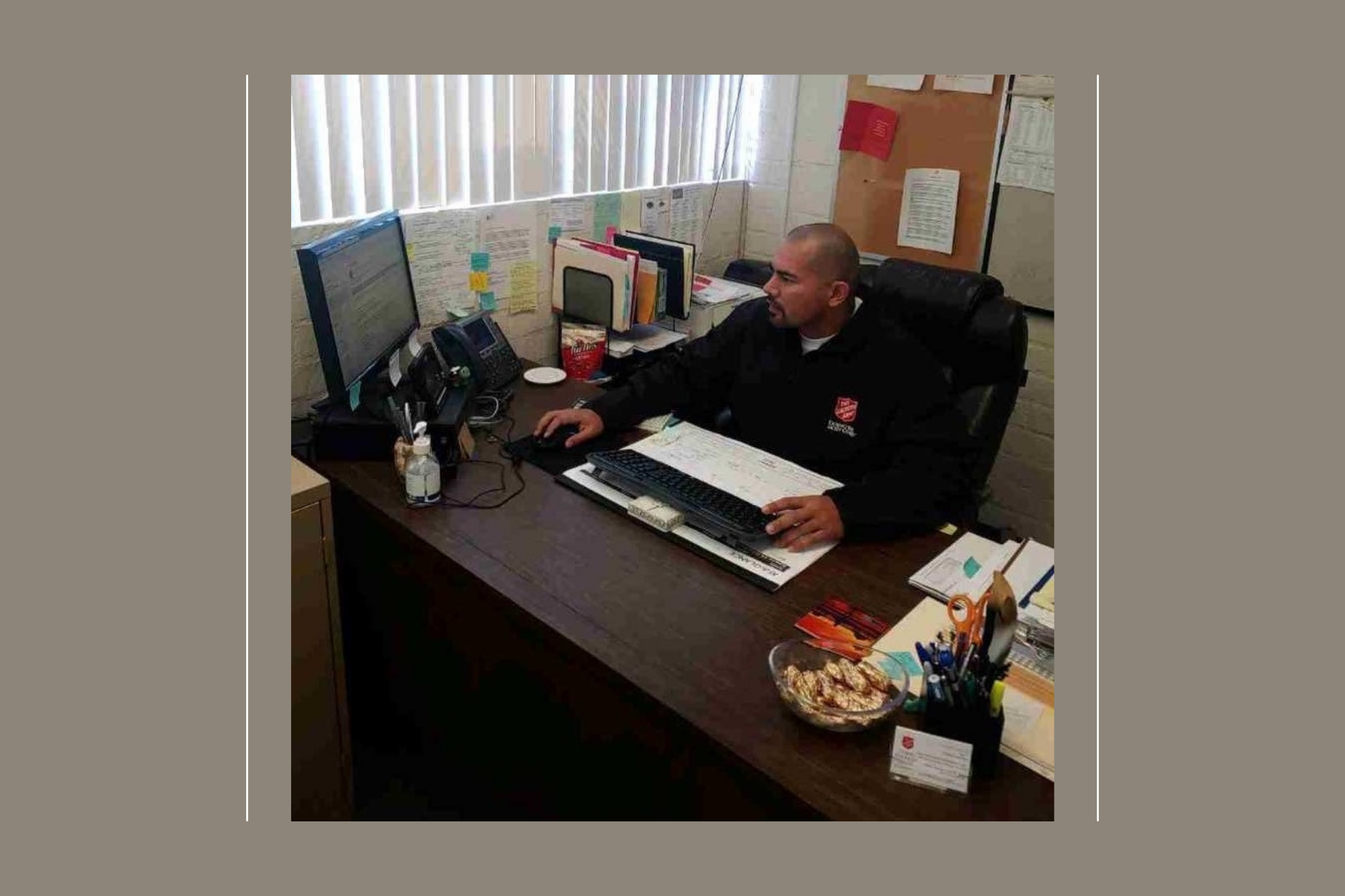 How one man's journey through recovery led to finding freedom in sobriety
Gilbert Espinosa said he never thought he would one day be working for The Salvation Army when he entered its Adult Rehabilitation Center program in 2015.
Before coming to The Salvation Army's Adult Rehabilitation Center (ARC) in Santa Monica, California, in November 2015, Gilbert Espinosa said he spent his life "in and out of jails, juvenile halls, [and] foster homes."
As a child, Espinosa said he watched his parents struggle with addiction and incarceration. In those moments of fear and helplessness, Espinosa said he prayed for God's guidance. When Espinosa's mother found sobriety and his father returned home from prison, he said he began to believe in God's power to answer prayers.
Later on when excessive substance use began to consume Espinosa's life, he said he turned to God again—"I got down on my knees and I prayed for some kind of help."
That help came in the unconventional form of another incarceration.
"That was the only way that I probably could have gotten sober…is if they took me physically to jail and kept me away from drugs and alcohol."
While in jail, Espinosa said he started to think seriously about going into a rehab program. When discussing his options, Espinosa said his attorney told him, "don't think about it, just go to The Salvation Army in Santa Monica, they'll take you."
So he did.
"The Salvation Army gave me a new way of looking at things," Espinosa said. Instead of trying to manage everything on his own, he said he learned how to turn his will over to God.
While in the program, Espinosa said he "discovered a passion to help people" that soon became his life's purpose.
Following his graduation from the six-month program, Espinosa went back to school to become a licensed addiction counselor. At the same time, he remained on bail awaiting trial for his case.
After Espinosa passed the California counselor exam, he was sentenced to be incarcerated for an additional nine months, which he called his "victory lap."
To be incarcerated again after finding success through The Salvation Army program, Espinosa said his perception and experience was "completely different."
This time, he no longer felt "locked up" because he had done the work to set himself free from the "mental prison" that was his addiction, he said.
"I knew I was done. I knew it wasn't for me no more. I had my freedom, thanks to God, and my drug addiction was not showing up at all," he added.
While serving his sentence, Espinosa began running meetings for inmates struggling with addiction. Through these meetings, Espinosa said he tried to "plant seeds" and redirect inmates to rehab programs. "I told them how I did it, which was through The Salvation Army," he said.
Upon his release, Espinosa began working in addiction treatment facilities while staying connected to The Salvation Army by sharing his testimony with ARC beneficiaries.
"I was working for about a year and then The Salvation Army in Santa Monica called me and they asked me if I was ready to come home."
Espinosa was offered the job as intake coordinator, taking over for Jesse Wright as he relocated to serve at the ARC in Canoga Park, California in June 2021.
"He was the very first person that ever gave me hope," Espinosa said of Wright.
"He helped me to keep things in perspective. He helped keep my goals in the field of vision. He helped me to understand that it is the process and everything I was going through is natural and normal."
Wright said early on he noticed Espinosa's potential for working in recovery. "He had this enthusiasm to help people that were suffering," Wright said.
Like Espinosa, Wright said he decided he wanted to be an addiction counselor while in treatment. While there are lots of challenges that come with working in recovery, Wright said being able to participate in someone's recovery transformation is "very rewarding."
"When God gives me the opportunity to interact with one of his souls, I don't take it lightly," he added.
"Gilbert and I both lived in the dark for a very long time, and we wanted to experience something different," Wright said.
"Both of us got a nudge from the judge or had criminal justice issues, which then facilitated a shift in our perception. As a result of this shift in perception, we both became willing to make the necessary behavioral changes that are required to experience different results on the backside."
In the 11 years that Wright has worked for The Salvation Army, he said Espinosa was the only person he knew of who ever completed the drug and counseling curriculum and passed the California state board exam.
"We've sent a few guys to school over the years. He's the only one that's ever finished," he said.
"Every now and then the universe gives us a soul that is capable of not only embracing the torch, but also perpetuating and carrying the torch," Wright said. "Gilbert did the work and he was a gift from God…a gift to humanity. And he's been a gift in my life."
In November 2021, Espinosa celebrated six years of sobriety. When asked what sobriety means to him, Espinosa said "sobriety means freedom."
"Freedom from all the things I was suffering from," he added. "It's the freedom from the addiction, freedom from all the character defects that were in my way and keeping me in prison in my own principles."
---
Do Good: