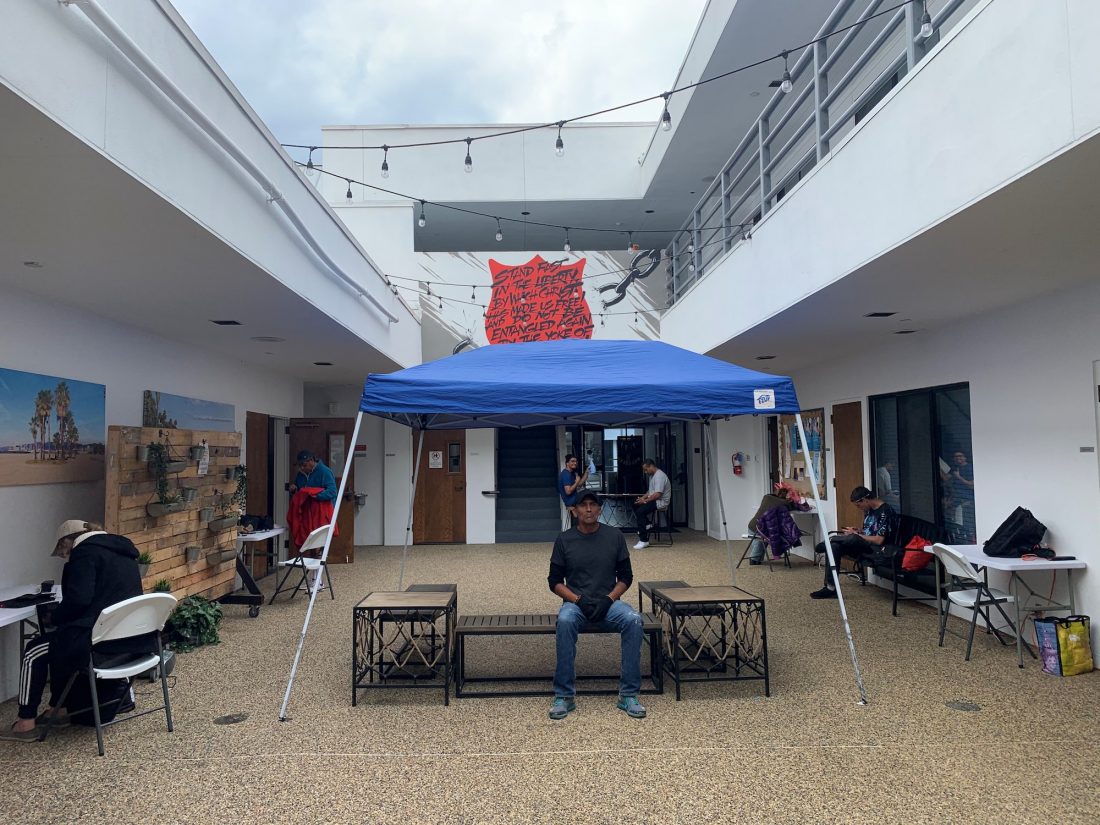 Ministry helps charge electronic devices of those experiencing homelessness in Santa Monica
March 18, 2020 marked the beginning of a new season within The Salvation Army in Santa Monica, California. When the COVID-19 pandemic hit, it was clear that we would have to think quickly toward creative solutions for a ministerial and neighborly presence in our community. The homeless population in Santa Monica has noticeably grown over the last few years, yet our services for them had remained the same.
On this day, Santa Monica libraries and other public facilities closed their doors. Nobody knew how long it would be until they welcomed people back into those spaces. Many of these buildings and services were used by individuals experiencing homelessness to charge their phones, utilize internet access for job searches, and to have a place to safely rest. When we became aware of this unmet need, we put our team together to come up with a solution. Thus emerged Re:Charge.
When the world around us began to "shut-down," we could not close our doors because it would directly impact the livelihood of an already vulnerable and marginalized community. We had to open them wider.
Re:Charge is one of our most fruitful ministries. We have transformed our courtyard with 10 socially distanced stations, each with access to multiple outlets and power cords. Everyone is allotted one hour to charge, the tables are sanitized, and we welcome in the next people waiting. This continues for multiple hours each day, multiple days a week. During this time, there is rest in this building.
This ministry continues to evolve and grow. Throughout the last few months, we have incorporated playing worship music through our speakers. This has uncovered a new layer to an already fruitful program. We get requests for certain songs, followed by singing along and dancing to the beat. During this time, there is joy in this building.
More than anything, having enacted this new program for our community provides humanizing awareness. A place to sit down and rest, talk and laugh, eat and drink, is something that can connect us all.
One man came in to charge and he was so cold, his body was viciously shaking. It had just rained, and he was unable to clear his stuff out of the rain before the night fell. Through conversation, grace, and hot coffee, he was able to relax and regain strength. During this time, there is hope in this building.
It is not uncommon to see people sleeping while their devices are charging. We encourage it.
It is not uncommon for greater needs to be met within the hour of the devices charging. We hope for it.
In fact, it is far beyond uncommon that my heart is not transformed by the constant movement of the Holy Spirit during these times. I live for it.
---
Do Good:
You can make an impact in the Fight for Good with whatever time and skills you have. Whatever your interest, there is a you-sized need for goodness in the world. Get the guide on How To Be An Impactful Volunteer and get in the Fight for Good today.