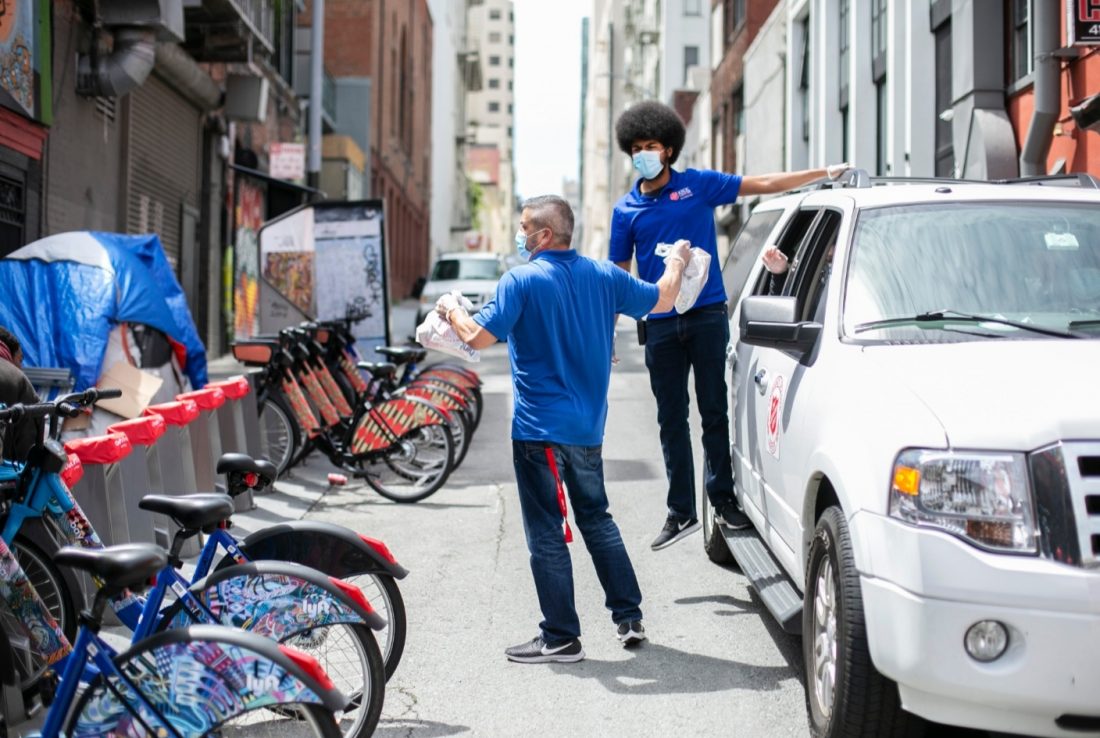 How one man's life transformed when he viewed God through 'a different lens'
Chris Audette found hope and a new understanding of God at the Stockton Adult Rehabilitation Center.
Chris Audette never expected to be where he is today. "If you had told me 25 years ago that I'd be employed by The Salvation Army and working in social services, I'd have said, 'no way.'"
Now, at age 47, Audette is Director of the San Francisco Kroc Center.
Once, his goal was simple: make a lot of money. "I had the gift of gab, so I became a salesperson," he said. Soon he was working in the mortgage/lending field. Residing in California's North Bay area, he got married at 24 and started a family.
Audette always knew he enjoyed a drink more than most. "I worked hard and played hard…I was a functioning alcoholic and for years I never got in trouble with the law. I managed to stay out of trouble until I was 36. All my relationships were damaged during that time but I didn't realize it."
In his early 30s, Audette pursued plans to open his own State Farm insurance branch. He had secured the office space and started hiring, when the economy tanked. In 2008, he gave up on pursuing the business. This was a big blow; both he and his wife had invested a lot of time and energy in it.
For the next couple of years, Audette was unemployed. "By March 2010 I was not feeling too great about myself," he said. His drinking continued. "I don't know if the business failed because I drank too much, or if I drank too much because the business failed."
He stayed in school during this time, though, completing a bachelor's degree in business March 11, 2010—the day he was arrested for the first time. He'd been celebrating, and he showed up at the grocery store inebriated with his young daughters in tow. The cashier called the police, who arrested Audette in the parking lot for child endangerment.
"You'd think that would be my wake-up moment, but no," he said. "At that time I just wanted to clear my record."
He willingly entered a 30-day recovery program, the first of three such programs over the next 12 months. His wife's insurance covered the treatment, but after the third one, they were done. Although he tried to get better in these programs, they didn't have the lasting impact he hoped for.
He was arrested two more times, March 14 and 17, 2011—two DUIs in 72 hours. The first occurred after a fight with his wife, when he decided to get drunk and drive to Canada—California's Interstate 5 goes all the way to the border. After starting his drive, all else was a blackout and he woke up in jail. His car had been impounded, and upon his release, he walked 11 miles to retrieve it. During that walk he swore to himself he would never drink again.
When he reclaimed his car, he found the bottle of liquor still in the front seat—he couldn't resist it.
He continued drinking that night and the next day, only stopping to go to work at the car dealership he had finally found work at. The next morning he ventured out for more. When he returned to the Motel 6 where he was staying, instead of hitting the brakes in his car, he hit the accelerator, and drove right through the wall of the motel into a room, fortunately unoccupied.
Thinking maybe nobody had noticed, he backed out of the lot and headed home to hide the car in the garage. The police quickly nabbed him, though.
"My wife was through with me at that point," Audette said.
His family tried to get him into another program, but insurance wouldn't pay for it. A program counselor referred him to The Salvation Army's no-cost Adult Rehabilitation Center (ARC) program. That was fine with Audette.
"I was looking for a place to hide out from the law," he said. He entered the Stockton (California) ARC May 6, 2011, and completed the six-month program Nov. 2.
The ARC program differed from the earlier treatment he received. Besides being a longer program, it presented God in a new light.
"While in the other programs, I couldn't forgive myself because I didn't believe God would forgive me," Audette said. "The God I knew was not a forgiving God, and a 12-step program with God at the center of it was not going to work for me. In The Salvation Army, I found a forgiving God; God has grace. He was going to forgive me. I was getting to know God through a different lens."
Audette said he stayed busy and had to work hard, which distanced him from his physical addiction and allowed him to gain some clarity. He began to really consider the messages in the daily chapels, and he meditated on Scripture, including Proverbs 3:5-6 and 2 Timothy 1:7.
"I started getting better," he said.
About five months into the program, his wife—who had visited him during his time at the ARC—had news for him.
"I can't risk bringing you home," she said. Family life was peaceful now; the kids were happy. She didn't want any more chaos.
"This was a pivotal point in his life," said Major Dan Williams, who was then the Lodi (California) Corps Officer. Williams said he talked with Audette about what he was going to do. "At that point I saw a change in Chris. He didn't let Satan win. He surrendered everything to God, knowing God had a plan for him. It showed his integrity…he had to go through this moment to become the man he is today."
Audette decided to go to the Army's Hope Harbor shelter in Lodi when he completed the program, where he could plan his next steps.
His wife showed up at his graduation, though, and they reconciled; he got to go home. Now he just had to find a job.
"Between November and January 2011, I applied for 150 to 170 jobs. I only interviewed at three places and they were going to hire me. Then they ran my background check…Three months of this and I couldn't get a job.
"I was so frustrated. I started praying, 'God, what do I do?' I fell asleep praying that. When I woke up, one phrase was in my head. God was telling me, 'Do what you know.'…The only thing I knew was The Salvation Army."
Audette considered the job postings for the Suisun City Kroc Center, scheduled to open in May 2012, and figured he qualified for either the front desk manager or the marketing manager.
When he applied and heard nothing, he started calling then-Kroc Center Corps Officer Captain Jonathan Harvey.
Eventually someone called him back and told him to show up at an upcoming job fair. When he did—in his best professional attire—he recognized Jonathan Harvey and went right up to him.
"Hey. I'm the guy who's been calling you," he said. Harvey got him an interview.
Afterward, they told him they weren't hiring him for either position. Instead, they were combining the positions so they could offer a higher salary.
Things began to take off for Audette.
"I worked hard and the center did really well," he said. "I felt good about selling something other than products; I was selling programs and services that do good for people."
Harvey recalled how Audette immersed himself in the role of marketing manager. "His drive further fueled our energetic team and resulted in the Kroc Center being known for its culture of excellence and as a unifying hub in the community."
Audette did whatever needed to be done, filling in different positions as needed. In the middle of his third year there, he was promoted to Associate Director.
During this time, his relationship with God was deepening. He and his family worshipped at the Kroc Center Corps and participated in corps activities.
"I remember one Sunday asking Chris to share his testimony," Harvey said. "It was so powerful, there seemed to be no reason to preach. He had shared the gospel story, the redemptive power of God's grace and called the congregation to action!…Chris' transformation is truly remarkable and a testimony to the importance of The Salvation Army's recovery programs."
In 2017, after five years at the Suisun City Kroc Center, the director position opened up at the San Francisco Kroc Center. Harvey said he was proud to recommend Audette for that position. Audette was hired, and he's been there ever since.
"Chris has a spiritual and missional drive that cannot be taught," said Captain Craig Rodriguera, Corps Officer and Executive Director for the Kroc Center and Railton Place. "He understands what a transformed life looks like and uses that to propel others to be better. He wants that for all those that we come in contact with."
In 2015, while at the Suisun City Kroc Center, he began a master's program in Clinical Mental Health. He completed the degree in March 2020, after doing his clinical hours at The Salvation Army Harbor Light in San Francisco.
Three months ago, in August, he started teaching at Napa Valley College.
"It's hard to believe I'm now teaching Career/Life Planning and Human Services," he said. "I try to speak into people, to encourage them…God's been good to me."
Now, with 10 years of sobriety, Audette knows he wouldn't be here without journeying through that difficult season.
"God had a plan and a purpose for me to be a better father, a better husband and a better individual," he said. "I am blessed and privileged to influence change through the robust programs and services of the Kroc Center, in the field of recovery and as a college professor speaking into our next generation."
---
Do Good:
Did you know The Salvation Army served 31 million Americans last year fighting hunger, homelessness, substance abuse and more—all in a Fight for Good? Where can you help? Take our quiz to find your cause and learn how you can join in today.
Do you enjoy inspiring stories of impact that build well-being for all? Want to know how to get involved in doing good right where you are? Interested in tools for taking your next best step, owning your story and stepping into your calling? Like reminders that God is good, faithful and offers you joy and peace? Get the Do Good Digest and find weekly inspiration right inside your inbox.
Find out more about The Salvation Army's Adult Rehabilitation Centers and how they work.