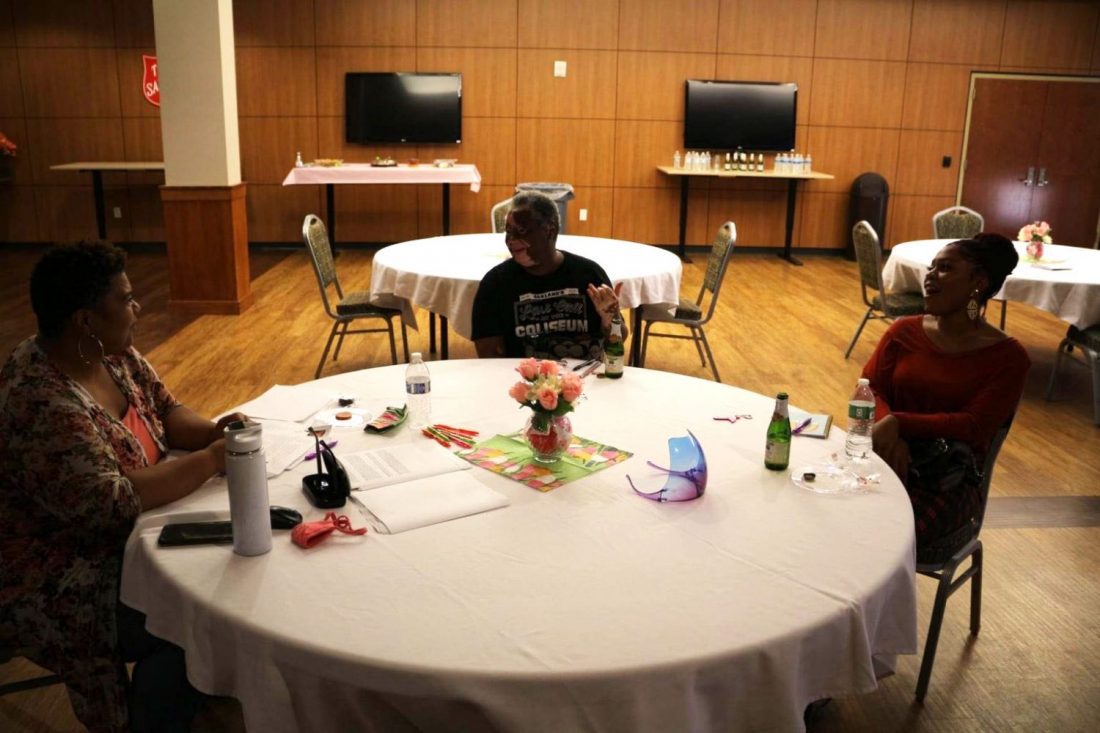 Creating a safe space for single mothers through ministry in Suisun City
Kimberly Gates longed for a place for single mothers to come together, support one another through the challenges of parenting and grow together in Christ. So, she approached Majors Tracie and Randy Hartt, Corps Officers at The Salvation Army Ray and Joan Kroc Corps Community Center in Suisun City, California, with the idea for a new Single Moms Ministry. 
"Moms are afraid to open up and be transparent about how they're feeling when they're struggling and I just want to make it a safe space where people like me will have somewhere to come and be loved and encouraged and fed into and to know that they're not alone in the struggle," said Gates, a single mom who serves as the Suisun City Kroc Center Single Moms Ministry Leader.  
Tracie Hartt looked forward to launching the ministry at the corps and the opportunity to serve single moms in a new way. 
"We were super excited about the opportunity to be able to reach a population that we hadn't reached before. There's a lot of single moms where we live here in this community," Hartt said. "[Kimberly] struck a chord and I think it was a vision from God." 
The ministry's first meetup was in June, and it will take place every fourth Friday of the month. Curriculum for the program is based on The Life a Single Mom—and it will cover topics including health, finances, parenting and relationships. Gates said they'll talk through being a single parent and a believer and the struggles of dating, parenting alone, managing finances, not losing oneself, and staying on track with God's word. 
"We'll definitely focus it on the Word, but also, again, make it a safe space for people to be vulnerable and speak their truth about where they are in their parenting, to know that they're not alone, and be able to fellowship with other single mothers…and just relate to one another and encourage one another," Gates said. 
Free childcare is provided for mothers attending the ministry, so they can have time to themselves to partake in conversations with other adults.  
The Single Moms Ministry had been slated to begin on Mother's Day in 2020, but the COVID-19 crisis put everything on hold. However, Gates said the program could not be starting at a better time as things start to return to pre-pandemic levels.
"A lot of us single moms like myself [were] working at home. My kids [were] doing school at home, so not only were you the parent but also the teacher. For me, when my kids went to school or I went to work, that was sometimes my break," Gates said. "With the pandemic, we got no break. So I really feel like now that things are starting to open up, that single moms really need somewhere to go and kind of release what's happened in the last year and a half and get past that." 
And Gates wants the Single Moms Ministry to be a place where single mothers can do that. 
"I hope they leave encouraged, empowered, and closer to God—believing and knowing that he is the source of our strength and that's how we can definitely manage and get through these things and really just know that you're not alone," Gates said. "You have your sisters in Christ here, we're here, and you're not alone. We all go through some of these adversities and with God, we can get through them."  
Hartt's goal is for the women in the program to feel supported. 
"I hope that they feel like it's a time just for them…a time away from their kids, but also just a time to let their hair down, a time to be pampered, a time to learn, [and] a place where they can meet other friends and find that they don't have to do life alone, but also know that there's a community here in Suisun City that wants to walk beside them," Hartt said. 
Gates hopes for the ministry to grow beyond the Suisun City Kroc Center to other Salvation Army corps. 
But in the meantime, Hartt also dreams of the ministry growing and drawing the single mothers to the corps. 
"Maybe there are women out there who don't have a church community to support them," Hartt said. "I would love to see The Salvation Army be that community for them."   
Photo courtesy of Suisun City Kroc Center.
---
Do Good:
You've probably seen the red kettles and thrift stores, and while we're rightfully well known for both…

The Salvation Army is

so much more

than red kettles and thrift stores. So who are we? What do we do? Where?

Right this way

for Salvation Army 101.

Get support from moms who are right there with you.

Join the Caring Moms Collective

and find

a place of low-pressure, high-encouragement love anytime you need it, whether you know it or not. Get in the group today.  

Read more about the

Caring Moms Collective

.