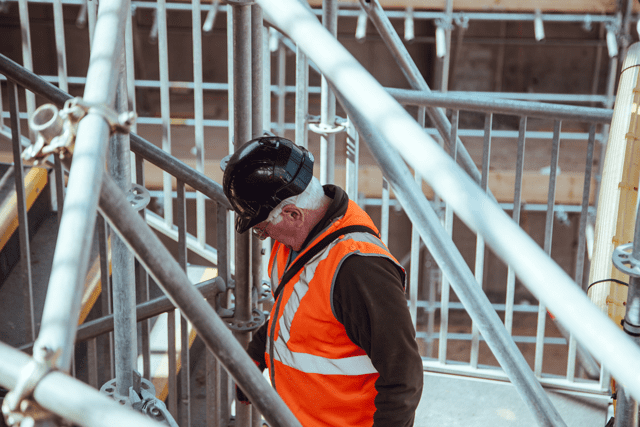 Salvation Army clients complete Lodi construction program
Nailing opportunity amid construction skilled labor shortage
By Vivian Lopez –
Three Salvation Army clients were among a recent graduating class of a new two-week construction training program in Lodi, California, established by the Lodi Committee on Homelessness.
Born out of a partnership between the committee and the Associated Builders and Contractors Northern California Chapter, the program resembles The Salvation Army's Construction Training Program in Sacramento, in which it also partnered with ABC NorCal.
The efforts by The Salvation Army and Lodi Committee on Homelessness to connect clients to construction jobs come at a time of increased employment opportunities in a field facing a shortage of workers. According to the U.S. Bureau of Labor Statistics, the construction industry has surged, adding 257,000 jobs in the last 12 months. However, the 2017 Commercial Construction Index reports that 56 percent of contractors continue to find it difficult to find skilled workers to fill these jobs.
"Across America, including Lodi, there is a severe shortage of skilled labor, especially in blue-collar areas," said Captain Martin Ross, Del Oro Divisional Secretary for Harvest Initiative and Sacramento Social Services. "It lays out a compelling argument that this could be an area that The Salvation Army could forge into that could be just as transformative as our red kettles and Adult Rehabilitation Centers for positive community change."
Ross introduced the idea for the program to the Lodi Committee on Homelessness when he previously served as Lodi Corps Officer.
The Lodi construction program was open to the area's homeless population. Pat Fehling, committee member and Salvation Army Lodi Advisory Board member, reached out to clients at the Salvation Army Stockton Adult Rehabilitation Center to encourage them to participate.
"Construction is pretty lenient on past offenses, and the construction companies also pay marvelously," Fehling said. "The men and women have some innate talents…that they can bring and get a profession with for the rest of their lives."
Fehling conducted interviews for the program alongside John Narvaez, Director of The Salvation Army Hope Harbor Shelter in Lodi, and chose six participants. Three Stockton ARC beneficiaries were selected for the program, and were offered transitional housing at Hope Harbor while they completed their training.
The Lodi construction program curriculum covered Occupational Safety and Health Administration certification training, as well as hands-on electrical training. Major Mark Thielenhaus, Salvation Army Lodi Corps Officer, said he popped in on a training session, and was happy with what he saw.
"I got to see a few of our men completely excited about getting back to work, and having hope and options for where their life is going to go once this training is done," Thielenhaus said. "I'm just excited to be in a location where we're serving more than just immediate needs, and we're helping to make some long-range change both for our clients and our community."
Upon completion, Narvaez said program participants completed testing in May for ABC NorCal, and if they passed, they would be connected with employers to start an apprenticeship.
Narvaez said the program participants were excited and thankful for the opportunity.
"They're now in a position where they can build whatever future they want for themselves," Narvaez said. "The exciting thing for them is that it's a career, not just a job."
Joseph Malta, a Stockton ARC graduate and Lodi construction program participant, said the whole training experience was fun. He liked the hands-on training, and the program made him feel like he "could actually learn a new trade and excel at it."
"I really enjoyed it because I like learning things," Malta said. "It honestly just gave me a new direction and a new zest for life."
Now that he has completed the program, Malta is pursuing an apprenticeship, taking the exam in May through ABC NorCal in hopes of securing job placement as he continues to learn. He hopes to eventually become a journeyman electrician in a few years.
"The program has given me a future," Malta said. "It just really gave me a positive outlook on life."
Narvaez stressed the importance of this program for the Lodi community.
"There's a huge need for it in this area," Narvaez said. "Here in the Central Valley, now that the economy is doing better, there's a lot of building going on."
Fehling also said there was a construction boom in Lodi, and she hopes to secure funding to offer the program at least once every six months or every quarter.
Ross hopes that these efforts to connect clients to employment will become a strategic initiative within The Salvation Army. He organized a Workforce Development Symposium at ABC NorCal in May to introduce more corps officers in the Del Oro division, facility directors and advisory board members to the construction training program partnership, in hopes of expanding it to other locations.
"Everybody's excited about getting people back to work," Ross said. "It's really the best form of evangelism to teach someone to fish, instead of just giving them a fish because then they can duplicate the same thing. It's super exciting and I think it can be transformative for The Salvation Army's positioning within the communities we're in."