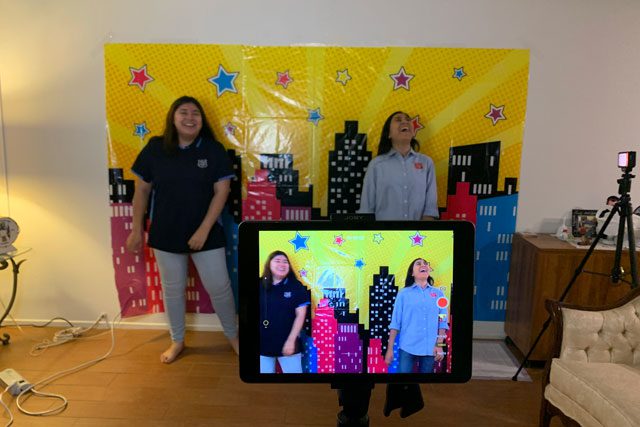 Virtual Summer: Reaching families at home with VBS
Staycation Bible School in 2020.
By Hillary Jackson –
Vacation Bible School (VBS) is a summer staple—and something many kids look forward to each year. Like so many annual traditions, COVID-19 has changed how The Salvation Army can hold VBS, but with some creativity, the California South Division proved virtual VBS can be fun and meaningful, too. 
"These kids, for starters, were expecting to get out of their house to do VBS. They expect it every year," said California South Divisional Youth Secretary Captain Juan Barriga. "It's a double whammy: Not having VBS and being stuck in the house…without being around people."
The El Centro Corps was the first in the division to hold VBS virtually, beginning May 18, with a Hero Academy theme. The corps invited the youth department to help them with teaching, and department members recorded some of the lessons.
"We were unsure what a virtual VBS would look like," said Divisional Youth and Candidates' Secretary Captain Claudia Pardo-Barriga. "El Centro gave us an example of how it would [happen]…They were the pioneers in this new world." 
From there, the youth department built off the work in El Centro, when shortly after they were approached by cadets appointed to the Hemet and Riverside Corps that had partnered for summer camp in a box and a virtual VBS, themed Mystery Island.
The non-traditional efforts allowed the Riverside Corps to minister to 20 children in a nearby family emergency shelter, delivering activity bags for VBS. The Hemet Corps reached new families through its drive-through food distribution, where it promoted the virtual camp and VBS, and showed people how to like the Facebook pages where the videos were distributed. A new family came to the Hemet Corps' Sunday evening socially-distanced fellowship time in their parking lot as a result.
From there, the youth department helped three corps create a shared virtual VBS, themed "Intensamente Con Jesus," based on the movie "Inside Out." This time, the collaboration was between the Hollywood and San Fernando Valley Corps, along with the Phoenix (Arizona) Maryvale Corps from the Southwest Division. Every night the four groups had a Zoom meeting, and the youth department coached them on how to do the videos, and gave tips on things like which green screen to buy.
"It was a great learning experience for all of us," Claudia Pardo-Barriga said.
Each corps took a different aspect of VBS each day, alternating between the Bible story, memory verse and craft segments. Each day focused on a different emotion: joy, sadness, fear, anger and disgust. The group strategically planned the crafts and snacks, buying in bulk to be good stewards, she said. Participants signed up via Google Form and the corps officers distributed the activity bags ahead of time. The officers decided to make the VBS bilingual, leaning more toward Spanish to encourage parental involvement—and it made a difference.  
"In this VBS, they wanted activities—something they could do at home," Juan Barriga said. "In some of the photos, you see the parents playing. We didn't expect that. We thought that once we put the video out on Facebook…we'd have the children watching and doing it by themselves, or maybe the parents helping."
If families sent in photos of the activities, they could earn points to win prizes and be featured in the following VBS videos. Each day during VBS, Juan Barriga put together the final video product, adding the pictures that people would send in to the videos the department had spent two weeks putting together.
"That way the kids could see their face and say, 'Wow, I'm on TV.  I'm on video, and it looks good," Juan Barriga said. "They could feel special."
Each corps shared the daily videos on its own Facebook page, so people could associate the program with the corps. And the feedback has been positive. Phoenix Maryville Corps had two new families send them messages saying they want to join the church once it reopens because they participated in VBS. 
Virtual VBS also allowed the Army to have a greater reach—corps have reported participants tuning in from places including the Northwest Division, Tallahassee, Florida, and Chile. A grandmother in Mexico saw the video, purchased the supplies and gathered her grandchildren around the table for VBS.
The Sunday following VBS, the participating corps held altar calls on their Facebook pages after Claudia Pardo-Barriga's mother, a retired officer, noticed it was missing from the program. The Hollywood Corps received a message from a parent saying his daughter had repeated the words to accept Christ.  
"It's amazing how with COVID-19 [we weren't sure] how to do a VBS, and we saw El Centro …so we got encouraged, we got ideas from them and we started planning with San Fernando Valley, Hollywood and Phoenix Maryvale, gave guidance to Riverside and Hemet, but we never stopped learning," said Claudia Pardo-Barriga. "Even to the last minute we were learning…we were able to save it. In saying that it gives people the opportunity to see that we'll make mistakes in our planning. It's not going to be perfect, but the Holy Spirit will guide us."
Phoenix Maryvale Corps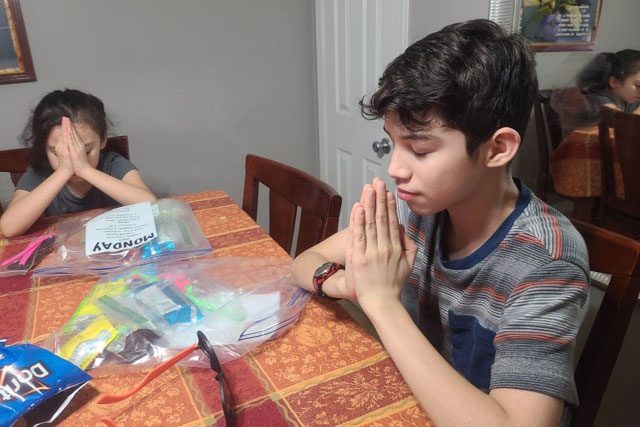 "A member from one of the families tested positive for COVID-19, so the whole family had to get tested," said Corps Officer Captain Joseph Cisneros. "On Tuesday, they received the results and everyone else in the family tested negative. That was the day we did the rainbow snack and the family saw it as a promise from God."
San Fernando Valley Corps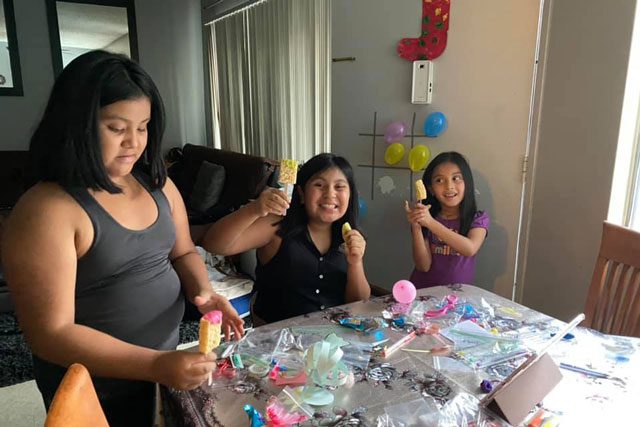 "We reach many Hispanic families, including people from other countries," said Captain Nancy Argumedo. "Maria Estela Avila from Zacatecas, Mexico, watched the videos and went to buy the things she needed to do the crafts, snacks and activities for her five grandchildren. Non-Christian children learned Bible stories and memorized Bible verses. They said that every day the children were excited to watch VBS, and they are asking us to do more."  
Hollywood Corps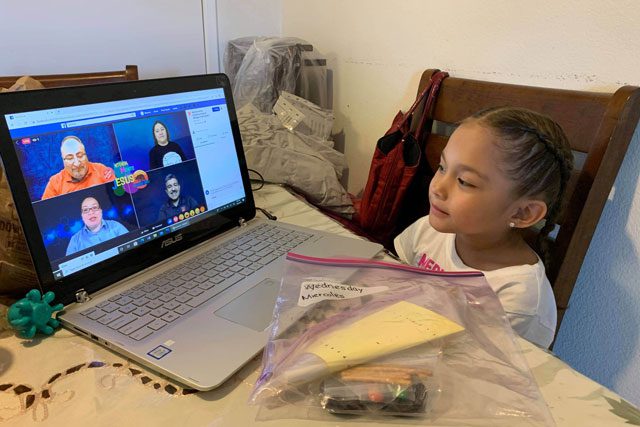 "We had the last meeting on Facebook where we asked if anyone wanted to accept Jesus Christ in their hearts," said Lieutenant Michelle Miranda. "We had the Corps Officer do the prayer in the video and a parent wrote in the messenger that his daughter has repeated the prayer too."
Hemet Corps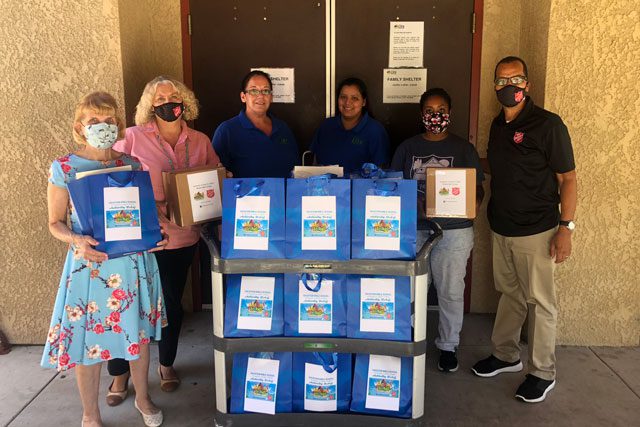 "We had about five extra 'camp in a box' boxes made up. We have a drive-through food pantry…For whatever reason, a few kids inspired me to ask them if they wanted to be part of 'camp in a box' and VBS. Of course, the kids were so excited, so I stood there and guided the mom through 'liking' our Facebook page where she could let her kids participate," said Lieutenant James Fleming. "Later the next week, the mom messaged me asking if I knew of a resource to help her kids with clothes. I was able to give a voucher for the thrift store. The little girl wrote me a letter to thank me."
Riverside Corps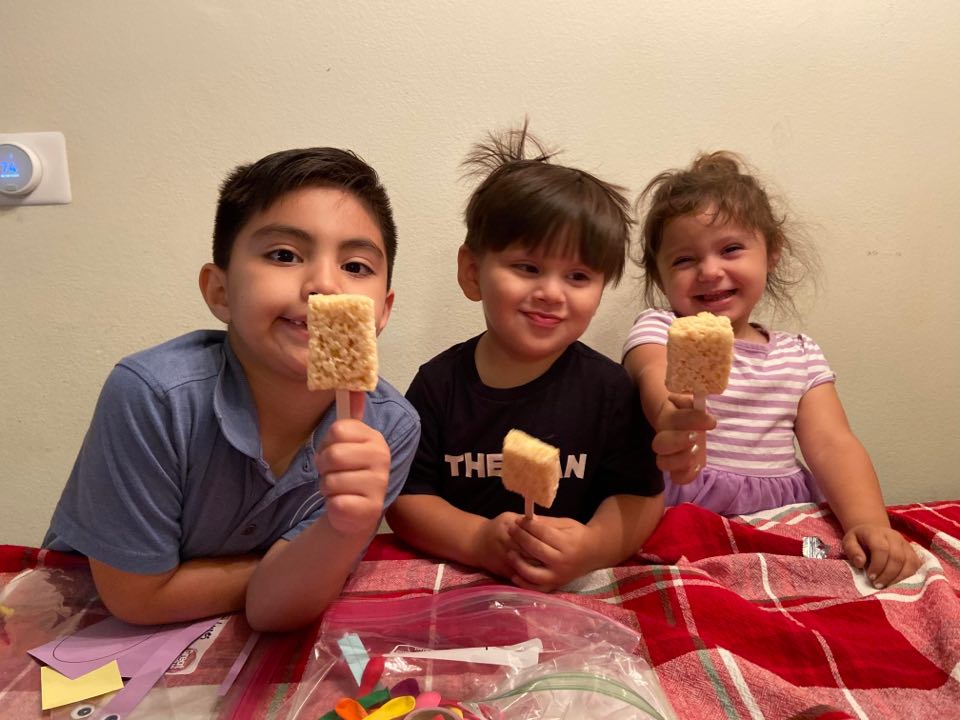 "Riverside, with the leadership of Captains David and Kelly Cain saw a window of opportunity to minister to the children in a family emergency shelter that is temporarily using an area of its facilities," said Cadet Carl Esquivel. "In a process that took two weeks, they allowed The Salvation Army Riverside Corps to deliver Mystery Island VBS activity bags for the 20 children in the family emergency shelter."
HOW TO HELP:
If you'd like to make a monetary donation, please

click here to make a gift.

Text 'GIVE' to 52000 to make a $10 donation to The Salvation Army. This will automatically add a one-time donation to your next mobile phone bill.

For information about volunteering, please visit

volunteer.usawest.org

.

To learn more about how to support The Salvation Army's relief efforts,

please click here

.