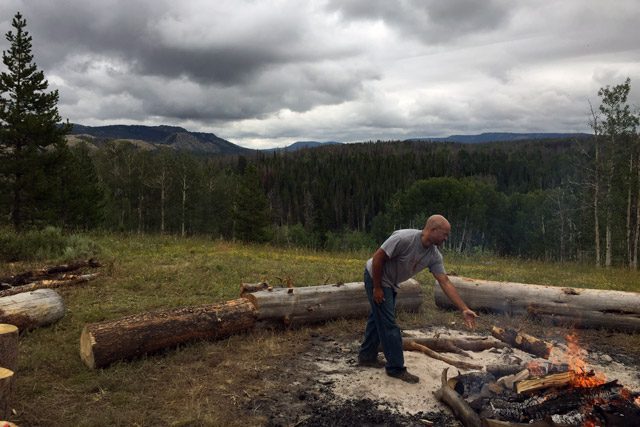 Natural rehabilitation
Salvation Army receives large forest donation, which is being used for therapy.
By Tahreem Pasha-Glenn –
When Dr. Paul and Joan Broome donated 500 acres of Wyoming land to The Salvation Army in 2014, the Army decided to allow the public to enjoy its natural beauty. Aspen Alley—with rich Aspen trees, clear blue creeks, abundant wildlife and tall scenic mountains—is located in the midst of Wyoming's Medicine Bow National Forest.
It is a spectacular setting for solitude, reflection and self-discovery—and so the Denver Harbor Light and Adult Rehabilitation Center (ARC) planned a four-day wilderness expedition there. Twenty-one men signed up.
"I jumped on it," said Derek, one participant. "I was incarcerated before entering Harbor Light and saw sunlight four times in 22 months. This was a perfect way to be one with nature and God."
Arriving at the base camp, the participants said they were overwhelmed by the abundance of natural beauty.
"I found God everywhere I turned," said Tom.
For Derek, the open skies and fresh air were a chance to breathe again. Mornings started with a prayer and a group activity directed by Dave Gifford, counselor from Harbor Light and troop leader. From there, the men chose a partner and picked an activity like hiking, nature walks or swimming. They were encouraged to pay attention to their surroundings and notice the little things.
The men shared that it was a great way to just ease their minds and recognize God's blessings. They said spending time in this unusual setting also brought them closer to each other, and they took solace in knowing they could rely on each other for strength. Each day ended with a hearty family meal at base camp where they shared the day's experiences.
According to Gifford, there was a plan and safety measures in place but every minute of the day was not structured.
"The men returned to Harbor Light more focused and motivated to see the program all the way through," Gifford said. "I think this was a good component added to their therapy."
It was the start of big plans for Aspen Alley, as next year, the wilderness camp will offer a variety of programs for teens, men and women.