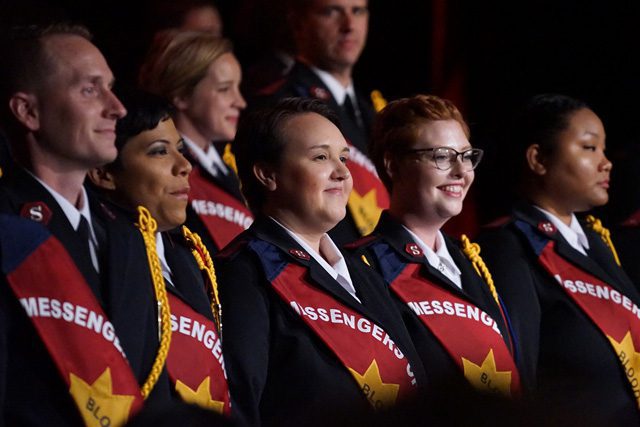 Messengers of the Gospel sent into the West
Session receives first appointments as Salvation Army officers  
More than 2,000 Salvationists and friends of the Western Territory welcomed the Territorial Executive Council with territorial leaders Commissioners Kenneth G. and Jolene K. Hodder to the stage of the Pasadena (California) Convention Center Civic Auditorium June 10 for the 2018 Service of Appointments.
Following an introduction to this year's Service Corps teams and Long Service Order recipients, the now second-year Messengers of Compassion Session took to the stage before the newly commissioned Messengers of the Gospel marched in, each draped in a red session sash.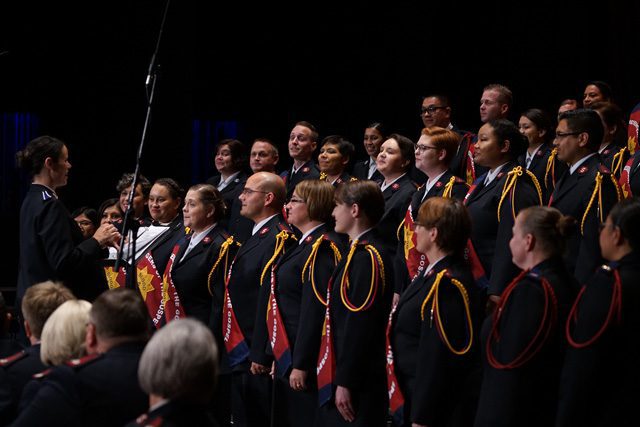 A Massed Signing Company led by Jacqui Larsson sang "I'm A Soldier" (Jukes/Broughton) before Chief Secretary Colonel Douglas Riley led attendees in singing "On We March," accompanied by the Western Territory Staff Band, led by Territorial Music Director BM Neil Smith.
Pasadena Tabernacle Corps Officer Captain Terry Masango offered a prayer before the Territorial Creative Arts Ensemble presented Scripture, demonstrating that it takes just one minute to tell someone about Jesus and change everything for that individual.
"I believe The Salvation Army is being used by God; if I didn't, why would I spend my life serving in its ranks? Why would you?" asked Kenneth G. Hodder in an urgent call to action for everyone present. "I certainly don't know what his plans are, but I believe with all of my heart that God's spirit is working through The Salvation Army.
"Wherever Salvationists meet, teach, serve and even suffer in the name of Jesus Christ, the world gets another taste of Christ's love and grace and mercy—and the world needs as much of that as it can possibly get," he said. "Wherever The Salvation Army advances, so does the gospel. Hallelujah!"
Both sessions of cadets sang "We've Got Good News" (Rob Little/Nicholas King) before Lt. Aaron Ruff gave his testimony.
"I attribute the fact that I am up here, mainly, to two things: the undeniable, extravagant and radical grace of God, and the legacy that was left behind and is being passed down at this very moment by Godly men and women," Ruff said. "As you leave here, commit to leaving a legacy, an imprint of the love of God on your families, on your significant relationships, on complete strangers, on the left out and marginalized, both through words and actions."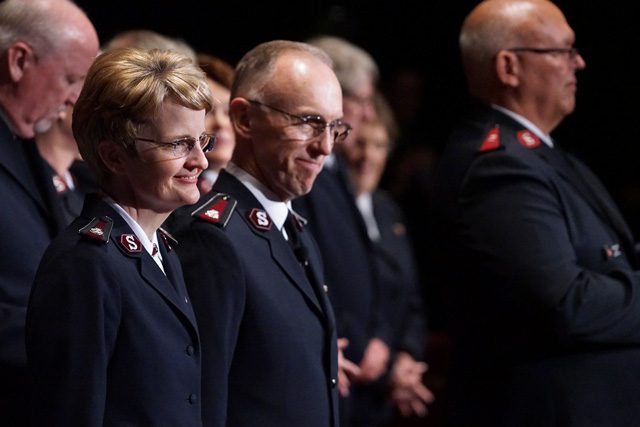 In a moment of special recognition, Hodder presented to four officers a new Divine Servant award in honor of corps officers who by their conduct and leadership best exemplify what it means to be a servant in the name of Jesus Christ. Recipients included: Captains Sean and Bonita Kelsey, Corps Officers of the El Cajon Corps, and Majors Rob and Amy Reardon, Corps Officers of the Seattle Temple.
"The Salvation Army doesn't grow at Territorial Headquarters; it grows at the corps," Hodder said. "It is vital, therefore, that we have our best men and women reaching out in the name of Christ in our communities."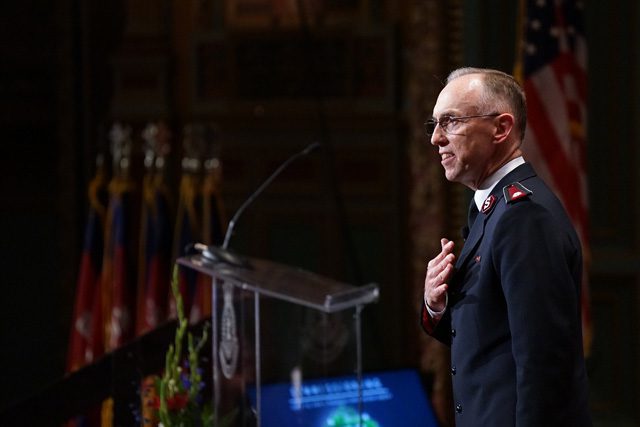 To the new lieutenants, Hodder said it takes courage and faith to wander into something in which you must rely on the power and grace of God.
"That is precisely what will happen when you start on that side of the stage and make your way over here," Hodder said. "The Salvation Army does that for a reason—not just to create excitement here at Commissioning, but because that will characterize your life from this point forward. You never know where God is going to send you."
To illustrate this, Hodder asked by name for each of the West's 31 officers who are as of this summer appointed to serve around the world—from Scotland to Lithuania to Dubai—to stand. He then appointed the Messengers of the Gospel to their first appointments as Salvation Army officers.
Colonel Colleen Riley, Territorial Secretary for Women's Ministries, led the congregation in singing "I'll Stand for Christ," before Lt. Colonel Helen Starrett, Intermountain Divisional Director of Women's Ministries, offered a prayer and Lt. Colonel Marcia Smith, Territorial Secretary for Strategic Leadership Planning, led the choral benediction.