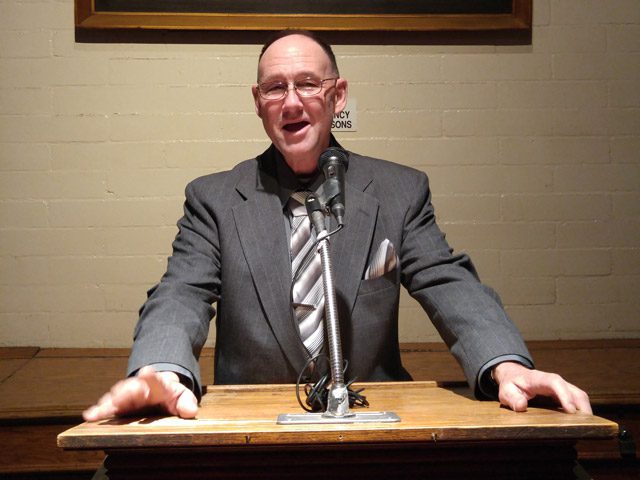 'Living proof'
Once incarcerated, Robert Gray now ministers to those behind bars.
By Lizeth Beltran –
For Robert Gray, every Sunday follows the same routine. First, there is a stop at Hope Harbor, a treatment center for substance abuse and mental health issues in Los Angeles. From there, a vehicle packed full of Hope Harbor residents makes its way to Bell Shelter for Sunday services.
It wasn't always this way. Born in Michigan, and raised the youngest of three in Santa Clarita, Calif., Gray, quickly became a self-declared troublemaker.
"I failed second grade in Catholic school for climbing a forbidden tree," said Gray. "As a kid, I had attention deficit hyperactivity disorder, and I was untreated. I started getting into a lot of trouble. I ran away from home when I was 13 and hitchhiked to Big Sur. I stayed up there for two months."
Gray, now 59, served time at a juvenile detention center for possession of stolen merchandise at 17. Upon release, he joined the Marine Corps. "I thought I could go to the Marine Corps and come out some sort of hero, but the truth was I was full of it," Gray said. During his time in the military, Gray's father was reaching the end of his battle with lung cancer, pushing Gray's relationship with alcohol to another level. He also began using methamphetamines.
"Not being able to do anything for him, I became so depressed," Gray said. "I started drinking more and isolating myself."
Fast-forward to 2009, and Gray is again released from jail and placed at Harbor Light (Hope Harbor) for rehabilitation.
He'd served time for drug possession and shoplifting, and made five trips to rehabilitation centers. But once he found success, life began to take on a new dimension.
"When you have someone like me who had no self-esteem, who always felt like he had no point in his life, who didn't matter in this world—[to] be useful to God in any way, that's what changed me," Gray said.
Envoy Roy Snapp-Kolas, director of urban ministry for The Salvation Army Southern California Division, said Gray's enthusiasm and commitment to God is palpable. "He is someone who came through the Harbor Light program and embraced recovery," Snapp-Kolas said. "He's embraced the mission of The Salvation Army."
Now closing in on six years of sobriety, Gray has made it a mission to give back to others. Through a number of programs, he offers his help to those who are on a path to recovery and recommitment to God.
"The Harbor Light program closed down and moved over to what was left of Hope Harbor," Snapp-Kolas said. "[Gray] sort of became my guy of leverage at Hope Harbor. He would get the guys to come out to church on Sunday and help coordinate a Bible study that we did on Monday nights at Hope Harbor. So he was kind of the emotional, spiritual, enthusiastic guy to get the Hope Harbor guys to participate."
Gray, who became a soldier, also earned his ministry certificate from Hope International University. He uses the power of prayer on weekly visits to jails with Malachi Dads, an interdenominational ministry that helps the incarcerated find a new path. This commitment, to serving those who are incarcerated, is one he holds deeply.     
"Starting my day with prayer and working with other people, my life is so full because I can help somebody else and pay back in return," Gray said.
He also visits jails through Alcoholics Anonymous and speaks on Hospitals and Institutions panels, where he passionately spreads the message of recovery.
"He often tells me, 'Pastor, somebody helped me, so I feel blessed that God's given me the opportunity to help somebody else,'" said Joseph Moore, assistant director of urban ministry for The Salvation Army's Southern California Division. "His attitude is great, he just wants to help people. You can sense it comes from his heart."   
Gray hopes to expand his work with the incarcerated to include inmates in the juvenile system.
"I want to reach out to those who are in juvenile hall, because that's where it all starts," Gray said. "That's where it started for me."
According to a recent report released by the Bureau of Justice Statistics, recidivism rates remain dismal. A study that tracked 405,000 prisoners released in 30 states in 2005, shows approximately two-thirds were arrested for a new crime within three years of release from prison. Three-quarters were arrested within five years. In California, the numbers fare better. The California Department of Corrections and Rehabilitation reports rates of recidivism for the fiscal year of 2009-2010 came in at 54 percent, compared to 67 percent in 2005.
It doesn't have to be that way, Gray believes. "We've got to help other people through the strength of God," Gray said. "I'm living proof that you can get well."