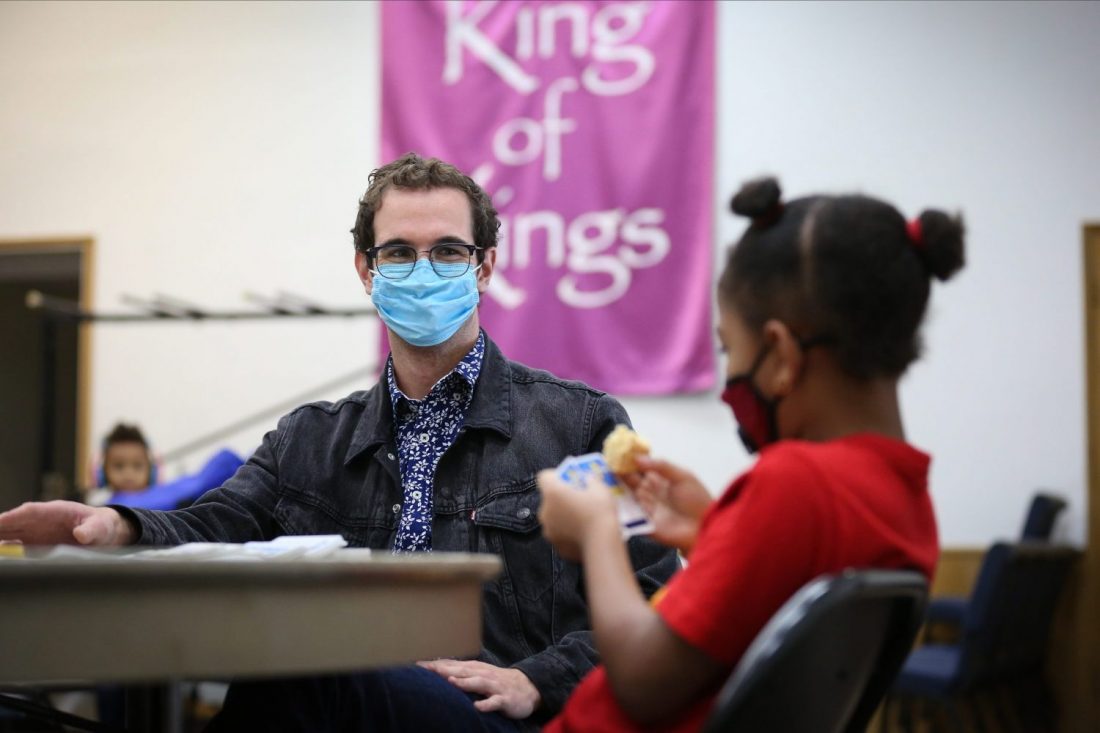 Learning Center at Salvation Army removes barriers to distance learning
Inglewood (California) Corps functions as one of two learning center sites for kids needing a safe space to do their distance learning.
As distance learning continued in the fall for schools in Los Angeles, so did the challenges for families without reliable internet, enough electronic devices, or supervision for children whose parents needed to go to work.
After sharing concerns over this situation on Facebook, Kathy Lovin, Stacy Williams, and Talitha Phillips joined forces to come up with a solution. Together, they founded a learning center program taking place in two sites: The Salvation Army in Inglewood, California, and the Cornerstone West Los Angeles church.
"I felt bad for the families [with parents] who needed to leave and go and work somewhere…to do all of those service jobs that we need people to do that can't be done at home. And then they're supposed to supervise their fourth grader learning online? It really just started to feel like there was a gap," Lovin—who also works at The Salvation Army Western Territory Headquarters—said. "[So] the idea was to give kids a place to go where they could get a reliable WiFi signal and a trained teacher to help keep them focused on the schoolwork, so they could meet the goals of the academic year and not fall behind."
The learning centers take place at The Salvation Army Inglewood Corps on Mondays and Thursdays and Cornerstone West Los Angeles on Tuesdays and Wednesdays. Each site operates from 8 a.m. to 2 p.m. on their respective days.
The program is open to kids in kindergarten through eighth grade with a limited capacity—as there is a ratio of one teacher to four students. 
At the learning centers, kids participate in learning over Zoom for the majority of the day. An instructor ensures each child has their Zoom call set up and is actively participating. The students have a quiet learning environment in which they can focus as they learn online, and someone to help them if they experience technical issues along the way.
Once online instruction has concluded for the day, the kids take part in enrichment activities like crafts, puzzles, games, and more.
"Families are really happy to have somewhere to bring the kids—somewhere they know is safe—where the kids are able to receive assistance with their schooling," Williams said.
Marslin Sykes's son, Andres, attends the learning center at the Inglewood Corps. She is grateful for the program.
"It's great and wonderful that they have this for parents who are going back to work during this pandemic and don't have any help," Sykes said.
She said Andres enjoys attending the learning center, as he gets to learn alongside other kids in a safe space.
"They're also doing the distance learning with him [and] it helps him feel like he's not alone…and he's not the only one going through this. There are other kids, too," Sykes said.
Phillips stressed the dire need for a program like this for middle and lower-income families in the Los Angeles area.
"When [distance learning] happened, a lot of Westside families resorted to hiring their own teachers and creating [learning] pods…and that is such a luxury most families in this city just can't afford," Phillips said. "It created this big divide and a big gap. You have certain children who are doing OK because their parents can afford to make this an OK situation and then you have others who are not." 
Williams also addressed the social and psychological needs the learning centers are filling for the children.
"Losing their routines, and their friends and any social interactions has really taken its toll [on the kids]. Being able to also provide that in a safe space has been really critical as well," Williams said. "Now, these kids, their faces light up. They have friends here, they know the instructors, [and] they're excited to be here." 
And Lieutenant Timothy Witcher, Salvation Army Inglewood Corps officer, is happy to host the program at the corps.
"It's a good program," Witcher said. "It's a much-needed program."
In fact, when Phillips, Williams, and Lovin were looking for locations to host the learning center, The Salvation Army Inglewood Corps was among the first to say "yes." 
"When we were approached with this opportunity to host the learning center, we didn't really have to think about it…because we knew that we were here in this community to serve the families who are most in need," Witcher said.
And Williams said the partnership has been great.
"They've been really wonderful to work with," she said. "When we shared our vision, they were so interested and accommodating, and gracious, and just very helpful."
Witcher and Lovin hope that the children and their families will, in turn, become connected to The Salvation Army and the other programs and services it has to offer.
"I love the idea of connecting new people to Salvation Army services," Lovin said. "The families who will be served through these learning centers are the ones who may have longer-lasting needs from the fallout from the economic impact of COVID-19. They'll probably feel it the greatest and longest."
The learning centers will remain in operation until they are no longer needed. In the meantime, the program continues supporting the families who need them the most.
"I just want them to know they're not alone in this," Williams said. "We're here to help, and there's somewhere safe for [their] kids to go."
---
Do Good:
Are you a Do Gooder, someone who cares about bringing goodness into the life of your family and community? Subscribe to The Do Gooders Podcast with Christin Thieme to be inspired by those doing good and find tangible tips for simple actions you can take today.
Find out more about how The Salvation Army meets needs in each community exactly as that community needs.
See how you can get involved in the Fight for Good with The Salvation Army.