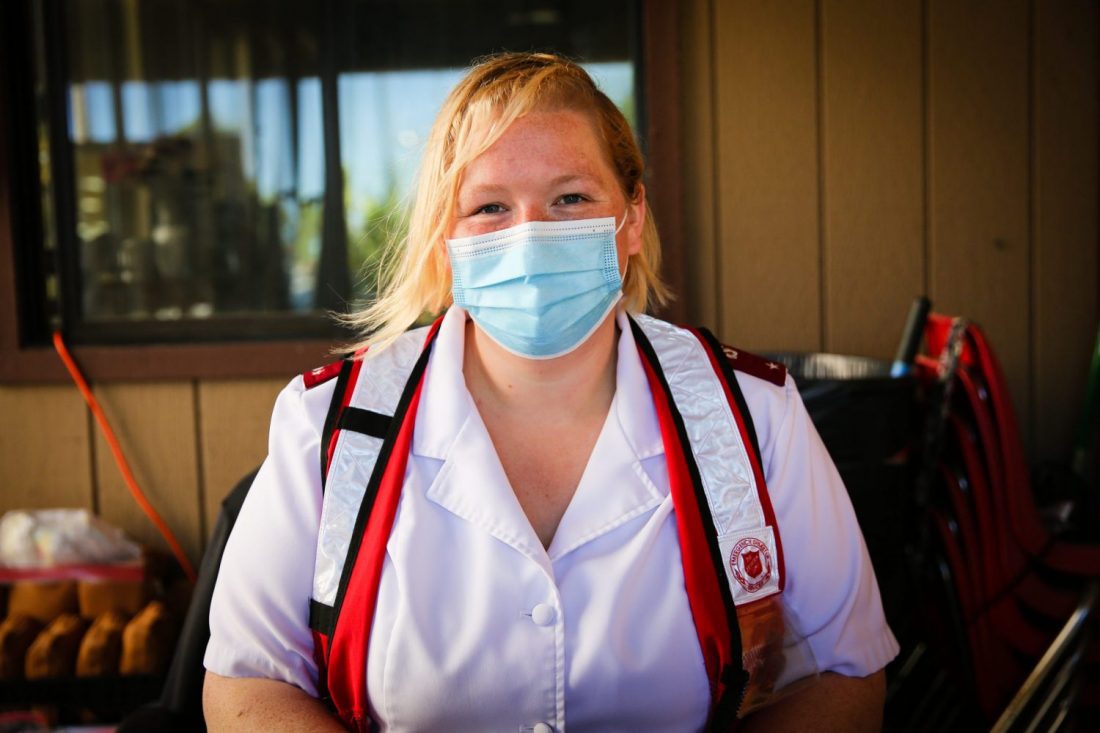 7 personal stories of how The Salvation Army is right there with you
The Salvation Army meets needs in each community exactly as that community needs. And this year, as the need grew due to COVID-19, The Salvation Army went into emergency response mode across the country to provide food programs and shelter services.
Since mid-March, just in the Western U.S., The Salvation Army has provided more than 5.2 million meals, beverages and snacks to people in need, plus another 787,000 food boxes that feed multiple people for a few days. Beyond food, more than 500,000 nights of lodging have been provided and volunteers have given some 324,000 hours of time in service. 
These are seven personal stories of how The Salvation Army is right there with you, especially now. (See more in part 1 here.)
1. Officer Stories – Major Randy
Major Randy Mulch was assigned to a hotel in downtown Los Angeles that was used as an emergency shelter for those experiencing homelessness during COVID-19.  Find out how, and his hopes for the success of those he serves.
"The Salvation Army, together with some other organizations in the community and the Los Angeles Health Department, are hoping to reach out to over 400 homeless people who are at risk. Some of those people will be senior citizens. Some will be people who are at risk because of pre-existing medical conditions. To get people off the streets so they are safer during this time when the virus is going on."       
Ruth, who normally works with youth at The Salvation Army's Anaheim Red Shield Center, talks about how her role has changed in response to the COVID-19 crisis.
"In this area, we have a lot of people that come from different countries. One way or another, we are helping them. This group of people needs help from others. We here at The Salvation Army, with a smile and a warm welcome, can fulfill that need. We are not only meeting physical or economic needs, but also the spiritual and emotional needs that many people have."
3. Employee Stories – Mortimer
Mortimer Jones, Executive Director for The Salvation Army's Siemon Center, describes the need in his community, and how The Salvation Army is working to meet that need.
"We serve a community where in most cases we were the first ones to get hit in terms of people being furloughed and losing their jobs. If we can assist people in getting food on their table…we're really pushing fresh produce because we feel that if we can also have people eat healthily, it will help in terms of those fighting this just devastating virus that is going around." 
Deonte, a resident of The Salvation Army's Way In shelter for youth experiencing homelessness, shares his story of the help he's receiving during the COVID-19 crisis.
"The staff really, you know, genuinely care, sort of like this genuine connection rather than I'm doing this because I'm getting paid to do it. They want to make sure you're out there and you're doing stuff trying to elevate your life, not be comfortable with being homeless. They help us out with savings, getting jobs, they also bring programs in, we have case managers that are really nice and they meet with us weekly. That's really been the benefit of being here, seeing what changes I need to make in my life so I can be as possible in my future. I'm just really thankful for the staff and the job that they do here."    
Grant, a student at UC Santa Barbara, is currently filling his extra time by volunteering at The Salvation Army Santa Barbara Corps.  Listen as he explains why he's spending his time this way, and how you can be involved too.
"I have a lot of free time so I thought in response to the pandemic, 'I need to get out in my community and help.' Coming here, I didn't realize the number of families that were actually in need. People are so appreciative so it just feels good to be able to have a direct impact on people's lives like that."  
Max Odenheimer, an employee with the Los Angeles Football Club, talks about why he chose to volunteer his time with The Salvation Army's drive-through food distribution held just outside the LAFC stadium.
"Right now we are all going through a time of uncertainty and upheaval and we feel it in parts of our lives and we assume that everyone is feeling the same thing. Having the platform to connect with people and see how people are doing and help in a little way feels good." 
7. Volunteer Stories – Sister Andrews
Sister Andrews, a volunteer with the LDS church, talks about why she's serving others through The Salvation Army in response to the COVID-19 crisis.
"The Salvation Army is remarkable in the way that they love God and they love their neighbor. They put that love into action by serving others. It makes me feel happy to know I'm blessing someone else's life. Letting one person know that their love and focus is greater than fear."
See part 1 for more personal stories of how The Salvation Army is right there with you.
---
Do Good:
Pick one of the videos in this playlist and send it to someone you want to inspire today.

Did you know The Salvation Army served more than 23 million Americans last year fighting hunger, homelessness, substance abuse and more—all in a fight for good? Where can you help?

Take our quiz

to find your cause and learn how you can join in today.