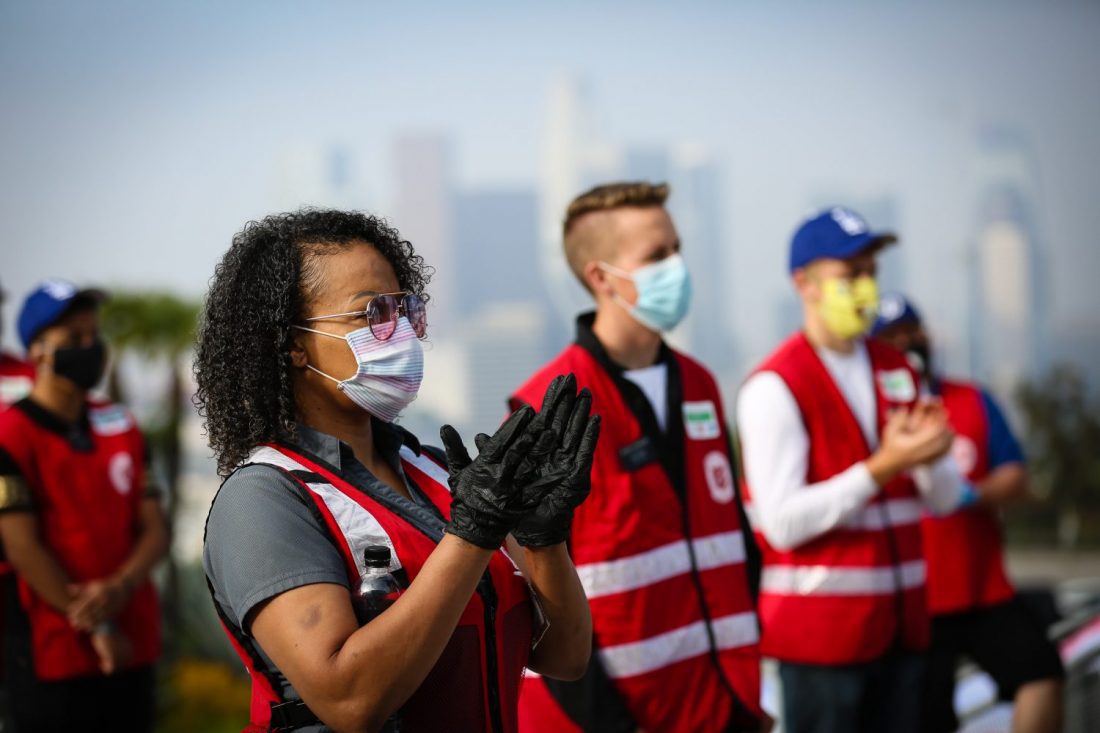 8 personal stories of how The Salvation Army is right there with you
The Salvation Army meets need in each community exactly as that community needs. And this year, as the need grew due to COVID-19, The Salvation Army went into emergency response mode across the country to provide food programs and shelter services.
Since mid-March, just in the western U.S., The Salvation Army has provided more than 5.2 million meals, beverages and snacks to people in need, plus another 787,000 food boxes that feed multiple people for a few days. Beyond food, more than 500,000 nights of lodging have been provided and volunteers have given some 324,000 hours of time in service. 
These are eight personal stories of how The Salvation Army is right there with you, especially now.
Ruben, an employee of The Salvation Army Los Angeles Red Shield Center, talks about the importance of helping others in response to the COVID-19 crisis.
"We don't want anybody to go home without a bag of food. We want them to have food at home. When the kids say, 'Dad, I'm hungry.' It is there. That is why we are here to serve them."
2. Officer Stories – Captain Allison
Captain Allison Struck, Corps Officer of The Salvation Army Anaheim (California) Corps, talks about her experience serving those who have come to The Salvation Army looking for support, both physical and emotional.
"In my conversations with mothers, I have been profoundly impacted by what these mothers are struggling with not only wondering if there's going to be enough food or if they're going to be able to keep the lights on or if they're even going to be able to stay in the apartment they are also worrying about homeschooling their children and keeping their children safe and keeping their children healthy and so The Salvation Army is able to come along holistically and not just talk about meeting the practical needs but we're here for you emotionally. We want to pray with you."
Brandon, a resident of The Salvation Army Way In Shelter for youth experiencing homelessness in Los Angeles, shares his story of not being able to cross back into Canada during COVID-10 and the help he's receiving in the meantime.
"Here we all come from different situations…we all have different stories which we want to share those stories and be with each other in a time like this is just absolutely amazing. I wouldn't really have it any other way besides being home, obviously, but I think right now I'm in a pretty good situation."
4. Food Box Stories – Sgt. Jensen
Sergeant Becky Jensen of the Air National Guard describes her experience in helping The Salvation Army provide support to the local community.
"It's very exciting to be working with The Salvation Army, to see the direct impact…I see families of all different types. The need is here and so it's really helpful to see all these people who are in need and getting what they need."
The Salvation Army is providing food relief to those suffering during the COVID-19 crisis, and each food box tells a story. This is Maria's story.
"With the current situation, my husband is out of a job, and I am the only one working so it's nice to have some extra help."
6. Officer Stories – Captain Terry
Captain Terry Masango, Corps Officer of The Salvation Army Pasadena (California) Tabernacle Corps, describes his experience serving on the frontlines of The Salvation Army's response to the COVID-19 crisis.
"We have seen a tripling of the numbers of people we are serving. There are many people today who have been furloughed or have lost their jobs because of the impact of COVID-19 and, as The Salvation Army, we're here to remind them and to encourage them along that you may be down but you are not out…We are a center of hope."
7. Volunteer Stories – Patrick
Patrick, who is out of work due to the COVID-19 crisis, talks about why he's chosen to volunteer with The Salvation Army in Santa Monica, California.
"I wanted to do something a little productive with my time. I figure I have time, I can help others…There's so much out there, so many ways to help. Look for all the opportunities you can."
Nichol Whiteman, Director of the Los Angeles Dodgers Foundation, talks about partnering with The Salvation Army and opening Dodger Stadium for an event to provide over 40,000 meals to families in one day.
"The Dodgers Foundation's vision is that every Angeleno, regardless of zip code, should have the opportunity to thrive…The Salvation Army is a pillar in the community when you think about relief in times of need. You guys know it well, so we should do it with you. And the impact we're able to make here today is amazing."
---
Do Good:
Pick one of the videos in this playlist and send it to someone you want to inspire today.

Did you know The Salvation Army served more than 23 million Americans last year fighting hunger, homelessness, substance abuse and more—all in a fight for good? Where can you help?

Take our quiz

to find your cause and learn how you can join in today.