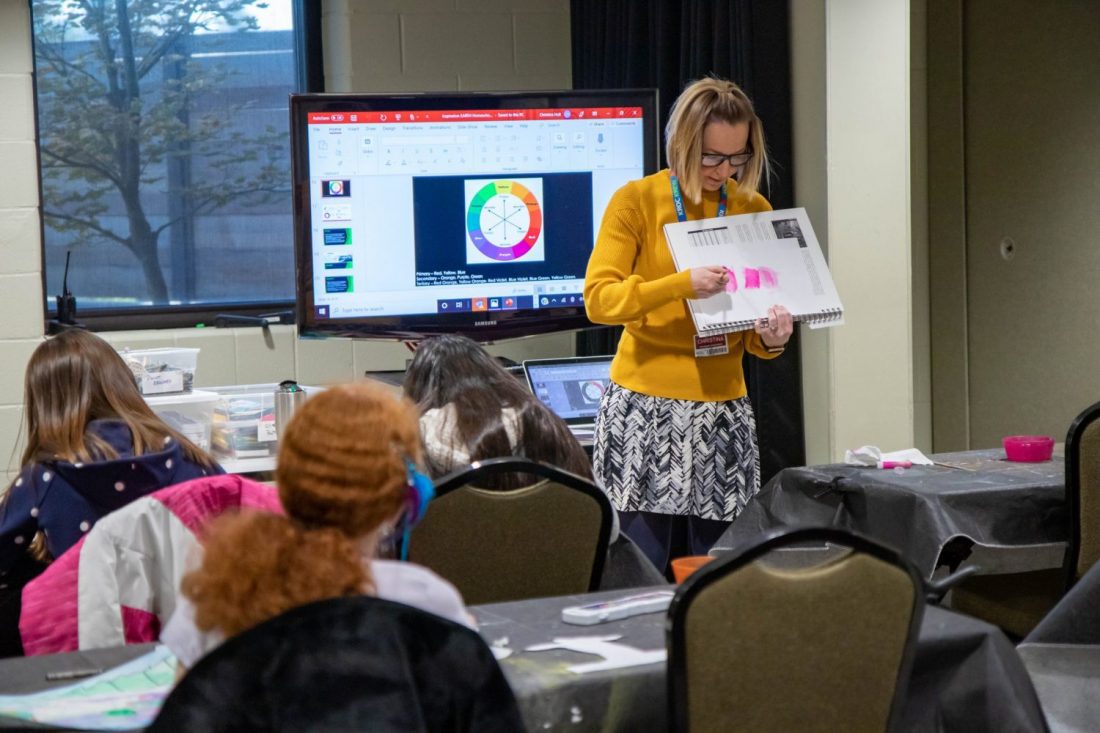 With schools closed, Salvation Army provides care for kids
In a time when most families are struggling to adjust to a school year and schedule unlike any other due to COVID-19, The Salvation Army across the West has stepped up to fill the need. Opening new remote learning centers, offering childcare for teachers and adding to existing homeschool programs are just a few things it's doing to help.
The Salvation Army Phoenix Kroc Center, located in one of the lowest-income areas of the city and where schools are full-time remote, built its brand new Distance Learning Childcare program in a week.
"We built dividers for the desks, checked on our internet capacity, set up handwashing stations and brought back staff" in anticipation of welcoming students for the first day on Aug. 24, said Corps Officer Captain Caroline Rowe. While the program is offered at $50 per child per week, donors have stepped forward to cover 11 kids through the end of December to the tune of almost $9,000 in scholarship donations.
Eight children have enrolled so far, though Rowe is confident they'll soon have closer to the 36-slot capacity. Social workers at the nearby elementary school are helping identify families with little support who might benefit from the program. "We reach out to the families, let them know we won't charge them and to just bring their kids and let us help," she said.
Staff provides one-on-one assistance with schoolwork. On Wednesdays, typically early dismissal day at school, kids take part in the character-building and spiritual-building curriculum Rowe and her team put together, before heading into the gym for physical fitness.
"I really believe this is helping parents know their kids are being taken care of; they have a place to go to the bathroom, use the internet, it's air-conditioned and we serve breakfast and lunch," she said. "We asked 'how can we better serve the community?' and this was a need that we saw."
Two siblings who attended the first week didn't have workbooks or supplies for their schoolwork.
"One of my staff set up an appointment with the kid's school and picked up the supplies for them," Rowe said. "That's a missional moment. I think parents are overwhelmed right now. English isn't their first language and it could be the fact that they didn't understand what they needed to do."
At The Salvation Army in Colorado Springs, 36 students are attending the Red Shield Remote Learning Center, which also opened its doors Aug. 24. Two of the attendees—Miriyah, 5, and her sister, Malayah, 7—took part in the summer program at the Red Shield, said its Director Rick Jacques. When their single mother found out the girls wouldn't be returning to school in person, she was extremely upset.
"She was out front crying and said 'I just don't know what I'm going to do. I just got this job and I have to have it to support them,'" Jacques said. "I prayed with her outside that the proposal [for the Learning Center] would be approved so we could help."
A few weeks later, Jacques called her with the good news. "She came the first day and cried again and said it was such a blessing," he said.
Jacques said the program has been "great and challenging" so far. "The great part is we're able to meet a need," he said. The challenge comes with how much one-on-one help is required for the kids to be successful.
"We have four classrooms and we're dealing with six or seven different schools, two or three different grades for each and 12-14 different processes," he said. "That's where the challenge comes. They all log in at different times, some are recorded, and some are live. Every child has their own schedule and it's very complicated."
By 8 a.m., Jacques has seven staff members working with the kids and they're trying to recruit additional volunteers. In all, the program will cost around $40,000, an unexpected and unbudgeted cost to the corps. A fundraising page raised just over $4,000 as of press time.
"We're really hoping we can get our community to step up and make donations," Jacques said. "I feel really strongly that the money is going to come."
In Coeur d'Alene, Idaho, the Kroc Center is offering a more robust version of its usual homeschool program, which includes educational, recreational and social enrichment opportunities for close to 80 kids in eight-week sessions.
"We provide all the supplies and offer things like art, rock climbing, adventures in literature," said Corps Officer Major Don Gilger. "This year, there are also families signing up whose kids are in regular school."
That's likely because schools in the area are offering a hybrid model where kids go in-person two days a week and learn virtually the rest of the time.
"Parents who both work are scrambling to figure out what to do with their kids," he said.
Additionally, the center is providing childcare for kids exclusively for teachers in District 271, where it's located.
"We're trying to support the school district," Gilger said. "Teachers are in the same boat as everyone else but they have to teach all the other students."
---
 Do Good: