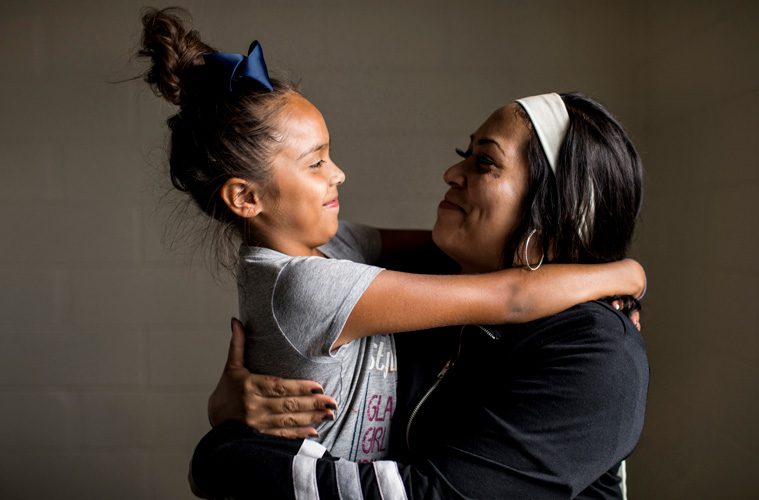 How The Salvation Army is helping families
Stepping in to fill the need, whatever the need might be. 
At nine months pregnant and with her due date around the corner, Jessica Moulton and her baby's father were homeless and living in her car. But one week before her son was born, they found refuge at The Salvation Army Booth Family Center—a temporary family housing facility in Grass Valley, California—after being on the waitlist for about five months.
"I cried," Moulton said. "It was like a real blessing from God that they got us into the center."
Moulton and her family have been living at the center since June, and she said the impact on their lives is significant.
"Now we have a roof over our heads and have a newborn son, and we have an opportunity to do better in our life," Moulton said.
Booth Family Center Lead Case Manager Tammy Ghasvarian said Moulton's family is one of nine families residing at the facility, which has 20-25 families on its waitlist at any given time.
The center is a refurbished former motel property with individual rooms for each family. Ghasvarian said the high demand for shelter stems from a lack of affordable housing in the area.
"The Camp Fire has made an even higher waiting list for low-income housing—like three to seven years for a lot of the low-income apartments," she said. "There's just a lot of families that are staying in their cars."
The Booth Family Center provides its families with case management, budgeting and parenting classes, tutoring and counseling, employment assistance, referrals and more. Case managers and staff also have a good relationship with local landlords, and help families at the facility secure and maintain permanent housing, even if they have poor credit scores.
"We have been known to follow a family for up to two years after they move out of here to make sure they're doing good," Ghasvarian said. "Some families are just here for a month or two just to get on their feet and then they're good to go. And others, not so much, so you really have to work with them and walk through the steps."
Ghasvarian hopes her clients develop a sense of confidence and self-awareness, while feeling encouraged and self- sufficient.
"We want them to know that there's people who really care about them," she said.
And while The Salvation Army provides safe shelter to some 30,000 people every night across the U.S., housing isn't the only way The Salvation Army is helping families.
The Salvation Army in Caldwell, Idaho, has been providing assistance to those in its community for 13 years through its Baby Haven program.
This incentive-based program for families with children under 24 months old promotes healthy behaviors, including well baby visits; Women, Infants and Children (WIC) and counseling appointments; as well as library visits and other activities.
"Our community is growing so fast and a true test of a healthy community is how they care for their most vulnerable members," said Major Stephanie Bridgeo, Caldwell Corps Officer. "New moms need all the support they can get, so we try to provide quality education and helpful boutique items for them to be the most successful parents as possible."
Clients earn points for each activity or appointment they fulfill. Then, after taking a one-hour class, they can use their points to shop at the program's boutique, which is stocked with diapers, baby clothes, formula and more.
Class topics include nutrition, job interview skills, computer classes, parenting, yoga, dental hygienist visits, and attorney visits to assist with immigation status, child support, living wills and abuse prevention. Classes are conducted in English and Spanish and childcare is provided. 
"We have had some moms return back to the program when they are expecting another child," Bridgeo said. "They absolutely love the program and really want to learn and grow more."
Bridgeo said it is providing families with education, resources, community and safety.
"There are few programs like it and we need to help new moms be as successful as they can," she said. "Strong families are the foundation of strong communities."
That assistance extends to families with other children, too.
In Yuma, Arizona, for example, the local Salvation Army corps has been hard at work serving migrant families at the border since March. The Army's outreach efforts resulted from the city mayor asking The Salvation Army to provide assistance to the high volume of asylum seekers being released by border patrol into the community.
In response, the corps turned its vacant thrift store facility into a shelter, providing three meals daily, shower and laundry services, clothing, hygiene items, transportation to their mode of departure from Yuma and even basic English lessons.
Today, as the number of people needing assistance has gone down, The Salvation Army has closed the shelter, and is housing migrant families at hotels for three to five nights of stay. As of July, the corps helped 2,284 migrant families, according to Breazeale.
"If we hadn't done this, our city would have been very quickly overrun by families that had nowhere to go," Breazeale said. "If we hadn't stepped up and offered this service and place for them to stay and meals and whatnot to transition them from being in detention to their final destination, these families…would be on the street fending for themselves."
He recalls the reaction of one client upon arriving at the shelter with his family after escaping gang violence in Guatemala.
"When he arrived here at the shelter, he literally fell on his knees and he thanked God because he knew they were safe," Breazeale said.
And he said this feeling of gratitude has been a common one among the asylum seekers receiving help from the corps.
"Every single one of them have been very gracious and thankful," Breazeale said. "Most of them continuously ask what they can do to help while they're here."
Breazeale said he knows it's a need The Salvation Army needs to fill.
"As Christians, we should know and understand that we are not of this world. This isn't our permanent home, but we still have to take care of ourselves and those around us," Breazeale said. "That kind of puts us in the light of hopefully understanding and knowing what these individuals are seeking and where they're coming from. They're coming from oppression, they're coming from disruption, and they're coming from destruction into the promised land where somebody somewhere has told them that they could have a better life."
---
Do Good: 
Visit

westernusa.salvationarmy.org

to find The Salvation Army nearest you. 

As long as there's The Salvation Army, there's no such thing as no place to go. And you can join the fight for good. A $100 donation to The Salvation Army can provide three nights of safe shelter for someone in need.

Give to support

the fight for good for families in your community.

Are you busy but want to better your world? Then join us on

The Do Gooders Podcast

where we feature good ideas to help you do good right where you are. Subscribe today for weekly shows with the best ideas on making an impact.