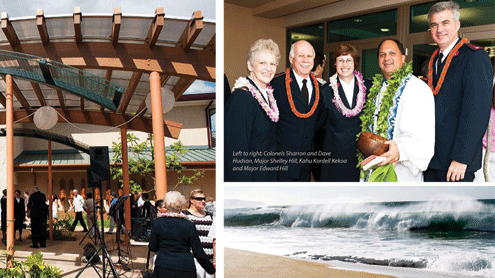 KROC CENTER HAWAII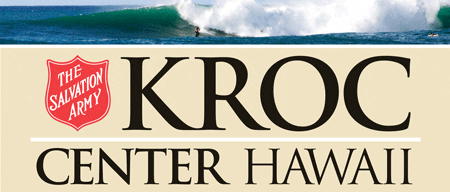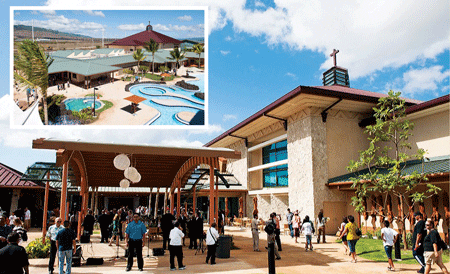 By Christin Davis
Somewhere over the rainbow, in the unincorporated and developing community of Kapolei, Hawaii, a $133 million Salvation Army Ray and Joan Kroc Corps and Community Center now stands.
"My grandmother wanted every child, no matter his or her economic background, to enjoy a more luxurious place than they ever imagined," said Amy Ragen, granddaughter of Joan Kroc and representative of the Kroc family at the Hawaii Kroc Center dedication, which 3,000 people attended in January. "This place is beyond her wildest expectations."
In 1998, Kroc, widow of McDonald's founder Ray Kroc, donated $80 million to build the first Salvation Army Ray and Joan Kroc Corps Community Center in San Diego, Calif. She wanted all people to have recreational, educational and cultural arts opportunities. The center opened in June 2002, and just over a year later, in October 2003, Kroc left a $1.5 billion bequest to The Salvation Army to build similar community centers around the country.
"Before Joan's dream, The Salvation Army was very much a minimalist organization," said Commissioner James Knaggs, Western territorial commander. "Her dream has lifted our heads up. She's shown us what we can do better, for God, with magnificence."
The Hawaii Kroc Center received a $110 million combined capital and endowment grant from Kroc's donation and the community raised nearly $23 million locally—a condition of the grant. The $133 million center is the 17th of 27 centers to open in the nation.
"There is a divine pull here," said Ragen, who ran the fitness center at the San Diego Kroc Center for its first year. "I can feel the energy to my bones."
The Hawaii Kroc Center includes the Harry and Jeanette Weinberg Education and Resource Center with conference and banquet rooms for 720 guests; the Mary D. and Walter F. Frear Early Education Center for 120 preschool students; the 500-seat Jack and Marie Lord Worship and Performing Arts Center; the Clarence T.C. Ching Athletic Center with an NCAA-regulation gymnasium; the First Hawaiian Hale 48-bed dormitory for traveling teams and overnight conferences; a state-of-the-art health and wellness center with workout equipment and facilities for individual and group fitness; an aquatics center featuring a competition pool and a recreation pool with giant water slides; and a 3-acre multipurpose field for outdoor programs.
"This Kroc Center is a treasure of the Hawaiian islands," Knaggs said. "You can now put an 'x' on the map."
Hawaii Governor Neil Abercrombie agreed. "I'm very pleased that the new Ray and Joan Kroc Community Center is opening in Kapolei," he said. "I believe it will make a positive impact on a fast-growing community in West Oahu, providing space for public meetings, as well as entertainment and educational gatherings. We are grateful to the Kroc family and The Salvation Army for this new asset that will benefit our people."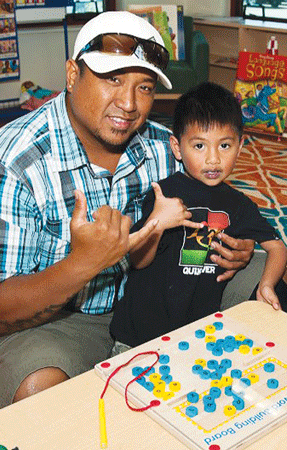 A place to gather
Just over 20 miles from Honolulu, the area was once nothing but sugarcane fields. Today the "second city," after Honolulu, is growing. As of 2011, Kapolei has a population of nearly 35,000 people, up 38 percent from 2000. An elevated rapid transit line to connect Kapolei with downtown Honolulu and Honolulu International Airport was approved by voters and a ground-breaking ceremony was held in February 2011. The University of Hawaii-West Oahu plans to move to a new campus in Kapolei in fall 2012. At least 1,600 single-family units plus low-income rentals are slated for construction; 400 housing units were recently completed.
"The Salvation Army took a calculated risk putting the center here even though the university and state housing weren't 100 percent certain," said Micah Kane, previously the director of the Department of Hawaiian Home Lands (DHHL) and currently a trustee with Kamehemehe Schools. "We used the Kroc Center commitment as leverage for other projects [in Kapolei] and drew distance rings in the planning process with the Kroc Center as the 'piko'—the belly button—of the community."
In 2007, The Salvation Army met with developers from the Department of Hawaiian Home Lands, a state agency tasked with delivering land to native Hawaiians, about partnering to build a community center.
"In Hawaii, land is very precious," said Major Phil Lum, Kroc Center Hawaii administrator and corps officer with his wife, Captain Debbie Lum. "We were looking for 10 acres, which is difficult to find in any developed area here."
The department was supportive of the community center idea, but as a state entity could not donate the land. It offered The Salvation Army a 65-year lease, but the Army wanted to retain ownership of the land before building. So, the Army approached the state legislature, which eventually passed a bill that allowed the state to sell up to 15 acres to a nonprofit organization to build a community center.
"It passed unanimously when such a thing would normally be very controversial," Kane said of the vote in both houses of state government. The Army paid full market value for the agricultural land, totaling $1.5 million for 15 acres. The subsequent change in zoning increased the land value by nearly five times. Kane asked the Army if it preferred an elementary or middle school across the street from the Kroc Center; it asked for a middle school, which is now in the city plans. He also arranged for the DHHL to provide offsite support, including sidewalks, sewers and land grading—a gift of roughly $5 million.
"Even an elephant is only pregnant for two years, but we've been pregnant for five," said Maeda Timson, chairperson of the neighborhood board that helped in developing the Kroc Center. "This area needed a gathering place, a place of welcome and safety where our 'keiki' [children] can grow in mind, self and spirit. For so long this has been the little, forgotten community that got what no one else wanted. Now we have the best."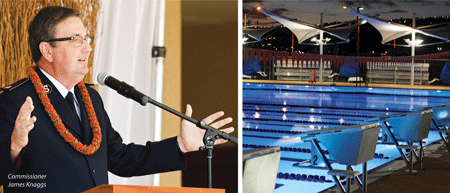 Best foot forward
The process began just after Colonel Dave Hudson, currently chief secretary in the West, was appointed Hawaiian and Pacific Islands divisional commander in mid-2004. A comprehensive Request For Proposal (RFP) packet went to every division in the U.S. as the first step in determining where the Kroc Centers would be located.
"I knew Hawaii was not on anyone's radar and that it would be a lot of work," Hudson said. "But I would've hated for someone to ask in 10 years why we didn't try, so we decided we would."
Hudson called Phil Russell, a National Advisory Board member from Hawaii and president of GMR real estate services, and the pair began visiting business people and politicians to ask for support. "I knew we had to get the community involved and gather a strong group of people around the project," Hudson said. "The priority for us was getting the 'who' in place."
Hudson and Russell met with Don Horner, then CEO of the First Hawaiian Bank and chairman of the Hawaii Business Roundtable—a statewide public policy organization comprised of the CEOs and senior executives of companies headquartered or maintaining significant operations in Hawaii. They asked if he would be on a task force for the project, and Horner agreed. Retired Commissioner Joe Noland, who was brought on to coordinate the application phase, later asked Horner if he would spearhead fundraising $23 million. "He said he would only do it if he could be assured that God would be in the center of the project," Hudson said.
Horner spent the years that followed ensuring every detail of the project stayed on track as the chairperson of the steering committee. During the dedication weekend, Knaggs presented him with The Salvation Army Others Award, honoring his extraordinary spirit of service to "others."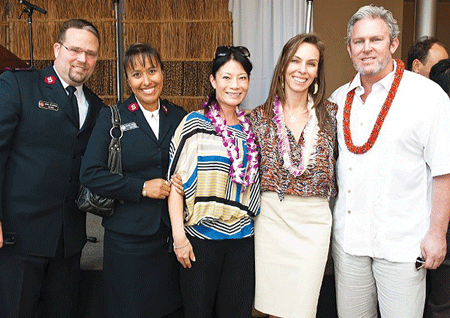 "It has been a privilege for me to have a front row seat to watch God work," Horner said upon receiving the award. "The work isn't finished; it's just beginning."
In the early stages, Horner brought in Murray Bawden, chairman of HSW Enterprises, as the chairperson of the construction committee. With over 40 years of experience in the construction industry, Bawden oversaw the design and construction stages of the Kroc Center. "I've done a lot of work this size, but nothing with The Salvation Army before this," Murray said. "This was not another for-profit project, it was built for the community—a great cause—and has the mission of The Salvation Army behind it. Everything had a spirit of 'best foot forward, make it work.' It was good to be a part of."
Bawden said while walking through the completed center for the first time, all he could think was, "wow."
"The community will come here and see Christ at work," he said. "My hope is that it will be more than a community center where people gather in a high quality facility, but where relationships are built and lives are changed and enhanced."
The center's design was led by Group 70 International (group70int.com) and construction by Hawaii Dredging Construction Company (hdcc.com), but Bawden stressed it was "thousands of unheard of and unknown people that made this place happen."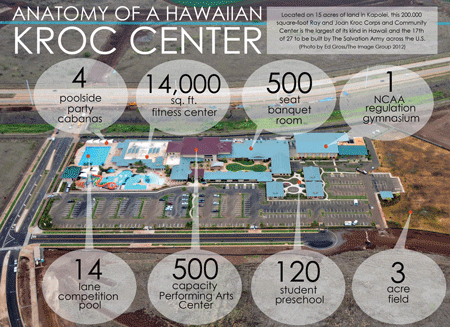 A beacon in Kapolei
"With this opening, The Salvation Army is launching a friendly invasion of West Oahu, bringing hope, inclusion and light," said Major Edward Hill, Hawaiian and Pacific Islands divisional commander. The Army began in Hawaii in 1894, and now has 10 corps (churches) in the state plus a number of social services programs. "Today's Salvation Army remains committed to the mission and we see this center as our 'D-Day.'"
As of the Kroc Center's opening in February, 1,800 people had registered as members. The center is open seven days a week, with memberships for youth starting at $39 per month up to a family of six membership for $109 per month. Scholarships will also be offered based on need.
"We are trying to create an atmosphere here of love and acceptance," Lum said. "The cross is on the top of the building as a beacon, a light on the hill, hope." The Kroc Center is also the new home of the Leeward Corps, now know as the Kroc Corps.
A local mother of six, Pia, attended the dedication event, curious about the center. "I'm so impressed and interested in all the activities my family can be a part of here," she said while two of her young children looked around in awe. Similarly, Hawaii Lt. Governor Brian Schatz said, "I can assure you I'll be back here with my family."
With the center now open to the public, the Army is eager to see it develop. "We are in a dream come true—we can sit in it, can swim in it, can play basketball in it," Knaggs said. "Other dreams are going to come true because of this center."