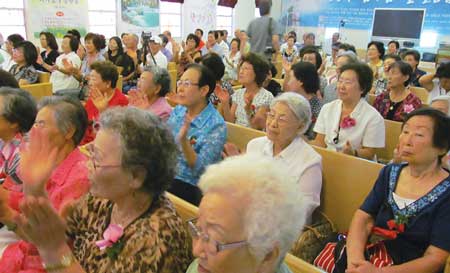 Korean Senior College
Seniors enjoy a variety of classes at the Valley of the Sun Corps in Glendale, Ariz.

While May is National Older Americans Month, The Salvation Army reaches out year-round to the elderly through programs offering community fellowship and opportunities for active bodies and minds.
Corps Officer Lt. Aeran Oh and her husband Lt. Kihyun Oh of The Valley of Sun Corps in Glendale, Ariz., successfully implemented such a program geared toward Phoenix's Korean population; so successfully in fact, that many of the participants travel up to two hours every Tuesday for "Korean Senior College."
"I appreciate the people that take the time and effort to take care of us," said Sherry Kim, a participant in the program. "I am blessed by the praise and worship and the fellowship I have here."
Since its location is not near many of the densely Korean-populated areas, the corps provides transportation to any of the 50-55 participants who live in the Metropolitan Phoenix area. The local Korean newspaper also helps publicize the program to the Korean community.
The program commences every Tuesday at 10 a.m. with an hourlong worship service, followed by a crop of educational and recreational classes, including English, Spanish, golf, line dancing, Korean traditional drum, computer, Chinese calligraphy and exercise. Afterwards, participants enjoy a lunch complete with a wide variety of Korean food. The schedule concludes with a stretching and exercise class and health lectures from various doctors.
"After I came to the senior college, I learned so much," said Rev. Moon Phil Jung, a retired pastor. "The health lectures helped me a lot."
Although the program has become well known in the Phoenix Korean community, Aeran Oh still likes to share weekly updates with the local Korean newspaper.
"I love having community here," said Yun Ja Kim, a corps member. "We really love and care for each other at Senior College. I feel like our corps is making a huge influence for seniors in this county."