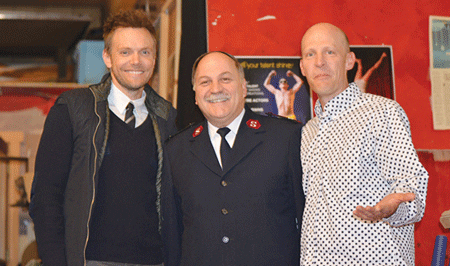 Joel McHale helps raise funds for Seattle women's shelter
Seattle native was master of ceremonies for festive occasion benefiting The Salvation Army.
By Lora Marini Baker
"Gimme Shelter," a Salvation Army Northwest Divisional fund and awareness raiser for its downtown Seattle 24-bed women's shelter, featured Joel McHale—best known for hosting "The Soup" and for his role as Jeff Winger on the NBC comedy series Community—as master of ceremonies.
The event, held at Hale's Palladium and organized by advisory board member Patsy Pattison, raised $35,000 via sponsorship, $125 ticket sales and a live auction.
"This event is a perfect example of advisory board members getting behind a project," said Major Doug Tollerud, Northwest divisional commander. "The board is the reason this event was successful."
McHale, who grew up near Seattle on Mercer Island and graduated from the University of Washington, donated his time. Local performers Chris Ballew, star of musical groups Caspar Babypants and Presidents of the United States of America, and the Microsoft Jumpin' Jive Orchestra, also entertained the audience.
In a video interview, Sandra, a current resident of the women's shelter, shared her story of homelessness and expressed appreciation for The Salvation Army. She surprised the audience by coming onstage and thanking donors for their generosity.
Four acts from the local "Moisture Festival," the world's largest comedy/varietè festival, concluded the evening: plate spinner Henrik Bothe, silent clown Godfrey Daniels, aerialist Lara Paxton, and physical comedian Bill Robison.
Raised funds will support the women's shelter, where women can stay for a few days or several months, depending on their needs, while a caseworker supports their transition to independent living.