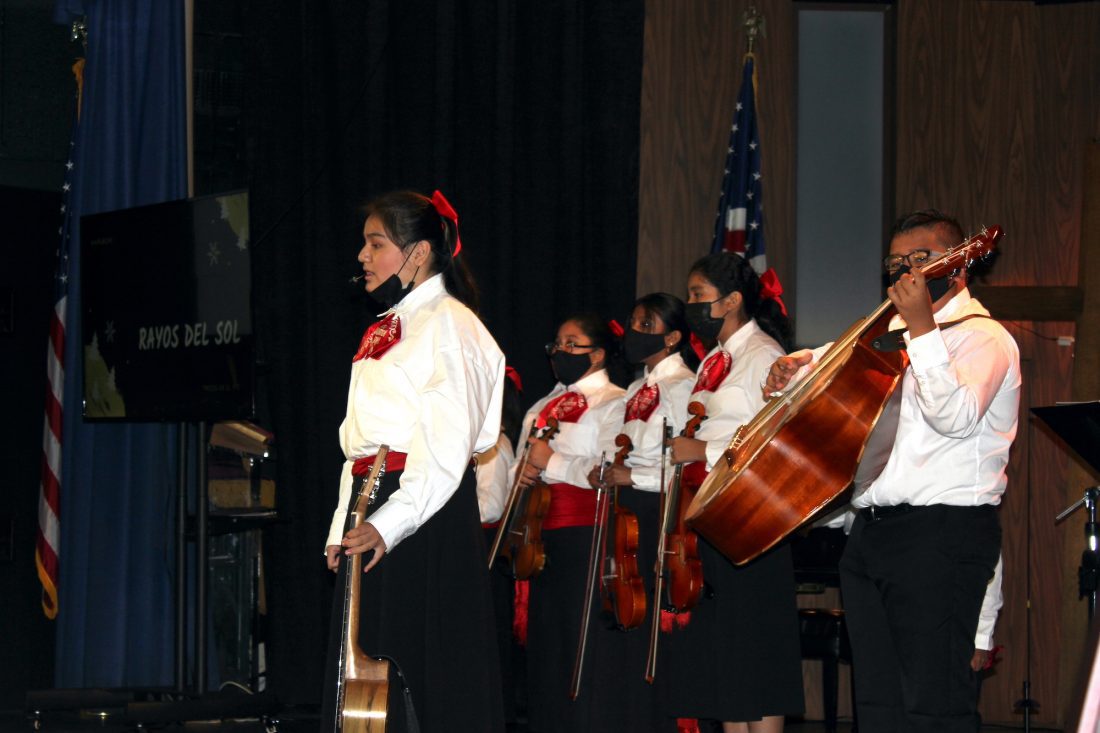 How The Salvation Army's mariachi program is bringing community and culture to Los Angeles
The Salvation Army's Red Shield community center in Los Angeles provides a program for kids focusing on mariachi music and traditions.
"The idea behind the mariachi originally was to tell stories," said Los Angeles Central Corps Officer Lt. Angel Amezquita. "It's a poem, singing a poem and telling stories."
Amezquita oversees the kids mariachi program at The Salvation Army's Los Angeles Red Shield Community Center, "Rayos Del Sol." The Spanish name, meaning sunlight or sunbeam, plays off The Salvation Army's Sunbeam program for young girls.
In the program, kids can choose between a variety of instruments from violin to guitar to trumpet. There are even options for traditional Mexican instruments, like the vihuela and guitarrón.
On top of learning how to play an instrument and join in an ensemble, Amezquita said the classes also focus on music theory and singing lessons.
Amezquita's journey with mariachi began when he decided to learn to play the guitar at age 9.
He remembered his mother saving up to buy him his first $100 guitar.
"At the time that was really expensive," Amezquita said, mentioning how much it meant to have his parents support even when finances were tight.
Growing up in San Jose, California, Amezquita said he first gravitated toward modern rock music and felt inspired by non-traditional guitarists, such as Mana. However, his elementary school offered free guitar lessons of a more traditional genre. Amezquita said his guitar teacher told him, "First you need to learn the basics before you think you're going to play like Mana."
While Amezquita said he might have been initially disappointed to not be learning how to play rock music, those feelings quickly subsided.
"It made me feel more connected to my family because they were immigrants from Mexico," Amezquita said. By being able to listen to the music together, Amezquita said it gave him and his family more to talk about and pushed him to practice his Spanish.
In the Pico Union community, Amezquita said there are children coming from diverse backgrounds and heritages. "We have a lot of kids from Peru. We have kids from El Salvador, Guatemala and we even have one kid from Spain."
"I think mariachi just has the passion, the power and the energy behind it. So, it kind of attracts all cultures," Amezquita said.
"I've seen kids that don't speak any Spanish, even though they're with Hispanic parents," Amezquita said, adding that through the program, kids are able to gain confidence in speaking and singing in Spanish.
"It empowers the kids. It gives them encouragement to get out of their comfort zone. It touches them with their culture," Amezquita said.
"Mariachi is tapping into a community of Hispanic communities, for them to feel connected," Amezquita said. "That's The Salvation Army really trying to be intentional in reaching out to them."
Most recently, Rayos Del Sol Mariachi performed at Los Angeles Central's Red Kettle Kickoff on November 20 at the Red Shield Community Center.
"It's the first time many of these performers performed live in over a year and a half," Amezquita said. "There's an old quote that we always say, 'The applause is the nutrition to the musician,'" he added.
While excitement ran high, there were also nerves, Amezquita said.
"What my [music] teachers always said, 'If you're nervous, that's good. That means you care.'"
The group performed several songs throughout the end of the night, including a Salvation Army Red Kettle bellringing song titled "Salvation Army Bell (Red Kettle Song)."
LA Red Shield Director Francisco Medina introduced the young mariachi performers as the final act at the Red Kettle Kickoff.
While making his introduction, Medina reflected on his own history with the LA Red Shield. He said he grew up in Pico Union and attended the school directly across the street from the center. He wanted to come to the Red Shield, but had to convince his parents to allow him to.
"A bunch of years later…I'm not going to say how many…I made my way full-circle to be on this stage to present these wonderful kids and everything that goes on in this building."
"When I came here, there was mentorship that was given to me and to all my peers," Medina said. "Our mission is to continue to do the same for others and enrich the lives of these kids."
---
Do Good: