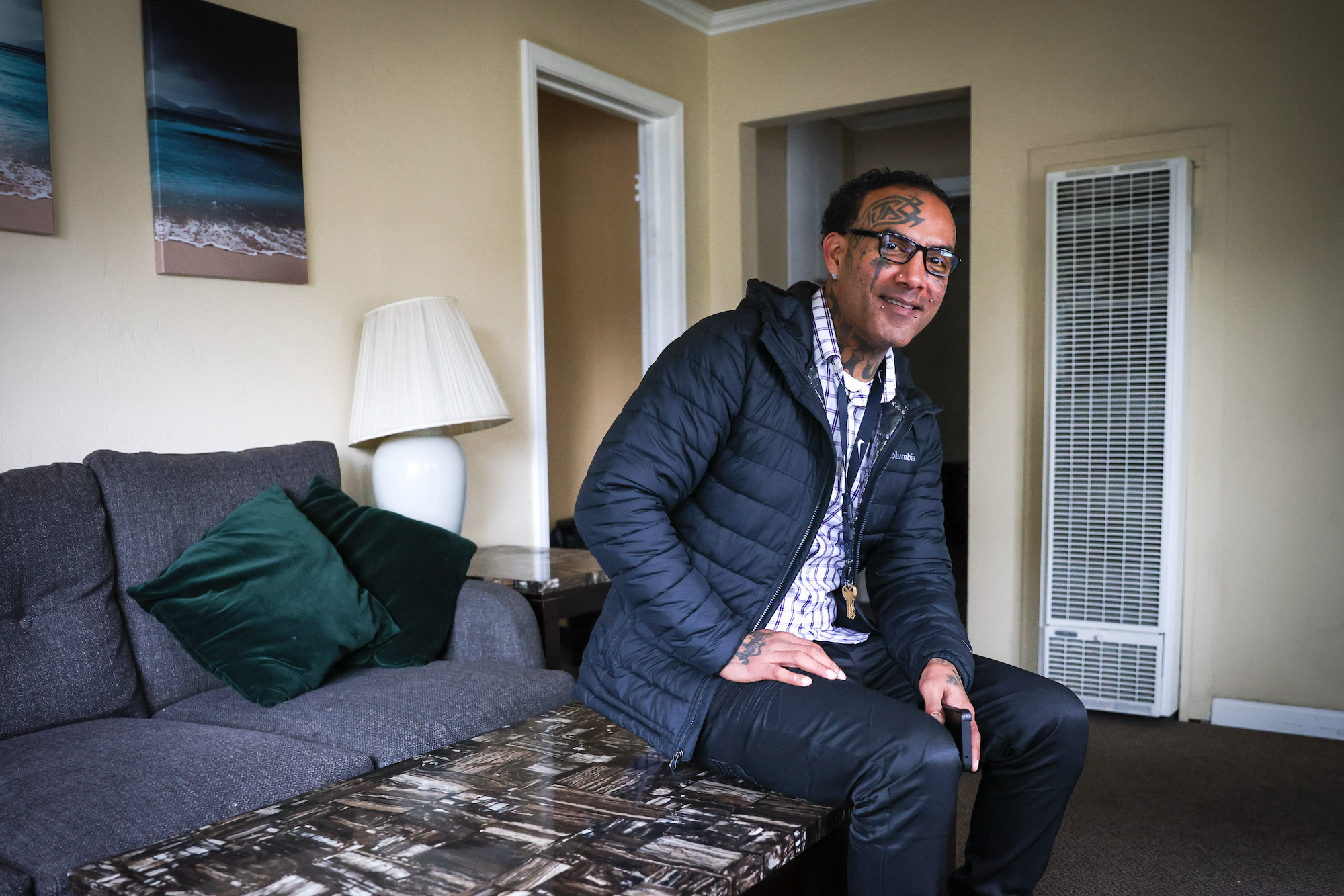 Salvation Army Bridgeway apartment program serves as a 'next step' for ARC graduates
In San Jose (California), Adult Rehabilitation Center (ARC) graduates can apply to live at the Bridgeway for up to two years.
After graduating from the San Jose Adult Rehabilitation Center (ARC) program in February 2020, Terrell Pina said applying to live at the Bridgeway transitional living program felt like the "next step."
"Sometimes six months is not enough time," Pina said. "You feel good about yourself for graduating from the program…And then it's like OK, what do I do now?"
After completing the six-month, no-fee rehabilitation program, graduates have the opportunity to continue living at the ARC while they find stable employment. Once that step is completed, they can apply to the transitional living program at the Bridgeway.
"It's another piece of transitioning into society…It sets you up for the real world. It sets you up for success," Pina said.
Located next to the San Jose ARC, the Bridgeway consists of seven two-bedroom apartments accommodating up to 28 men. The apartments serve as a sober living home for graduates, providing structure and support for long-term recovery success.
Bridgeway residents pay limited program fees while living in the apartments, which Pina said helps the men "save money and figure out a plan" for permanent housing.
While living at the Bridgeway, residents are paired with counselors and case managers to help determine what options are available to them. Bridgeway residents also meet weekly to discuss house issues and build community.
In addition to the weekly house meetings, Bridgeway residents are also required to attend recovery meetings and chapel services at the ARC. Pina said these requirements help men in recovery stay connected with The Salvation Army. "It's a good umbrella to be under," he added.
At the Bridgeway, Pina serves as a house leader where he said he "lead[s] by example" and ensures "all rules are followed," including curfews and sobriety.
"It's a chance to put everything that we've learned while we were in the program into practice," he added.
While in the program, Pina said he learned a lot. "It really does save lives. And I really do believe it saved my life."
Before entering the program in August 2019, Pina said found himself in the hospital "at least once or twice a month" due to his alcohol addiction. At that point, Pina said he consumed "at least a half a gallon of hard liquor" each day.
While excessive drinking can require medical attention in the short term, it also increases the risk of long-term health issues like high blood pressure, liver and heart disease, and cancer. Even more daunting, each year more than 95,000 deaths in the U.S. are related to excessive alcohol use, according to the Centers for Disease Control (CDC).
"I had no cares in the world. I didn't care about my children. I didn't care about my family. I didn't care about a future for myself. I didn't care about what was going on around me. I didn't have any respect for anything," Pina said.
At the hospital, Pina said a social worker came to him and asked if he wanted to get "clean and sober." At the time, Pina said he "wasn't serious about quitting," but shortly after committing to the program he said he began to experience a change.
"The Salvation Army program, it just grabbed a hold of me…physically, emotionally, spiritually I was getting healthy again," Pina said. "It was transforming me back into the person that I used to be without alcohol."
When Pina graduated from the ARC, he began working for The Salvation Army as a warehouse supervisor. "He's a big influence on the guys in the warehouse," ARC Intake Coordinator and Bridgeway Residential Manager Mark Senegal said. "He keeps them motivated…He understands [because] he's been there and he's done that, too."
Pina said he looks up to Bridgeway leaders, like Senegal, and knows that if issues arise he can go to them for help.
In the past year, Pina worked his way up at the warehouse to be hired on as the distribution center's operations manager while at the same time deciding to go back to school full-time. At San Jose College, Pina studies psychology where he's interested in addiction research and counseling.
"I love to understand behaviors and why we are who we are," Pina said. By researching the psychology of addiction, Pina said he hopes to help others understand root causes and what can be done to combat addiction in the future.
"[Pina] has four classes he's doing plus he works full time," ARC Program Administrator Captain Roberta McKinney said. "And he does all his obligations as well—church and all the things that he's required to do."
For beneficiaries, Senegal said, watching Pina succeed has been an inspiration. "It gives motivation to other guys that are in the program…It showed other guys that it can be done [for them] too."
For men that graduate the program and move on to the Bridgeway, McKinney said "You see real change in their lives. You see men who are motivated to make a change."
Senegal said he encourages ARC graduates to consider applying to the Bridgeway program to increase their chances of finding success in long-term recovery.
"I believe that if a guy goes through our programs and he transitions over to our Bridgeway units, there's a higher chance of staying sober," Senegal said.
Of everything that sobriety has given him, Pina said he's grateful his journey in recovery brought him "back closer to God" where he can grow spiritually.
"He's a very, very motivated, Christian man," McKinney said of Pina. "He is a true example of a man saved by grace."
---
Do Good: