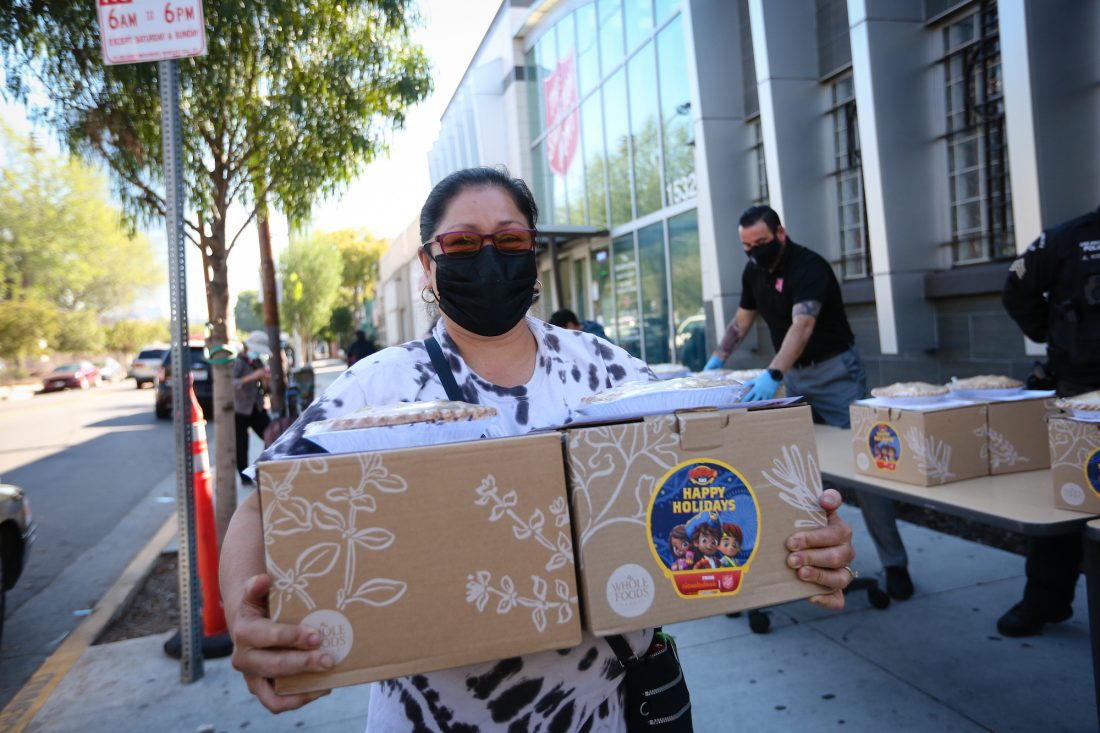 Feast of Sharing aims to renew Thanksgiving traditions in Los Angeles
When you think of Thanksgiving, you probably think of traditions. In the Pico Union neighborhood of Los Angeles, one such tradition is the Feast of Sharing. Usually a sit-down meal and event featuring characters from beloved Nickelodeon shows, the tradition, like many others, had to pivot in response to the pandemic.
This year, while the group meal was not an option, partners Nickelodeon and ViacomCBS made sure families would still have turkey with all the fixings. Only this time, it would be via a food box that they could pick up from The Salvation Army's Los Angeles Red Shield Center to take home Nov. 15.
While the needs created by the COVID-19 pandemic are greater this year than in years past, The Salvation Army, with the help of its partners, aims to not only meet them but participate in bringing families back together through a shared Thanksgiving meal.
"This year in particular, I think it's really important because so many of the families are needing that time to come back together as a family unit and celebrate Christmas and Thanksgiving together," said Los Angeles General Secretary Captain Sean Kelsey. "It's not just about giving a turkey and a pie, but it's about making sure that everything is in place for folks to be able to have a nice meal with their families."
At 7:40 a.m. Salvation Army Red Shield Center social services employees Reuben Reyes and Elder Ortega depart to pick up the food for the food boxes from the Downtown Los Angeles Whole Foods Market. Ortega, who recently switched over to social services after working with youth, said "giving back just feels good."
At Whole Foods, pallets of food await the pickup for the event inside a refrigerated unit. "There are six frozen pallets, and then there's three fresh ones," Reyes, who has worked for The Salvation Army for 9 years, said. "So we're going to take the first six back to The Salvation Army, and then we're going to make another trip and come back."
A Whole Foods employee uses a forklift to load the frozen pallets into the truck, where Reyes waits to arrange them. In all, there is enough food for 600 boxes containing four meals a piece to be made.
"It's a meal for four, so it's turkey breasts, stuffing, mashed potatoes, green beans, pie, cranberry sauce and gravy. So it's just a really traditional meal," Whole Foods Senior Operations Team Leader David Swinson said. "Some of it we gave frozen because we want the shelf life."
Reyes and Ortega stand with members of the Whole Foods team. Swinson said Nickelodeon reached out to the store to purchase the food, and his team got involved to help arrange and buy the product. Swinson worked with his colleague Corey Smith to coordinate the food drop.
Reyes and Ortega unload the first round of pallets while volunteers prepare the boxes to be packed inside the Red Shield Center.
Employees from the Red Shield Center help unload the pallets and arrange the food for inclusion in the food boxes. Whole Foods provided heating instructions in English and Spanish.
Each of the 600 boxes featured a sticker designed by Nickelodeon depicting "Santiago of the Seas," an interactive animated series on Nick Jr. According to the Nick Jr. website, Santiago Montes is an 8-year-old brave and kindhearted pirate. Nickelodeon also supplied inserts for the boxes, which provided information on how to find free "Santiago of the Seas" content.
Inside the Red Shield Center, the food from the pallets was organized into four rows of long brown tables. Volunteers from the California South Divisional Headquarters worked in an assembly line-like manner to pack the boxes.
Corporate Engagement Coordinator Amy Hudson volunteers to help pack boxes at the Red Shield Center.
Outside, a line of people from the community formed and wrapped around the block. Corps Assistant Eduardo Lechuga helped regulate the number of people coming to receive a food box at a time.
"This crowd, they're always in need…year round," Los Angeles Red Shield Center Corps Officer Lt. Cassandra Amezquita said. "During the pandemic, they were more hard hit than other communities, because Pico Union is very dense."
Volunteers from the Los Angeles Police Department helped to move food from the pallets to the staging area as well as keep all who participated in the event safe.
Cassandra Amezquita helps load a food box into a man's cart. While she misses aspects of how the event was traditionally held prior to the pandemic she said, "We try to serve our community with integrity no matter what… I'm glad it's healthy and a really awesome meal."
Cassandra Amezquita talks with one woman who received a food box. Another woman, named Lucy Godienez, used to live in the area and has always come to the Red Shield Center for food. "When I have extra stuff, I just give it away. It works for everybody," she said, noting that she often gives food to the tenants in the building where she lives. "I put it by the mailbox, and they just pick up whatever. And I don't know who takes it and how much they take."
She already has plans for the turkey, which she plans to "bake for everyone."
"I'll come here every now and then. I was told to get my food here, so I just came down to get some grub," said Eddie Johns, who lives in senior supportive housing near the Red Shield Center called Casa Carmen. Johns, a musician, had a song titled "I put a spell on you," that he said was popular in France decades ago.
"I was homeless because I had a stroke….so the street was about to take me, but there's a God who guides everything," he said.
By noon, about half of the boxes were distributed, but Amezquita had plans for the remainder, starting with distributing them at a nearby school during pickup time. "We have community partners that when we have large distributions like this, they'll come and take some bulk items," she said. "And we help out small churches or little organizations."
It is the Feast of Sharing, after all.
---
Do Good: