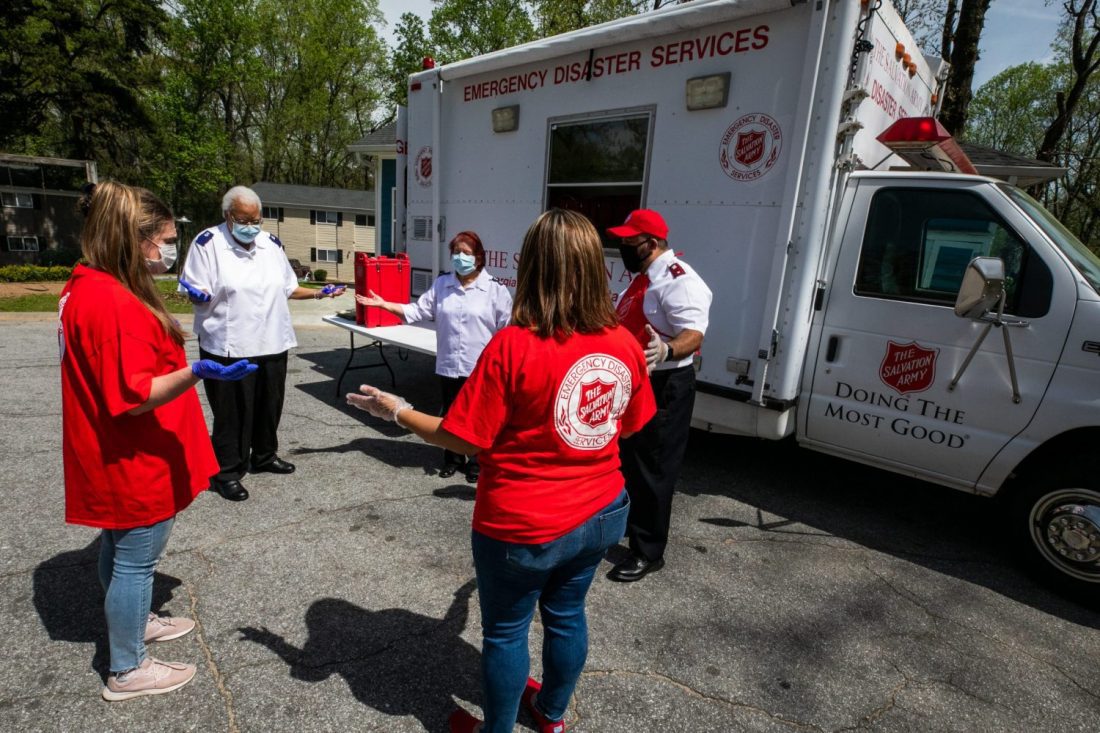 3 ways The Salvation Army is engaging the Church in worship during COVID-19
The Salvation Army serves 23 million Americans a year in six key pillars of service in every zip code across the U.S. In the wake of the COVID-19 pandemic, The Salvation Army continues to serve in every respect—now more than ever.
While the Army houses the homeless, feeds the hungry, responds to disasters, serves kids and seniors, and helps people fight addiction, it does so with a mission to meet human needs in Christ's name. Here's a deeper look at how The Salvation Army is engaging the Church in worship amid the coronavirus.
Did you know The Salvation Army is a church? 
Nearly 1,200 Salvation Army corps—or church—locations across the U.S. offer worship services every Sunday morning. And while COVID-19 has changed the way in which these locations worship, the Army has adapted its ministry to invite people in from their homes.  
The Salvation Army is an evangelical part of the universal Christian Church. Our message is based on the Bible, our ministry is motivated by the love of God and our mission is to preach the gospel of Jesus Christ as we meet human needs in his name without discrimination.
Every program is rooted in a passion to serve God by serving the hurting, the helpless and the hopeless. 
It's biblical: We love because God first loved us. 
While society has largely gone home to self-isolate and slow the spread of coronavirus, The Salvation Army has also improvised, finding ways to continue its ministry of presence in new ways.
1. Taking local services online
In Surprise, Arizona, Corps Officers Captains Mark and Kathy Merritt of the Sun Cities West Valley Corps spent five hours calling every member of their congregation recently to check on them and invite them to a Facebook Live worship service.
"Everyone is kind of fearful right now. They can't get together and talk with their friends. They're isolated in their homes," Kathy Merritt said. "We wanted to relieve their fears and let them talk, let them know we're thinking about them, ask if they need any supplies, pray with them and tell them about church."
While a typical Sunday sees about 125 people at the corps, Merritt said the recent live stream recorded 614 views.
"It was strange to not be able to greet everyone, shake hands and have people in the congregation help with aspects of the service," Mark Merritt said, noting they are also doing devotionals via Facebook Live three days a week. "But we don't have to be apart just because we're social distancing. It's not quite the same, but it's better than nothing."
2. Embracing creative outreach
Leaders across the territory are finding a way to connect with their congregations in new ways. Pasadena Tabernacle Songster Leader Matthew Woods used what would have been the weekly rehearsal time to go live singing hymns. A Facebook Live from The Salvation Army Female Emergency Shelter in Portland updated viewers on the response there and resulted in a $15,000 donation. Auburn (California) Corps Officer Lt. Jesse Posner recorded a Bible storytime for kids in his congregation. And in Santa Cruz, California, Corps Officers Captains Angel and Marcos Marquez set up a prayer hotline using Google Voice.
"We recorded a video and posted on our social media for people to 'meet' me—the person who would be answering their prayer calls and texts," Angel Marquez said. "Anyone can call or text anonymously, and I will respond and pray for them. I can also call or video call those who would like a call back."
3. Joining in corporate worship
Territorial Commander Commissioner Kenneth G. Hodder is regularly updating Salvationists and friends in the West by video message. The territory publishes a weekly guided worship service on YouTube, the territorial youth department hosted an online youth night on Facebook, and a weekday prayer meeting on Facebook is taking prayer requests by comment or email.
"I was healed from pancreatic cancer; I know God works in weird ways—in unexpected ways," said Major Brian Bearchell, Continuing Education Officer at the College for Officer Training at Crestmont, who is co-hosting the prayer meeting. "Some of the best ministry The Salvation Army has ever had is in hard times. This is a hard time, but we're expecting to see great things from God."
On Easter, April 12, Hodder brought a message of hope in a territorial online worship service, via the territory's news publication, New Frontier Chronicle.
"Seeing so many Salvation Army operations proclaiming the gospel via live streaming gives me hope; it feels right," said Lt. Jeff Walters, Divisional Youth Secretary in the Hawaii and Pacific Islands Division, who tuned in to Sunday services recently in California, New Mexico and his home corps in Kaneohe, Hawaii. "This is the first part of our mission—to preach the gospel—and it's happening on a greater scale when we stream it online. [Founder William] Booth would be proud; this fits into the missional, pragmatic ethos of who the Army is."
---
Do Good: 
If you'd like to make a monetary donation, please click here to make a gift.
Text 'GIVE' to 52000 to make a $10 donation to The Salvation Army. This will automatically add a one-time donation to your next mobile phone bill.
For information about volunteering, please visit volunteer.usawest.org.
To learn more about how to support The Salvation Army's relief efforts, please click here.
Download our latest Scripture series, God With Us, written from quarantine.