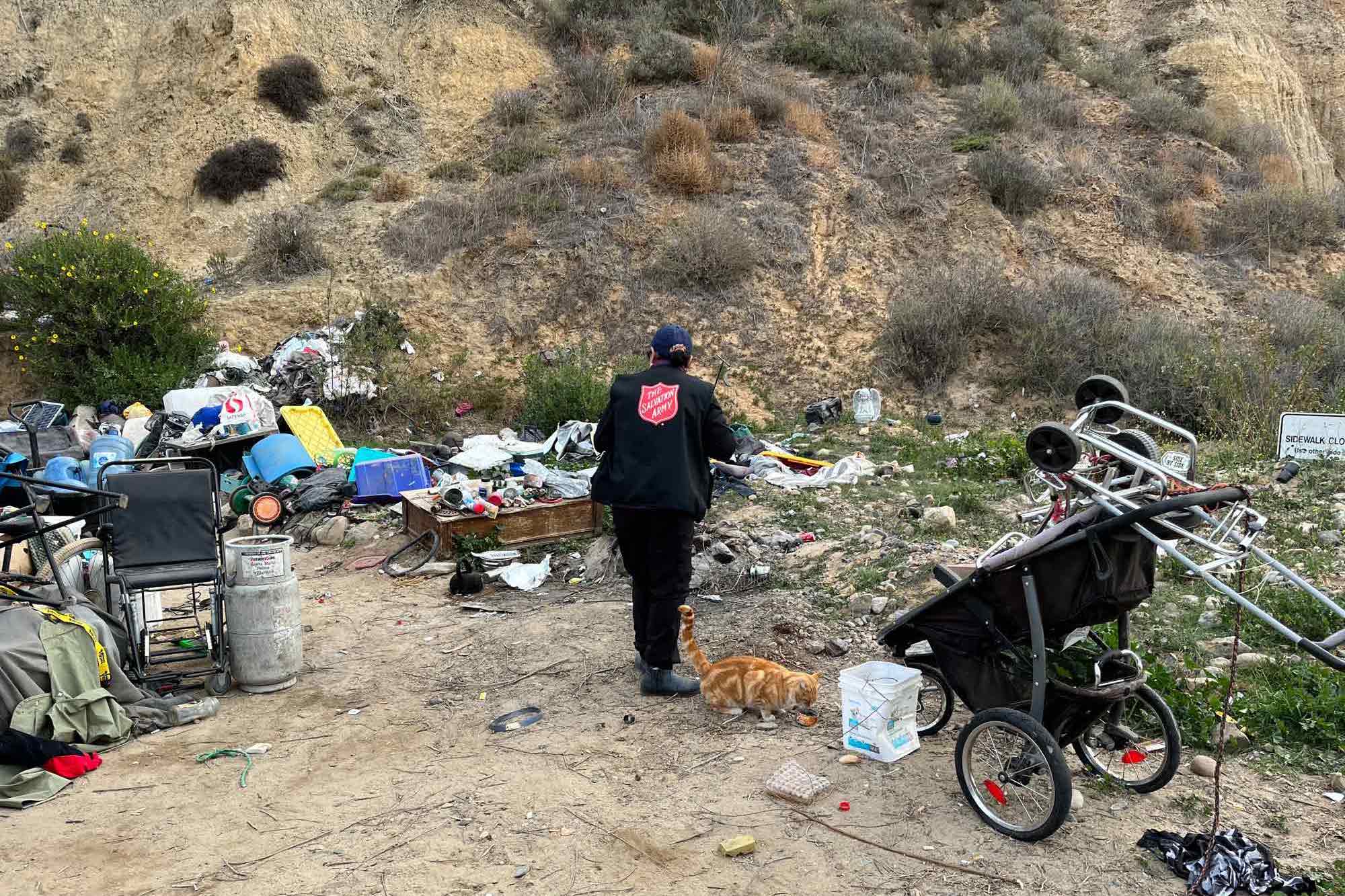 How The Salvation Army in San Luis Obispo is reaching unhoused people
The Salvation Army San Luis Obispo (California) Corps' Street Level Outreach team is bringing resources and hope to those experiencing homelessness.
"We offer anything that we have to help get them out of that situation," said Salvation Army San Luis Obispo (California) Corps' Envoy In-Charge Guillermo Marquez.
Four times a week, the corps' Street Level Outreach helps unhoused people in the San Luis Obispo area by offering food and messages of hope. In addition to distributing food, the team also offers hygiene kits and winter supplies like warm socks and gloves.
"The plan is to go to different communities to meet with people and connect them with services to develop that relationship," Marquez added, noting the ultimate goal is to help each person find permanent housing through the corps' Rapid Rehousing program.
Often, Marquez said clients are brought from Street Level Outreach into the Rapid Rehousing program, which helped house over 25 people in 2022.
Following initial contact, the outreach team works to identify any barriers a person may be facing. For those that enter into the Rapid Rehousing program, individualized case management is offered to work through specific issues and navigate available resources in the area.
The key is connection, Marquez said. In certain areas, like Santa Maria, Paso Robles and Atascadero, he added, by having Spanish-speaking staff members, the outreach team has been able to reach more people. People feel "more comfortable" when the language barrier is removed, he said.
Another way the outreach team works to build trust with people living on the streets is by having team members who have also experienced hardships in their lives.
"I seem to build rapport really well, being that I have experience, personally, with homelessness and addiction," said San Luis Obispo Corps' County Services Manager Hattie Davis.
Five years ago, Davis said she began working in social services as a drug and alcohol counselor which led to her working with people experiencing homelessness. To help unhoused people struggling with addiction, the outreach team distributes NARCAN, a medicine used to help reverse narcotic overdoses in emergency situations, Davis said.
"There are so many houseless people in this community," she added, noting how the team is constantly running out of supplies, especially medical supplies and hygiene kits. "Trying to gain those things back with minimal funding is our biggest struggle right now," she said.
By partnering with other local agencies and organizations, the outreach team is able to amplify its efforts and help more people. For example, twice a month representatives from the California-based nonprofit, Dignity Health, join the outreach team to provide on-site medical care and referrals.
"Sometimes [people experiencing homelessness] don't want to engage with us, but other times they're like, 'Oh, this is great…these are the issues I'm struggling with,'" Davis said. "Then, we're able to assess how we can further case manage those people."
During outreach assessments, Davis added how there are certain checklists to ensure each individual will be able to move forward in the housing process, like obtaining birth certificates, social security cards and other means of identification and work authorization.
Once those items are accounted for, the team can work toward enrolling someone in the Rapid Rehousing program which supports each client through steps needed to secure permanent housing.
In addition to her role as the County Services Manager, Davis also serves as the Rapid Rehousing Case Management Coordinator, where she said she is currently managing over 100 client cases.
Throughout the Rapid Rehousing program, clients are offered assistance in applying for stable employment including resume building and practice interviewing. Then, once financial needs are met and a client is moved into permanent housing, Davis said the team continues to provide support by keeping in contact in order to ensure that housing can be sustained.
Currently, the Rapid Rehousing program works with 22 landlords in the area, Davis said.
"I'm always connecting with landlords," Davis added, noting how she's always looking for more people to get involved.
"When I find landlords that are willing to participate, then I lead them to the cases that would fit the units that they have available," she said.
As the Street Level Outreach services continue to grow in the San Luis Obispo area, Marquez said he hopes the team can increase outings to seven days a week. Until then, Davis said, "We just keep coming back and we keep trying."
---
Do Good: