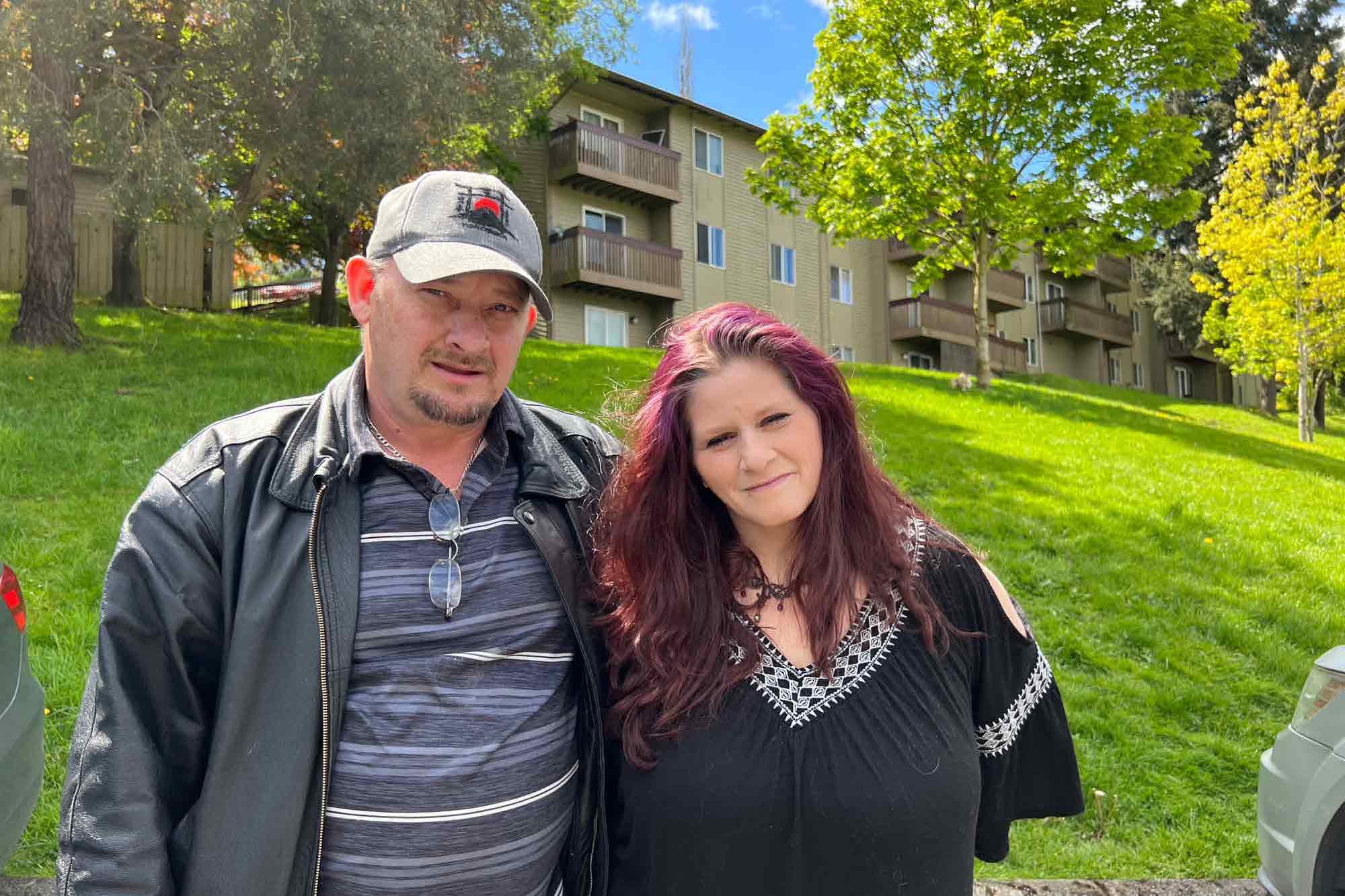 How one couple finds hope (and housing) after living in their car
The Salvation Army Street Level outreach program continues to help people experiencing homelessness find housing in Washington.
When Leticia Duman and Win Howell purchased their first house together in 2014, they said they never imagined losing it all in a fire, pushing them into a state of homelessness outside of Seattle, Washington.
After years of living in their truck, Duman and Howell were able to find an apartment with the help of The Salvation Army Street Level program. It's been two years since moving in and the couple isn't looking back.
"The Salvation Army, they saved our lives getting us into this place," said Duman, adding how initially, she didn't believe outside help was possible. Howell added, "When you've been on the road for a while, you don't believe anything until it's actually real…You don't believe it until you see it."
When Street Level Program Manager Tina Lewis first approached the couple, she said she could help find them housing if they were ready, to which she said "they were very receptive to."
"They had never seen anyone come to them and offer this type of assistance," added Lewis, mentioning how the Street Level team is the first of its kind "to go out and meet folks where they are."
Once Lewis establishes contact with new people living on the road, she said she provides them with her business card, hygiene kits and snacks while aiming to schedule a future meeting to discuss the next steps.
Lewis said she's frequently asked how she's able to walk up and start conversations with people.
"Well, first of all, you've got to make them feel comfortable," said Lewis. "You've got to listen to what they have to say." Next, Lewis said she shares her own lived experience with homelessness in order to relate with those on the road.
"You'll see that sense of relief and their shoulders go from hunched up to relaxed…They're like, 'Oh, she does understand. She's been there. She's done this,'" Lewis said. "If someone had approached me the way that I am able to approach these folks, I probably would not go through as much as I did in my life."
Lewis said she lost contact with Duman and Howell for a year as "phone numbers had changed [and] phones were lost."
For Duman and Howell, they said the costs to maintain their truck came first when living on the road. Howell noted how it was important to stay moving to not "draw attention" to their state of homelessness.
A lot of times, Lewis added, "It's harder to survive in a vehicle than it is to live in a tent…[because of the need to] constantly come up with money to move and maintain that vehicle."
After one meeting, Lewis said she found out Howell had a HEN (Housing and Essential Needs) voucher but didn't know how to access the housing.
"What he had was literally like a piece of gold," she said.
According to Washington State's Department of Social and Health Services (DSHS), HEN vouchers are available to individuals with low incomes "who are unable to work for at least 90 days due to a physical and, or mental incapacity." The vouchers can cover housing and essential needs costs, like rent and utility assistance.
After their house was foreclosed, Howell said he lost his job of 25 years shortly after his father passed away. "That's how it happens…I just tumbled into a black hole," he said. As a result of the foreclosure, he said his credit "went downhill real fast," creating another barrier to finding stable housing without outside help.
Throughout the process, Duman said she had faith they would find housing eventually. "We knew that there was a place out there for us, " she said. "We knew a place was coming."
To verify his income in order to use the HEN voucher, Lewis said she asked Howell to go to DSHS to get his paperwork.
"They did everything I asked them to do," Lewis added. "They stayed in touch, even when nothing was going on."
Once reconnected, Lewis said it took about a month to secure Duman and Howell housing in a tax credit property at an apartment complex, one that now works in partnership with the Street Level program.
"Those two, no matter how much they went through together," Lewis said, "they stuck through this entire ordeal until it came to pass. "
"You've got to be positive in life to put yourself ahead," said Duman. "You really do and it's hard to be positive all the time, you can't always be positive."
Howell added that the judgment from others is immediately apparent when living in a state of homelessness. "You can almost read it through their eyes as soon as they learn about it," he said. "When you're homeless, you're out of the picture. You're not part of the in-crowd anymore."
Although Duman and Howell don't look back fondly on their experience with homelessness, Howell said "everything is a learning experience and it's for a reason." For those still living without permanent housing, he said, it's important to "not give up on yourself."
"Don't give up at all," Duman added. "There are people who will help you."
"That's what everybody needs in that situation," said Howell. "They need to understand that there are people out there that will help."
---
Do Good: