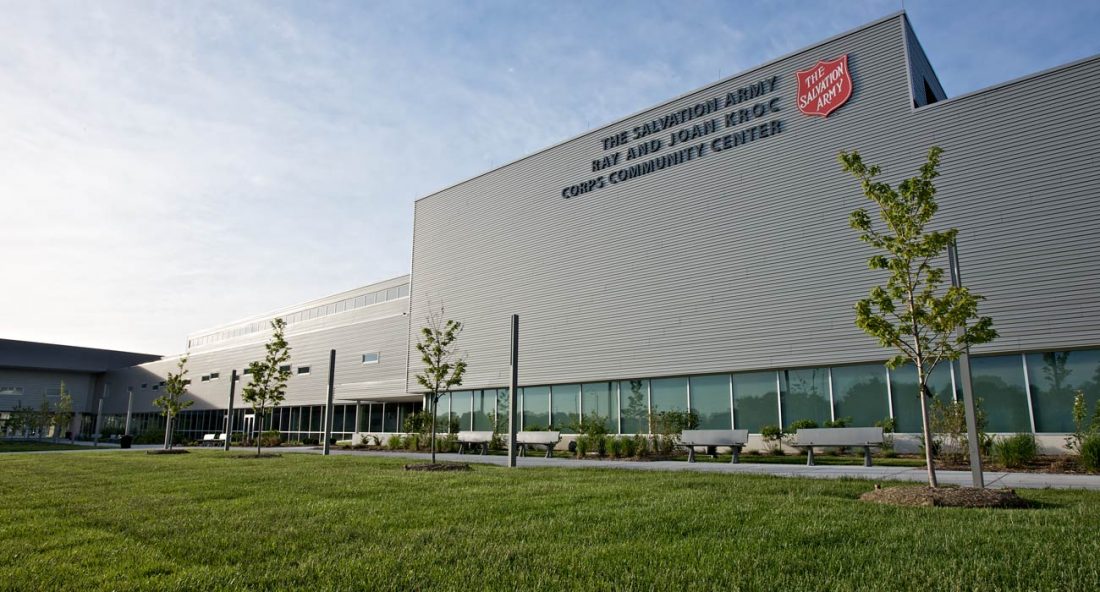 How it all came together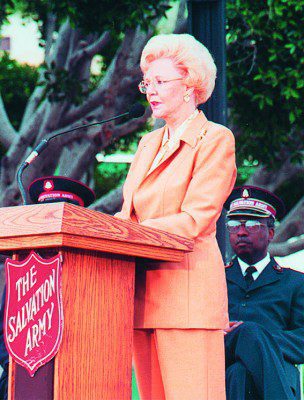 When Debi and I were appointed as divisional leaders in San Diego in February 1998, we immediately took up the work laid by previous divisional leaders and staff for a new corps community center in the east San Diego area. The previous year, Joan Kroc asked The Salvation Army in San Diego to submit a proposal for a community center. She had toured an underserved part of the city with the former mayor of San Diego, Maureen O'Connor, and Joan was touched by the great need and lack of facilities in East San Diego. Maureen indicated to Joan that she may want to work with The Salvation Army, as it is an organization you can trust with your money—a trust the Army built by the faithfulness and public accountability of officers and soldiers for over 120 years in the greater San Diego community.
The Army submitted concept drawings to Joan that outlined a corps community center, including a chapel/meeting hall, fellowship hall, classroom building, administrative offices, full-size gymnasium, and a child care center. It was immediately clear that our vision was not big enough. Joan said the proposal was not what she had in mind. As a young child, she said, she had built self-confidence by ice skating. Her friend, Maureen O'Connor, had built self-confidence by swimming. Joan said she wanted a center that would allow young people to build self-confidence through sports, the arts, or education. She wanted to see competition facilities for ice skating and swimming, as well as a performing arts center and a library.
We went back to the drawing board and included professional size basketball courts, an ice hockey arena, competition and recreational swimming pools, sport fields for soccer and baseball, a performing arts and educational center, chapel, classrooms, childcare center and warehouse. This second proposal was presented to Joan and she said, "I like it." We asked what part she liked and she responded—all of it. The Salvation Army, however, cautioned that it was one thing to build such a complex, but another to finance it in the long run. "Yes, I'm aware of that and I intend to provide a gift to endow the program as well as build the facility," Joan said. "It won't cost more than $100 million will it?"
As plans began to develop, we hired a coordinator to oversee the process and formed an advisory council to determine the needs of the community and receive its feedback.
Locating a site became the first challenge, and we prayed for guidance. God was in this project from the beginning, and we learned that a 12-acre site was for sale in East San Diego where the cities of San Diego, El Cajon and Lemon Grove come together. At a local neighborhood planning meeting, presentations outlined prospective buyers' plans for use of the property. Others included a self-storage facility and a flea market, and the Army presented its plan. For the first time in meetings before local planning groups, The Salvation Army received a standing ovation. Its offer on the property was accepted.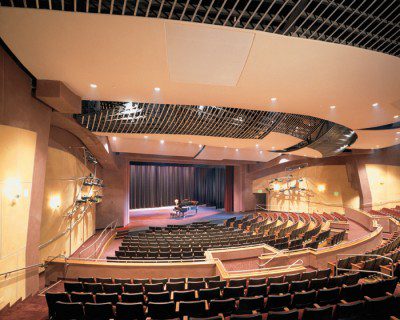 During property investigation, several community leaders were approached to serve on the advisory council committees. The advisory committee, with Joan's personal attorney, Rob Durham, met on a monthly basis, and were instrumental in selecting the architect, contractors, developing operating budgets, writing job descriptions and recruiting staff.
Several architectural firms presented proposals for the design of the center before Austin Veum Robbins Partners was selected due to its excellent record in thinking outside the box and successful creative planning. The firm would later receive an Orchid Award for the design of the Kroc Center. Roel Construction Company of San Diego was chosen as the contractor due to its successful record of on time and within budget large projects.
With 30 schools located within a three-mile radius of the site, Dr. Stephen L. Weber, president of San Diego State University, agreed to serve as chair of a committee of the school principals to provide feedback on what would be helpful to the students and staff of these schools. The state university had just closed its competition swimming pools, so it was a natural transition to the Kroc Center's new swimming area. In addition, the university hockey team had traveled 30 miles to practice in the early hours of the morning; it was a natural transition to the new professional size hockey ice arena. Students most desired an indoor skateboard park, which was designed to be  mobile so that the same area could be used for the large San Diego County Christmas distribution, where as many as 30,000 individuals receive food and toys each Christmas.
San Diego Opera Executive Director Ian Campbell agreed to serve as the chair of the arts providers, a committee instrumental in helping to design the performing arts auditorium and classrooms, as well as outlining the classes and instruction to provide.
Then Director of the School of Social Work at San Diego State University, Dr. Anita Harbert, chaired a committee of the principal social work providers in East San Diego to determine what type of services were most needed and not provided in the area. The committee made a concerted effort to avoid duplication of services or facilities.
An example of giving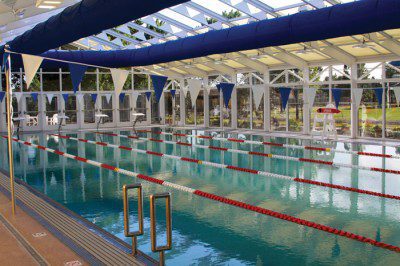 With everything in place, we asked Joan if she would be willing to participate in a public announcement of the gift. She was not one who wanted attention and rarely acknowledged her gifts, including the time she visited a flood ravaged part of the Midwest and made a financial gift to every member of the community to help people get back on their feet. Joan never told anyone who she was, but someone noticed the call letters on her private jet and determined its owner. It was around that time that she became known as the stealth philanthropist.
Joan agreed to speak at the dedication of the San Diego Ray and Joan Kroc Corps Community Center, she said to acknowledge those who inspired her toward this project and to be an example to others with means to use their assets in a similar way. At the dedication of the building by General John Gowans in 2002, Joan again expressed appreciation to the Army and others involved in the conception and development of the project and challenged those with means to get involved in the lives of others by sharing their assets.
During the course of the San Diego project, Joan asked the Army to submit community center proposals for as many as 20 additional sites around the country. Little did we know, soon after she would leave the balance of her estate, after some specific bequests, to develop 27 centers in all four U.S. territories. She left quite a message and challenge for charitable giving today.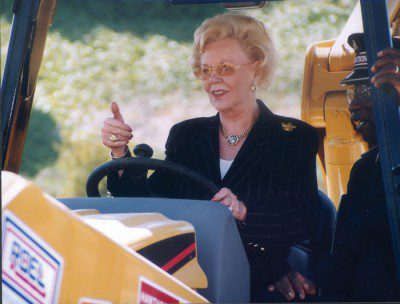 I personally enjoyed my calls from Joan. On one occasion, hearing the news of an African American man being dragged behind a truck and killed in Jasper, Texas, she called and asked how one could help the family in such devastating circumstances. I told her that as a Salvation Army officer the best thing I could do was to be there for the family, and that is exactly what she did. Joan called her personal assistant and her pilot and flew to Texas to be with the family. She asked what she could do to help; they replied that they were a Christian family and that their sufficiency was found in Christ as their saviour. Joan discovered that several members of the family were in the military and had to take leave time and pay for travel expenses to attend the funeral; she arranged to cover all of those expenses. Joan also discovered through talking to the family that the widow had a very old truck; she called it her fishing truck. Joan bought her a brand new truck. As was her style, Joan never told the family who she was or where she was from, just that she wanted to be there and help in any way she could. She simply and truly cared for those who found themselves in difficult situations.
On another occasion, Joan called me late one evening and asked, "Don, did you know that there were poor people in Mississippi?" By this time I had come to realize that Joan never asked a question without a purpose. When I responded in the affirmative, she told me that she had heard so and decided to check it out for herself. Once again, a call to her personal assistant and pilot and they were off to Mississippi on a fact finding mission. Joan later said that she found a motorcycle policeman who agreed to show them around, and was pleased to report that she found some great parts of Mississippi, but noted that there was a significant lack of support facilities in Biloxi. She wanted me to call The Salvation Army representatives there to ask for a proposal for a swimming pool and center. In September 2011, a Ray and Joan Kroc Corps Community Center opened in that community.
Joan was deeply compassionate, and deeply concerned with the welfare and success of others. Her legacy is that of a deep sense of caring and generosity, an example to each of us, regardless of the size of our ability to give.