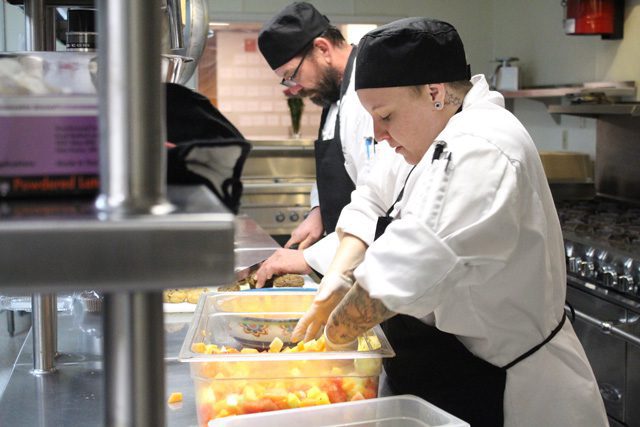 Hospitality course creates opportunity in Napa's leading industry
The Salvation Army in Napa partnered with Napa Valley Adult Education to open the class to the public.
By Vivian Lopez –
Napa Valley, California, is known the world over for its venerable vineyards sprawling miles of rolling hills, award-winning eateries and posh hotels. Its service industry has long been a cornerstone of the region's economy, so skilled hospitality professionals are always in high demand.
With this in mind, The Salvation Army in Napa, California, partnered with Napa Valley Adult Education to offer two sessions of an "Intro to Hospitality" course from September through November.
The curriculum, drawn up in part by Napa Adult Education, includes hands-on experience in The Salvation Army's Napa feeding program—both in the kitchen and the dining area—and field training at local restaurants, hotels, resorts and spas.
"We're giving them an overview of the hospitality industry here in the Napa Valley," said Paul Fields, Salvation Army Napa Culinary Training Program Executive Chef and instructor.
The class meets four days a week for four weeks at The Salvation Army Napa Culinary Arts Training Program kitchen, with each day broken up into class discussion, role playing, resume writing and mock interviews to get students prepared to meet with prospective employers. Students receive their ServSafe food handler card, and get a behind-the-scenes look at what it takes to work in a restaurant, winery or hotel.
According to Fields, the course is a response to industry leaders longing for job applicants with a deeper understanding of the hospitality field.
"What I'm hearing from our industry is that they're getting applications from potential candidates, but they really don't understand what the hospitality industry here in Napa is all about," he said.
Fields hopes that through the instruction the students receive in the course, they'll gain that edge to get them hired.
"This is going to be a nice, easy transition, pathway and stepping stone to getting them into the workforce," Fields said. "I'm hoping to give them as much information as possible so they can use it and guide themselves in the right direction."
The course will continue to be offered one to two times each year, serving as a pipeline for some students to participate in the Napa Culinary Training Program, as well. At the end of the course, graduates receive a certificate, and get connected to employment opportunities with community partners in the hospitality field.
"The employers are going to get candidates who are exactly what they're looking for," Fields said. "They're getting people who are wanting to be in that position, and they're going to have some knowledge and background going in."
Chari Hilliard said she decided to take the class to broaden her horizons and explore more avenues within the hospitality field.
"It was an awesome course. It was educational," said Hilliard, also a graduate of the Napa Culinary Training Program. "It was not sugar coated. It was straight to the point on what to expect if you want to pursue a career in the hospitality field."
Now employed by a restaurant, Hilliard credits the course with helping prepare her for life in the industry.
"I consider myself an artist," she said. "The course was just another tool to help me perfect my craft."
Major Martin Ross, who oversees Del Oro divisional enterprise development, said the course is a great step forward for the division's workforce development efforts.
"These students are going to be job ready," Ross said. "There are so many vacancies taking place in Napa right now. There's already alignment with The Salvation Army for the individuals who graduate from these programs to get a job. The Salvation Army across the board in the division, and in Napa in particular, is beginning to have a reputation of added value to the community and as a go-to organization when the industry needs help."