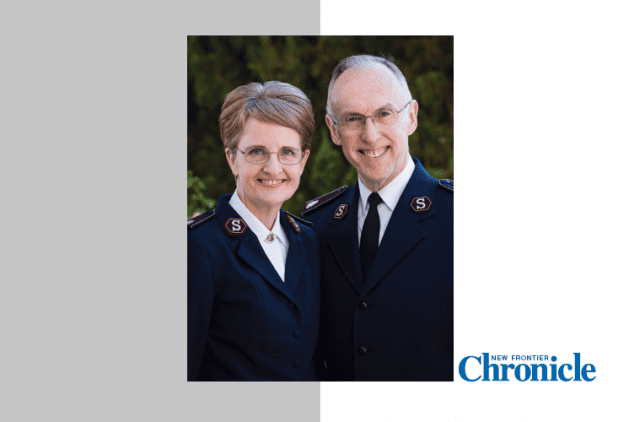 Hodders to lead USA: A look at their time in the West
Rileys appointed to lead West
Commissioners Kenneth G. and Jolene K. Hodder were appointed by General Brian Peddle as the USA National Commander and National President of Women's Ministries, respectively, effective July 1. 
The Hodders currently serve as the West's territorial leaders, and will succeed Commissioners Dave and Sharron Hudson at National Headquarters upon the Hudsons' retirement in June. 
Colonels Douglas and Colleen Riley, who currently serve as the West's Chief Secretary and Territorial Secretary for Women's Ministries, respectively, are appointed as Western Territorial Commander and Territorial President of Women's Ministries. 
The Hodders were installed as Western Territorial leaders in January 2017 at the Tustin Ranch Corps in Southern California. The Hodders' tenure as the West's Territorial Leaders was guided by Kenneth G. Hodder's territorial vision: "Christ and Him Crucified," which emphasized covenant, engagement and stewardship.
2017 also began the three-year territory-wide "Project 180" effort, designed to reduce costs, increase income and develop ministry. Project 180 resulted in the July 2018 merger of the Western Territory's Southern California and Sierra del Mar divisions to form the California South Division, the largest division in the U.S.
Another hallmark of Kenneth G. Hodder's leadership as the West's Territorial Commander was the emphasis on advisory boards. Hodder launched the first territorial advisory board in the U.S. in 2017.
Several years later, in 2019, Hodder issued a call for every corps, unit and adult rehabilitation center in the Western Territory to have a functioning advisory board, council, auxiliary or Echelon chapter by Jan. 1, 2020—a goal that was met. 
"The more people involved in the process, the better our decisions will be and the more people will understand our decisions, thereby helping us all the way around," Hodder told New Frontier in 2017. "We can't afford to measure in silos anymore."
Involving others became a significant push for the West's annual Red Kettle Campaign as well. In 2017, Hodder challenged the West to increase its kettle volunteer hours by 25 percent—a challenge he built on for the next two years. 
In 2018, the West's Territorial Headquarters relocated to the College for Officer Training at Crestmont campus, where it was formerly housed prior to its move to Long Beach in 2000. During this time, Hodder was nominated to be the 21st General of The Salvation Army, a post that went to now-General Brian Peddle.
Also in 2018, Jolene K. Hodder worked with women from throughout the territory to reboot Women's Ministries, which was relaunched during the 2018 Commissioning events.
"God provided a miracle beyond our wildest imagination. The territory's prayers brought together just the right women with the combination of backgrounds and skills that were necessary to give everyone in the territory a voice," Jolene K. Hodder said. "Despite the huge task of rebooting women's ministries, the team provided territorial headquarters with more substance and resources than we ever thought possible."   
In 2019, Kenneth G. Hodder announced his five-year vision to double The Salvation Army's efforts toward fighting homelessness in the West, The Way Out, first to Salvationists, and then publicly at an event held at Bell Shelter in Bell, California.  
In April 2019, General Brian Peddle announced Jolene K. Hodder as Senior Commissioner: the Commissioner, other than the Chief of the Staff, who has held the rank of Commissioner longest or, if by that test there are Commissioners of equal seniority, that one of them who has served longest as an officer.
"If a High Council is needed, and the Chief of the Staff is unable to fulfill his constitutional role for any reason, I must convene a High Council," Jolene K. Hodder said.
Also in 2019, the West debuted a new vertical structure for the management of its Adult Rehabilitation Centers. 
"For decades, we have used a certain model in terms of production and retail," Kenneth G. Hodder said at a summit for ARC administrators. "In that time, we have not changed dramatically in terms of our analysis of the market, structure of systems or our technology to succeed. Our model no longer works as well as it once did."
He emphasized the territory must now commit itself to moving forward in a new and different way.
"This is not just about doing what we've done in the past more energetically," he said. "The only solution is to alter the nature of the system itself. We are going to take demonstrated results and roll them out to the command as a whole."