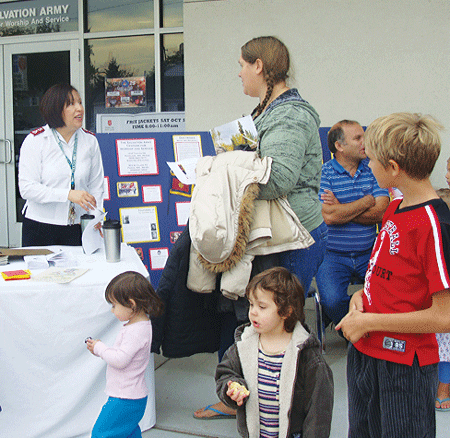 Getting through the winter with Coats for Kids
The Salvation Army in the Tri-Cities partners to help keep families warm.
Winter comes early to Tri-Cities, Wash., and stays late, so to keep families warm The Salvation Army partnered with Kadlec Medical Center, KNDU Channel 6, Battelle (Pacific Northwest National Laboratory) and the Tri-Cities School District in a Coats for Kids program, collecting thousands of donated jackets for children and adults.
On the morning of the distribution event at the Richland Corps, people lined up early. One woman brought her two little boys to "shop" for jackets, all of which received a professional cleaning. They arrived wearing worn-out sweaters, but after searching through the clothing racks the boys' eyes grew big at the sight of a Disney character jacket. One grabbed it and ran to his mom, asking, "Can we buy this one, please?" She agreed and the boys were among the happiest children present that morning.
Tiffany Flagger, Advisory Board member and special projects chairperson, took charge of the Coats for Kids program, contacting donors and sponsors, picking up and often delivering the coats, and securing media attention. "Tiffany is a remarkable board member," said Major Karen Vasquez, Pasco Temple corps officer. "Her heart is for the Army and its mission."
Thanks to so many donors, 3,018 coats were distributed to Tri-Cities families in February; getting through this winter will now be a little bit easier.