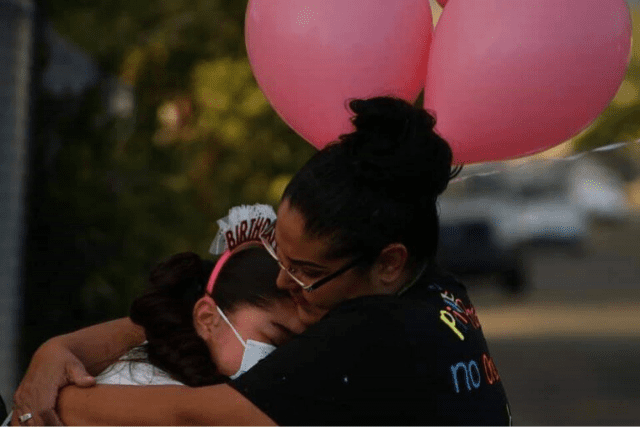 Drive-by blessings
Birthday shout outs bring Las Cruces Salvation Army and greater community together
By Caramie Petrowsky–
In Las Cruces, New Mexico, The Salvation Army together with local car clubs and community members are celebrating the young and young at heart with drive-by birthday shout outs.
The local fire department first started the trend to put a smile on children's faces while abiding by stay-at-home orders. When they got too busy, The Salvation Army along with the non-profit Las Cruces Cruising Council, comprised of local car clubs, took over.
"We started getting some requests and we thought it was an amazing idea," said Captain Noel Evans, Las Cruces Corps Officer. "We get to make people feel really special and loved."
In the last month, they've done around 40 drive-by wishes and the demand keeps increasing; on Sunday, April 26, they did six and upwards of 70 cars including low-riders, motorcycles, trucks and themed cars painted as different characters ranging from Sonic the Hedgehog to Wonder Woman joined the lineup. A Domino's Pizza employee follows behind and gifts the birthday honoree a free pizza. Evans' five children put together a gift for each child, which includes a new toy still on hand from the Christmas Angel Tree initiative inside a donated Hallmark bag along with a Tootsie Roll, crayons and coloring pages and a card from The Salvation Army that reads: "Thinking of you, giving you something to do. There is one thing I know is true, Jesus loves you!"
"It's getting really big. Anyone can join in is the wonderful thing," Evans said. "We put it out there where we'll be and the rollout time and then we just go." 
Families call the Cruising Council to request a drive-by. Hector Castor, co-founder of the Council and a member of The Salvation Army Las Cruces Advisory Board, takes care of logistics, including where everyone should meet and when.
As the line of cars draws closer to the birthday boy or girl's home, the cars play fun music, honk and make a snaking motion through the street.
The grins on children's faces make it all worthwhile, Evans said.
Now requests for birthday shout outs for adults are rolling in. The Salvation Army recently cruised by a 90-year-old man's home playing the traditional Mexican birthday song "Las Mananitas." Evan handed him balloons.
"He was so excited; it touched my heart so much," she said. "You think of the kids but we don't think of our elders, and how this is affecting them as well."
Evans helped with a birthday shout out last week that was particularly emotional.
"It was for a little 9-year-old girl who has a heart condition," said Evans, who has been in touch with the child's mom, Veronica Rosales. "She hasn't been able to go to school for awhile and she was able to start going to school again the day they shut the schools down and it broke her heart."  
Rosales called the birthday drive-by for her daughter, Azariah, "a beautiful memory to treasure for a lifetime."
"At the end of the parade, she broke down in tears because it was totally unexpected and she was just so happy and grateful for everything. We are blessed beyond measure and forever grateful to our beautiful community of Las Cruces," Rosales wrote in a thank you note to The Salvation Army. "Seeing your child suffer from their health is the hardest thing a parent could go through but seeing them ecstatic with the outpouring of love and support from the community is the most heartwarming thing ever."
A week later, Evans saw Veronica and Azariah in their car, joining another child's birthday shout out.
"It's really bringing the community together," Evans said. "I think there's nothing better than showing God's love in the world. He loves you unconditionally, always. God is bigger than anything and his love is priceless—during a pandemic and always. I could give all the toys in the world to these kids, but God's love is the most important gift."
HOW TO HELP:
If you'd like to make a monetary donation, please click here to make a gift.
Text 'GIVE' to 52000 to make a $10 donation to The Salvation Army. This will automatically add a one-time donation to your next mobile phone bill.
For information about volunteering, please visit volunteer.usawest.org.
To learn more about how to support The Salvation Army's relief efforts, please click here.