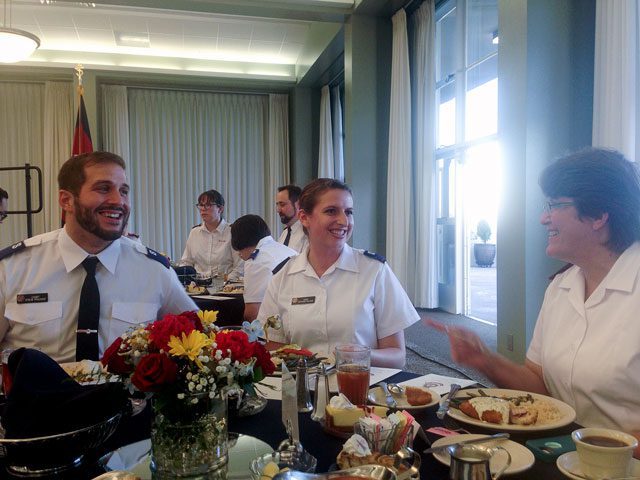 Crestmont hosts banquet for new session
Messengers of Light are urged to eradicate darkness
By Erica Andrews – 
Excitement and anticipation filled the terrace room at The Salvation Army Crestmont College for Officer Training as 52 new cadets, the Messengers of Light, were greeted at the annual Welcome Banquet. Friends, family, divisional leaders, second-year cadets and more gathered to welcome the cadets to their new life and view from atop the hill in Palos, Verdes, Calif.
"It's about the view…from here you can see across the world and think about those who need to know the Lord," said Territorial Commander Commissioner James Knaggs. "Throughout your studies you will begin to see that God has a distinct plan for your life. From your heart you will develop a vision for reaching the least, the last, and the lost."
In welcoming the new cadets—Heralds of Grace Session President, Kelsey Pearce—urged the Messengers of Light to remember that true darkness must be eradicated.
"You are after all, Messengers of Light," Pearce said. "This means that you have answered a lifelong call to send the world's bitter darkness packing. You see, darkness is the fact that each day about 20,000 children die of hunger. Darkness is coming home to the news that there was yet another school shooting in America.
"So this just isn't a welcome to the College for Officer's Training, or a welcome to the resort by the beach where you'll hang with your friends for a couple of years," he said. "This is a welcome to a lifetime of professional, tactical darkness extermination."
In response first-year cadet, Rocio Carrillo, encouraged her session to think about being a beacon of light for others and thanked everyone who had been apart of their journey to Crestmont: the Territorial Executive Cabinet, territorial candidates' secretaries, divisional leaders, members of the Crestmont Council, staff and many others.
"We are to shine in the midst of this dark sky," Carillo said. "We are to share the Word of God and live by it. We each have the responsibility before God to let our light shine in this world—that is our calling. We are the Messengers of Light."