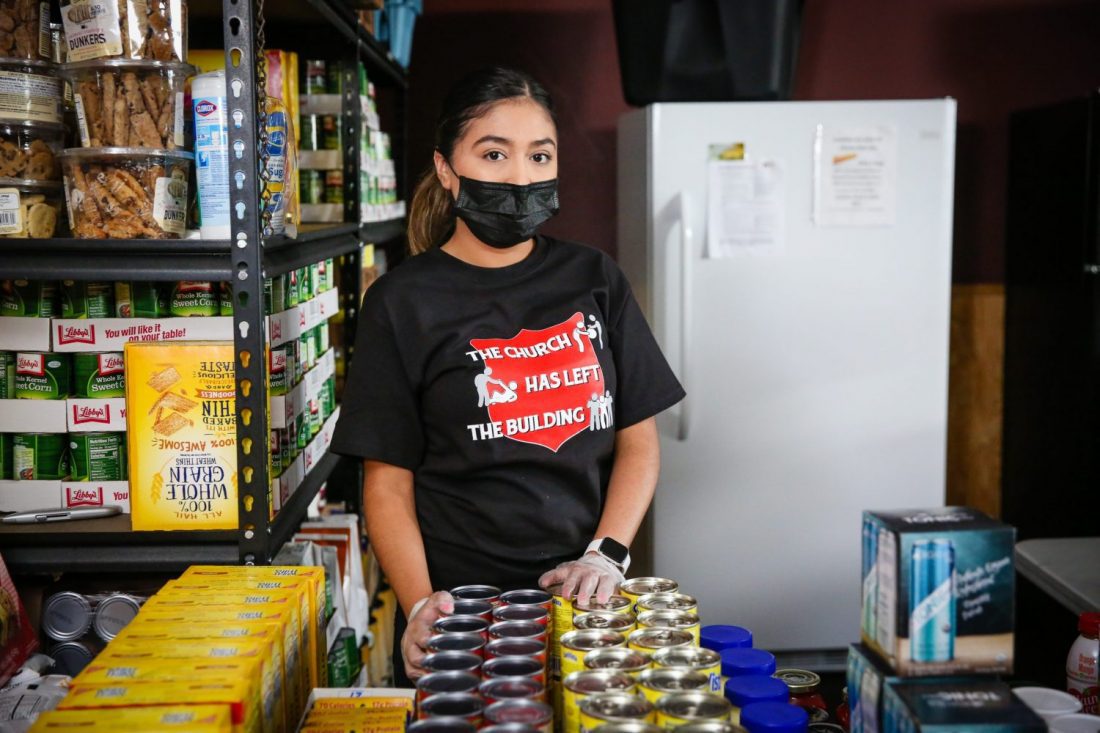 COVID-19 Salvation Army command updates: May 4
Western Territorial Commander Commissioner Kenneth G. Hodder held the 22nd teleconference meeting regarding The Salvation Army's response to COVID-19 May 4 with members of the Territorial Executive Council, divisional leaders and key staff, who joined in via Zoom from throughout the West. 
The meeting included six command reports as well as 15 minutes allotted as a forum section to accommodate questions, comments and idea sharing. 
After a roll call of command heads, Hodder shared several announcements, including the internal release of the schedule for major food distribution events across the divisions. Hodder also expressed appreciation to the Adult Rehabilitation Centers Command (ARCC) for its effort in formulating a reopening plan of the West's thrift stores.
Hodder highlighted several of the opportunities May has presented The Salvation Army, including Giving Tuesday Now, held May 5; National Salvation Army Week, held May 11-17; and I'll Fight Day, observed this year by the West's Territorial Headquarters on May 28, so officers from THQ can support the California South Division in a pair of events.
Six commands reported: Alaska, California South, Cascade, Del Oro, Golden State, Hawaii and Pacific Islands divisions.
In Anchorage, Alaska, The Salvation Army's 24-hour childcare shelter is open, Alaska Divisional Commander Major John Brackebury said, though no one has needed the shelter yet. Brackenbury added, "which is a good thing."
The Army has received $95,000 was from the Alaska Can Do Fund with United Way & Rasmuson for housing, utilities and childcare. United Way also gave gift cards for Carrs-Safeway. The Army has also received a contract with Anchorage to provide three meals a day, meal support, virtual case management with homeless individuals who are under quarantine in the City of Anchorage.
In Haines, Royal Caribbean Cruise Line is hoping to gain access back to the area after having been absent for 15 years. The cruise line's representatives asked what charity they could donate funds to, and the city recommended The Salvation Army. The Army will receive $15,000 for its food bank in Haines.
In Hoonah, the Army is coordinating with the Village of Hoonah and Icy Strait Point for a community-wide food box collection. The city is collecting dollars and food in Juneau and shipping using Uhauls and ferry fishing boats to bring food into the community. Brackenbury said right now they have 250-300 food boxes and that it's been a great volunteer event. Captain Jeff Josephson asked a volunteer why they were serving, and they said, "No ships equals no jobs equals no food."
California South leaders Lt. Col John and Lani Chamness began their report in a Star Wars style in honor of May the Fourth Be With You day, which celebrates Star Wars. The division's online Sunday school also had a Star Wars theme the past week: "May the Lord be with you." John Chamness transitioned to a serious tone when he shared he was encouraged by Camden Docherty's testimony of fighting cancer shared with the Torrance Corps Sunday. The division's retired officers meeting held over Zoom saw 40 in attendance. 
The division's fundraiser, It Takes An Army, which kicked off May 1 and will run through Giving Tuesday, featured several taped celebrity presentations in place of the usual Sally Awards. Chamness said the whole event was very low cost, but effective—the website even crashed with the number of givers. "We had a great response to this very last minute, very under-publicized event," Chamness said. "To date, we've raised $107,000."
This week, Chamness said the division will open a 400-bed hotel shelter in Downtown L.A., for which the Army is running three shifts a day and hiring about 40 people to manage that hotel alone. Along with the planned L.A. Football Club food distribution, the Army has planned another food event at Dodger Stadium. "We are really seeing the pressure on our corps for how much food they are distributing." Chamness said.
In the Cascade Division, Major Nancy Dihle reported the Army is in its first day of Operation Share Hope, a new model for food distribution, which focuses the Army's efforts in areas where it can serve more in need. Dihle anticipated 500 boxes would be distributed today. The event was featured on the local news' top of the hour segment. "We are really grateful for that," Dihle said.
Saturday is National Chinese Food day, and the Army was approached by someone who wanted to donate food because they couldn't hold the event they'd initially envisioned, so on Sunday, those in the Portland-area shelters and Silvercrest will receive a Chinese food meal.
Dihle noted officers and key employees are tiring, saying things like "this feels like the end of Christmas, but there is no end in sight." The division has launched an optional Bible study and has used psychologist Dr. Jack Anderson as a resource. 
"We are looking for ways to not lighten the load, because we can't do that, but to provide spiritual encouragement," Dihle said. 
Del Oro Divisional Commander Major Ivan Wild shared that all of the division's corps remain fully active in response to COVID-19, and that the numbers are always changing because of this. In Carson City and Reno, Nevada, the Army is sharing a $250,000 contract from United Way for rental assistance for those who have lost jobs or fallen on hard times. 
Raley's grocery store has allowed the Army to park trucks for donations to the Adult Rehabilitation Centers (ARC) at five stores in Sacramento. The division will hold a large food distribution event during National Salvation Army Week and its Big Day of Giving event May 7. For the event, the division will hold a  13-hour Facebook Live, featuring live reports from facilities and messages from officers. Ivan and Jennifer Wild will start the event with their message at 5:30 a.m. Wild thanked the division's public relations professional, Samantha Jaroscz for all of her efforts.
Wild shared the division is also trying to encourage officers, and recently launched a three-week Bible study called "It is well." In the first session 40 officers participated. "It was really exciting to see everybody face to face on the screen," Wild said.
Golden State Divisional Commander Major Darren Norton reported updated statistics from the division. So far, the Army has provided 133,000 meals, 152,000 foodboxes, 40,000 nights of shelter and 28,000 instances of emotional and spiritual care. Last week Bay Area counties announced an extension to sheltering in place that will make the order last until the end of May. 
Norton said the division's biggest change is in San Francisco, where the Army has increased its meal program for those experiencing homelessness in encampments to 784 meals to 51 encampments. Divisional Secretary for San Francisco and Divisional Men's Ministries Coordinator Captain Matthew Madsen is coordinating the city-funded program along with an employee coordinator. The San Francisco Chronicle wrote about the Army's work in this endeavor.
"This is a massive effort to us," Norton said. "It is a great blessing. We have six routes, so every day we have six vehicles traveling around the city." 
Hawaiian and Pacific Islands Divisional Commander Major Jeff Martin said Hawaii's quarantine has been extended to May 31. The division's development director arrived on Saturday, and she's quarantining in her quarters for 14 days, but is taking online meetings.
The division will be holding a state-wide food distribution event May 9 on all islands except for Kauai. On Oahu, the Army will celebrate Giving Tuesday by also giving out 600 pizzas donated from Papa John's. 
In celebration of grocer Foodland's 72nd anniversary in Hawaii, they have partnered with the Army to share a feast. The Army has been approved for a grant of $500,000 to help with food bags and food distribution. Through April 30, the division served 92,000.
Following the divisional reports, the meeting moved to a question and answer session. Hodder then read John 13:1-9 before encouraging leaders with a reflection from the time he and Commissioner Jolene K. Hodder spent volunteering in food distribution at the Anaheim Red Shield and Santa Barbara Corps. 
"In the midst of weariness, remember the heavenly impact the Army has at this time," Hodder said. "As the washing of the disciple's feet has had a lasting impact, we must believe every box of food will have an impact on the lives of those who receive it and those who hear about it.  Our contacts with people may be brief and simple, but they will have a lasting effect on the recipients of those encounters."
Hodder closed the meeting with a word of prayer.
HOW TO HELP:
If you'd like to make a monetary donation, please click here to make a gift.
Text 'GIVE' to 52000 to make a $10 donation to The Salvation Army. This will automatically add a one-time donation to your next mobile phone bill.
For information about volunteering, please visit volunteer.usawest.org.
To learn more about how to support The Salvation Army's relief efforts, please click here.