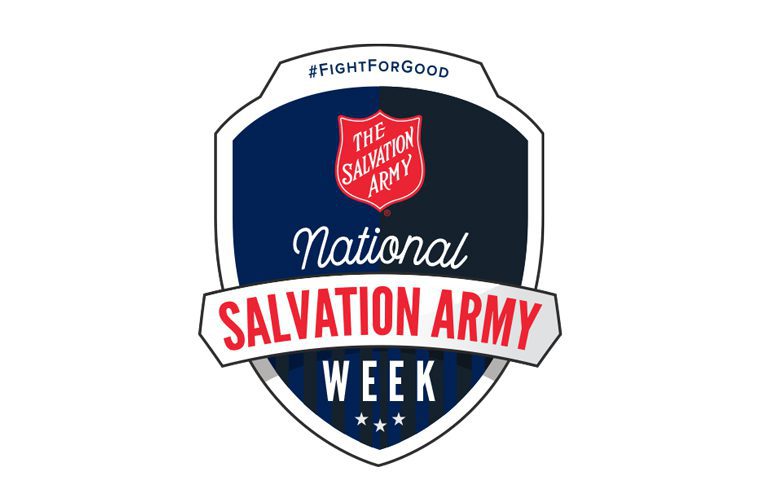 What is National Salvation Army Week?
Perhaps the most often-asked question I got when I worked at National Headquarters was "When is National Salvation Army Week?" And it always made me laugh. Knowingly.
Because, let's be real. While it is the only week The Salvation Army has that was declared by a president—President Dwight D. Eisenhower in 1954, a mere 74 years after the Army arrived in the U.S.—it is kind of like Easter, Thanksgiving or even National Donut Day. It happens in the same month every year, but on different dates—every year.
So once and for all, according to the "formula," National Salvation Army Week begins the Monday after Mother's Day—always the second Sunday of May—and runs through the following Sunday. And now that we have that all figured out, let's continue.  
The history behind National Salvation Army Week
National Salvation Army week is a celebration steeped in nostalgia, but it is also an opportunity to highlight The Salvation Army's relevance in the United States today.  
In his speech acknowledging National Salvation Army Week, President Eisenhower noted: "Among Americans, The Salvation Army has long been a symbol of wholehearted dedication to the cause of human brotherhood. In time of war, the men and women of this organization have brought to those serving their country far from home, friendliness and warm concern. In the quieter days of peace, their work has been a constant reminder to us all that each of us is neighbor and kin to all Americans. Giving freely of themselves, the men and women of The Salvation Army have won the respect of us all."
I often wonder what it would have been like to be working for The Salvation Army at that time and to receive such a public acknowledgement from a sitting U.S. President. I imagine as a public relations professional for the Army, it would have been exhilarating and humbling. And even though the declaration may seem dated and dusty, we can still take advantage of it to celebrate the work of The Salvation Army and those volunteers, donors who have been part of the Army's journey for since the start.
How to observe National Salvation Army Week today
Many a time we scratch our heads as to what we can do to aptly recognize this date. I say, keep it simple and go back to the basics.  
The last several years, The Salvation Army's National Headquarters organized visits by Salvation Army officers to Capitol Hill to share with our elected officials all the good work of the Army being done in and for their community. Those visits included a training day for officers on how to take the most advantage of the five to 15 minutes they may have with the senator or congressman. When I would accompany a national commander or others on those visits, it was always rewarding to experience the magic when the senator or congressman would understand the size, scope and significance of the organization.
Locally, some of the best practices include inviting media and donors for tours of Salvation Army corps or programs. It is a great time (and good excuse) to hold open houses. Some locations post historical stories about the work The Salvation Army is doing in their community. Last year in San Francisco, we launched our partnership with Bay Area Rapid Transit (BART). The collaboration involves partnering with BART police and delivering sandwiches and hygiene kits to the homeless on Civic Center Plaza. This year we plan to do the same. We will also be holding a Volunteer Appreciation celebration.
But perhaps one of my favorite things to do during National Salvation Army Week (and any time, really) is to think upon the rich history of The Salvation Army here in San Francisco. Pondering what life was like back in the City by the Bay when Captain Joseph McFee set up that first crab pot in 1891. Did he know he was launching an iconic fundraising tradition known around the world, that would become ubiquitous with Christmas? Or to think about, as legend has it, after the 1906 earthquake General Evangeline Booth giving all the money in The Salvation Army's national coffers to San Francisco to help it rebuild.
I also take great joy in taking a pilgrimage of sorts and walking the several blocks from Golden State Divisional Headquarters to the site of the first Salvation Army meeting in San Francisco, which, ironically, is in front of a lunch spot I used to frequent while working for a PR agency. The only thing I knew about The Salvation Army then—long before the organization would come to play an important part in my life—were its bellringers I would pass on Montgomery Street on my way to work.
This National Salvation Army Week, I encourage you to tell America to "Fight for Good," to look back at your own points of connection with the organization and to be inspired by the work of The Salvation Army in your community. Inspire others: Introduce them to the magic that is The Salvation Army.  
---
Do Good: