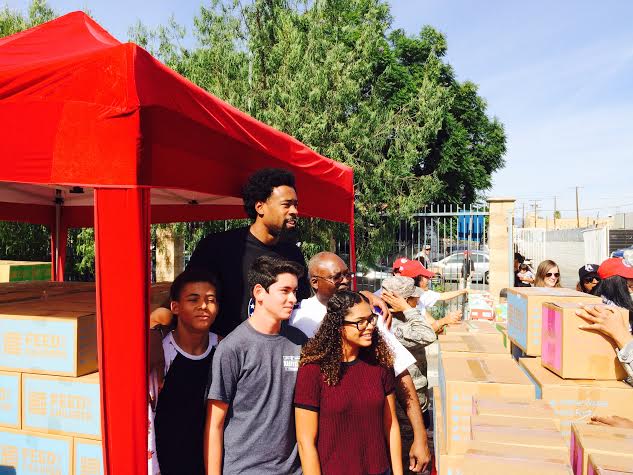 Clippers players help feed South L.A. families
The Los Angeles Clippers Foundation partnered with Feed the Community to provide food and personal care items to 1,200 families at The Salvation Army Siemon Family Youth and Community Center in South Los Angeles.
"We look forward to it every year, and the community looks forward to it every year," said Mortimer Jones, Siemon Center executive director. "Back in the day, we'd let the schools know. We no longer need to do that. Our clientele is huge, and these are clients we have a relationship with."
DeAndre Jordan, Jamal Crawford, C.J. Wilcox, Austin Rivers, Luc Mbah A Moute and Branden Dawson all helped distribute boxes of essential items to the families.
The Clippers players joined season ticketholders, staff members, Vita Coco and personnel from the U.S. Army, U.S. Air Force and the U.S. Coast Guard as part of the NBA's Hoops for Troops program to distribute packages to the pre-selected families.
Each family received at least four boxes, including canned food and dry goods as well as personal care items.
Jordan said it's important to use his platform to give back, especially coming from a single-parent home.
"It was tough at times," Jordan said. "I see my family in a lot of these families coming up, so it definitely touches home a little bit."
The Siemon Center serves one of the most troubled urban regions in Southern California, supplying living assistance to low-income families, providing growth and learning development for infants to 5-year-olds and providing academic, artistic and athletic activities for students of all ages.
Soon, the Siemon Center could become home to a corps.
"This community just wants to be loved," said Lt. Jennifer Bearchell, urban ministry director at the Siemon Center. "Up until now, there's been no one here to love them. There's been a chapel here for 13 years and it's never been utilized. I think this community is ready for a corps."
Jones agreed, noting that the reach of such events extends far beyond the financial impact.
"The median household income in this community is $22,000," Jones said. "They can take the little money that they have and use it for something else. It could be school supplies for a child, it could be just clothing, it could be shoes for a kid to go to school."
"You can't really price it, because it brings more than more money in your pocket—it's about giving these families peace of mind."