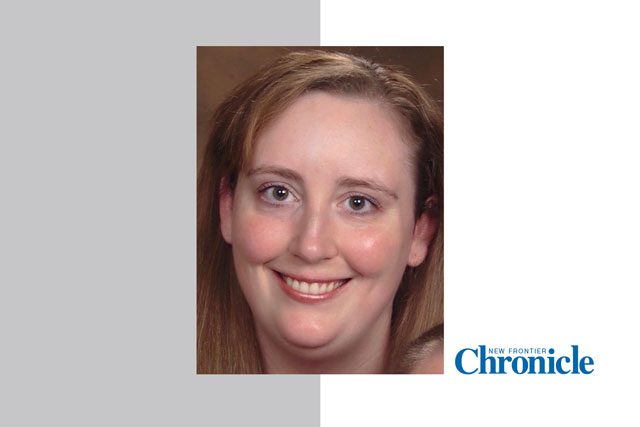 Captain Lisa Marie Davey
Oct. 7, 1983–April 28, 2020
By Mark P. Davey, Captain –
Captain Lisa Davey, after years of combatting declining health struggles and one year of fighting brain aneurysms, was quickly and graciously granted God's ultimate healing April 28, 2020, following a ruptured aneurysm the previous evening.
Lisa was born Lisa Marie Hughes in Petersburg, Alaska, October 7, 1983, the eldest daughter of Majors Dan and Verna Hughes. Lisa grew up with sister Ruthie and brother Steven in Alaska, California and Oregon before returning to Alaska while their parents served as Corps Officers in various appointments. 
From the very beginning of her life on Earth, Lisa made a memorable impact on her family and those she encountered through her amazing smile, kind eyes and heart, quiet and fierce faith, contagious laugh, bold sense of humor, and a desire to make the world a better place by sharing God's love. Lisa loved cooking, baking, hiking, reading, family board games, camping and music. She always worked effortlessly to make sure anyone who entered into her home and into her life was comfortable, valued and loved.  
Of the many verses Lisa found helpful throughout her life, she had two favorites: Trust in the Lord with all your heart and lean not on your own understanding. In all your ways acknowledge him, and he will make your paths straight" (Prov. 3:5-6) and Now these three remain; faith, hope, and love. But the greatest of these is love (1 Cor. 13:13). She lived her life, every day, following these verses. 
Lisa met her husband Mark P. Davey at King's Lake Camp in Alaska in the summer of 1999. For Mark, it was love at first sight; Lisa admittedly took a few more days. After traveling together to and from music camp that summer, when the two parted ways, Lisa said—to the shock of her parents—that Mark was her future husband. Unbeknownst to each other, Mark also told his parents that he knew Lisa was the one he wanted to marry. They started dating in 2000, and at the age of 17 were engaged to be married.  Lisa and Mark were proud to share they are each other's first and only love. 
On June 1, 2002, six days after walking together and graduating from Ketchikan High School, Lisa and Mark were married. Their marriage started through holding hands and "you may kiss the bride." Once they joined their hands together, Lisa and Mark were never apart up until their last day on Earth together. Their time together on Earth ended like it started; after her aneurysm ruptured, Lisa and Mark held hands until God took Lisa home. Lisa left from her husband's hands to her Savior's arms. There is no better way Lisa would choose to leave than with her husband by her side, holding hands. 
Lisa and Mark felt the call to officership early in their marriage and were accepted into the College for Officer Training from their home corps in Juneau, Alaska, in 2006. In 2008, Lisa and Mark started a life of ministry in their home division by leading the Haines (Alaska) Corps. Also in 2008, God blessed Lisa by giving her the greatest desire of her heart when she became a mommy through the birth of their son Mark Daniel.  The Davey family was completed just 18 months later through the birth of their daughter, Aurora Hope. Lisa made it clear from the moment she became a mother that her children were her greatest treasure, highest priority, and largest responsibility. She was an amazing mother, who always smiled brightest and laughed best when she was around the children and family she cherishes.  
Lisa served as a Corps Officer with her husband at the Haines and Mat-Su Valley Corps in Alaska, and the Casa Grande Corps in the Southwest Division. Lisa and Mark's greatest fear in training, as born and raised Alaskans, was an appointment in Arizona.  Yet, that greatest fear became a joyful reality when the Daveys moved to Casa Grande in 2014. Lisa quickly fell in love with the Sonoran Desert life and spent more than half of her total 11 years of ministry in Casa Grande and loved that corps and community. She was serving with her husband in Casa Grande when God called her home.  
Lisa is loved and missed by her parents, Majors Dan and Verna Hughes; brother Steven Hughes and his wife Shannon; sister Ruthie Hughes; and several of her aunts, uncles, cousins, and two of her grandparents. She is also loved and missed by the Davey Family she married into, including her second set of parents (whom she refused to call in-laws) Majors Mark A. and Martha Davey; sister Mary Newcomb and her husband Nathan; as well as her niece and nephew, Melenna and William Newcomb. She will always be remembered and loved by the lives she touched through her friends and corps members whom she loved as family. Every day, though, Lisa is most missed and beloved by her children, her precious treasures, Mark Daniel and Aurora; and her husband and soul mate, Captain Mark P. Davey. We find solace only in knowing that Lisa was hurting for many years and that God has, through taking her home, given her a healing she could never find on Earth; and in knowing that there were no goodbyes for any of us to share with her during her sudden passing because we will all be reunited with her through God's timing in his paradise, never to be separated again. Her love remains with us, she watches over us, and she will be there waiting for us. 
Due to COVID restrictions, Lisa's celebration of life has been postponed until 2021 so those who love her can gather together to remember and honor her amazingly powerful yet sadly short life on Earth. Her celebration of life will be May 8, 2021, at the Mesa (Arizona) Citadel Corps, at 1 p.m., led by Lisa's advocates, friends, and session mate, Major Nancy and Captain Ray Dihle. If you knew and loved Lisa, her family invites and encourages you to join and share memories of laughter and love of the precious life of Captain Lisa Davey.