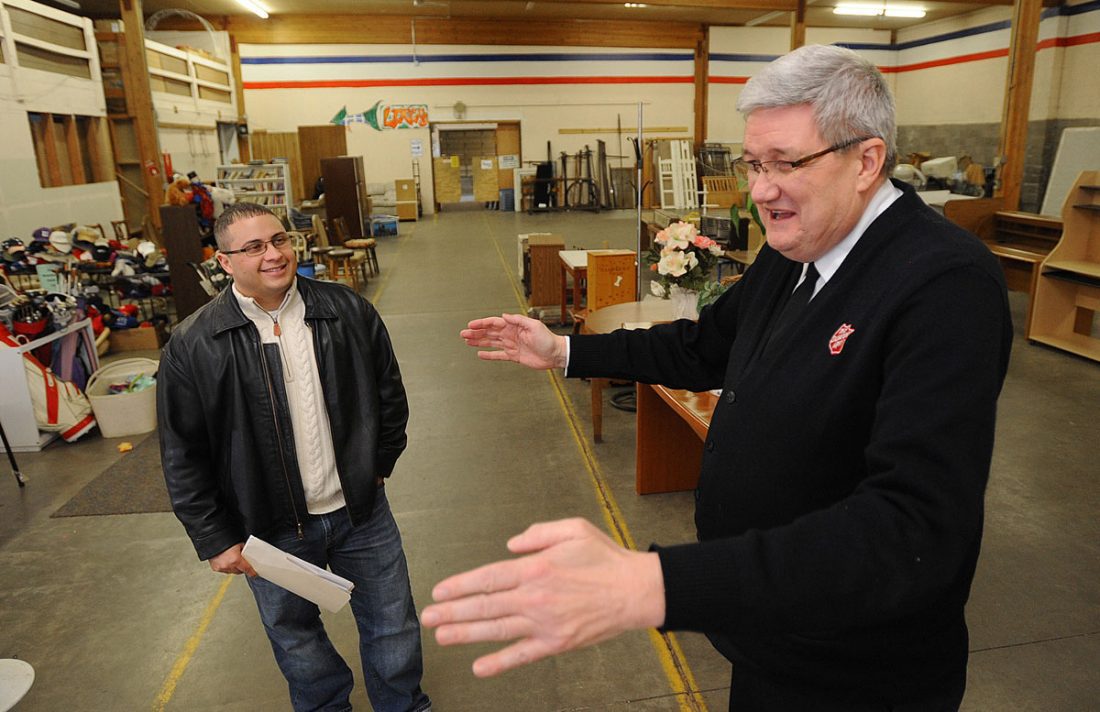 Attacking poverty from the ground up
The Salvation Army forms partnerships in Billings, Mont., to expand its ministry.
by Ed Kemmick, The Billings Gazette
If your main impression of The Salvation Army involves bell-ringers and food baskets, think again.
Under the leadership of Major Kevin Jackson, the Billings branch of The Salvation Army is rolling out programs to pull families out of poverty, immerse thousands of children in music and the arts, teach job skills to abused women and help chronically homeless people become productive citizens.
And it is doing all this under a banner of social and environmental sustainability, with projects involving school and urban gardens, recycling operations and the use of biodegradable cups, plates and utensils in all its food programs.
Embracing complexity
Jackson, a fifth-generation Salvation Army worker who radiates enthusiasm, said working on so many interconnected projects at once is like building a ship at sea.
But if you take a year to plan something in this fast-paced world, he said, you'll be two years behind when you start.
"The dream of simplicity today is an idle dream," he said. "We've embraced the complexity."
The Salvation Army has also embraced the idea of partnerships.
In the 16 months that Jackson has been in Billings, The Salvation Army has formed working relationships with the Rimrock Foundation, Montana State University Billings, the city of Billings, School District 2 and the Yellowstone Boys and Girls Ranch, among others.
Bob Carr, the director of MSU Billings' College of Professional Studies and Lifelong Learning, was one of those who thought of The Salvation Army mostly in terms of bell-ringers. Not any more.
"I'm just amazed," he said. "Every day it's something new with The Salvation Army."
At the center of The Salvation Army's big plans is its old Thrift Store at 10 S. 30th St., at the west end of Minnesota Avenue. The organization is reducing the retail operation to a relatively small portion of the large complex, which includes two retail areas, a warehouse-size back room, garages, sheds and a large outdoor storage area.
After the retail operation shrinks, the rest of the property will house classrooms, grow rooms for agricultural programs, a recycling operation, piano and instrument repair shops and art classes. The center will be named "Middle Ground."
One piece of the larger plan came together in mid-December, when the Billings City Council approved a project involving The Salvation Army and Rimrock Foundation. With a $300,000 grant from the federal Department of Housing and Urban Development, the Salvation Army will create a composting business at Middle Ground, and Rimrock will provide nearby housing for the chronically homeless people who will work at the business.
By next spring, The Salvation Army expects to hear whether it will be awarded two other grants that it is seeking —a $1 million grant from the Department of Agriculture for its school garden projects, and a $135,000 grant from Microsoft Corp. for a computer rebuilding and recycling project, which will be part of a job training program.
But whether or not those grants come in, The Salvation Army intends to push ahead with Middle Ground and the community and school gardens.
Funding
Jackson said the organization has committed $1 million to those projects in the coming year. That money is already in hand, some of it coming from unused funds from previous budget years and some in the form of grants from the national Salvation Army.
Other funds have come from a successful campaign to raise money from private and family foundations in the region, including the Sample and Fortin foundations in Billings. Jackson said The Salvation Army applied for 18 private foundation grants and had 16 of them approved.
In addition, Stephany Marreel, financial development director for The Salvation Army's Intermountain Division in Denver, has been spending four or five days a month in Billings, soliciting major grants from organizations and individuals.
Jackson said The Salvation Army also has about 2,000 contributors who regularly make donations ranging from $10 to tens of thousands of dollars.
And, as word spreads about all the activities and projects under way at the Billings Salvation Army, unsolicited donations continue to roll in. Two weeks before Christmas, a "bachelor rancher" wrote a $15,000 check to The Salvation Army, Jackson said.
Before officials with the national Salvation Army would officially sanction Jackson's ambitious plans, they said he and his wife would have to make a commitment to stay in Billings at least 10 years, to make sure the momentum behind the projects was not lost. The Jacksons agreed to that.
"We are in this to see it through," Kevin Jackson said.
History
The partnership with the Rimrock Foundation came about because the city's Community Development Department, which has been working with the Mayor's Committee on Homelessness, obtained authorization for the HUD grant last spring but couldn't find any businesses or agencies willing to put together a project that combined housing and employment.
Community Development Manager Brenda Beckett mentioned the project to Jackson, but he said The Salvation Army had no experience with residential programs.
She told him that the Rimrock Foundation was the local expert in residential treatment, and that he should talk to Mona Sumner, Rimrock's chief operating officer and current chair of the homelessness committee.
"He said, 'OK, I'll give her a call.' And then he walked out," Beckett said.
She wasn't optimistic that anything would come of it, but within a few days, The Salvation Army and Rimrock had worked out a joint proposal and submitted a grant application.
As soon as word came through that the grant was approved, Rimrock purchased a duplex barely a block from The Salvation Army Thrift Store — literally the closest residential building to what will soon be Middle Ground.
Creating jobs
Sumner said six formerly homeless people who have been enrolled in Rimrock addiction-treatment programs will live in the house and work at Middle Ground.
As with other residents of Rimrock's "sober housing" units, the residents will pay rent of $250 to $265 a month and will be responsible for providing their own food. Residents will receive case-management services at home and work.
Work will consist of running a Bokashi composting operation. Developed in Japan, Bokashi composting involves the use of anaerobic microorganisms that break down kitchen wastes in odorless containers.
The workers will collect food waste — from the preparation process, not table scraps — from restaurants, cafeterias and other sources and convert it into rich, organic compost.
The compost can be sold to help make the project self-sustaining, and some of it could also be used in the food-growing operations and community gardens in which The Salvation Army will be involved. The workers will also produce and market home Bokashi kits. And, because the project is being used as a national model by The Salvation Army, Jackson hopes some of the workers can be certified to go to other communities and start similar operations. Residents will move into the duplex early this year and the Bokashi project is scheduled to start later this winter.
"It makes all kinds of sense," Sumner said of the partnership with The Salvation Army. "We felt this was such a fabulous opportunity for some of our people."
Student involvement
Another key partnership is with MSU Billings. At its headquarters, The Salvation Army has a small pantry that is open to needy students, including college students. It passed out backpacks that the students can fill with pantry supplies as needed. When The Salvation Army first proposed the service, Carr, then assistant to the MSU Billings chancellor, figured very few students would need such basic help.
"We quickly discovered there were more students needing it than we thought there were," he said.
The partnership has continued to expand. Carr taught the personal finance class at The Salvation Army this fall, and he'll offer another session starting in January.
Carr's wife, Joan, coordinated the Army's recent red kettle Christmas collection. And Jackson, who taught at a Salvation Army college in California, helped teach a "Freshman Experience" class at MSU Billings this fall, introducing new students to community service.
Last spring, Jackson recruited Jason Rodriguez, the top graduating student in MSU Billings' business program, to become The Salvation Army's business administrator. Among other duties, Rodriguez put together the business plan for the composting operation.
Other MSU Billings students are teaching art and music classes at The Salvation Army.
The classes, begun by Jackson at The Salvation Army headquarters on Sixth Avenue North, now involve about 125 children, a number expected to grow to 350 to 400 by this spring. Still other MSUB students, plus faculty and staff, have been putting in regular rotations on the Community Table, The Salvation Army's outreach program to feed needy and homeless people.
"What an opportunity for our students to get involved," Carr said.
Community garden
The community garden concept happened to dovetail well with a similar project that was being developed by two AmeriCorps VISTA volunteers, Hanna Noel and Jill Bunge, who are working this year for the Community Development Department. They have been working to create a network of community gardens in Billings and have been helping The Salvation Army with its plans to develop gardens at District 2 schools.
Four Title I schools will be involved initially, with gardens actually planted at two of the schools, and a 7-acre garden will also go in near the Career Center on Central Avenue. That garden will involve the labor of 200 Career Center students and another 200 elementary-age pupils who will work in the garden after school, Jackson said.
Next spring, 15 AmeriCorps volunteers will be working for The Salvation Army to plant those gardens and possibly other community gardens, Jackson said. Also next spring, The Salvation Army intends to plant 300 apple trees in the empty lot just east of its headquarters. Students involved in the agricultural programs will sell the apples and cider, take some apples home and use some of them for the Community Table.
Mary Danly, of Danly Farms, a certified organic farm in Laurel, is acting as a consultant to The Salvation Army to help launch its ag programs. She is also working with the VISTA volunteers on a Food Policy Council, which will promote locally grown organic foods, nutrition and food security. Danly said she is especially excited about getting children involved in gardening and teaching them about the importance of locally grown foods.
"Everyone in this community needs to open their eyes," she said. "We might as well start with the children, and they can teach their parents."
Thinking big
At Middle Ground, in addition to the composting business, older students who have already completed some years of music classes will move into brass-instrument repair as well as piano tuning and piano repairs.
In partnership with the MSU Billings and the YWCA, The Salvation Army will offer classes in managerial and entrepreneurial training as well as retail and office skills to women who came to the YWCA as victims of domestic violence.
Middle Ground will also have rooms where fruits and vegetables can be grown year-round. The recycling center there will have a glass crusher, with some of the crushed glass sold and some used in the Middle Ground pottery and ceramics program.
It can all sound a little overwhelming, which Jackson acknowledges. But he said thinking big is the best way to get something done. In five years, he hopes to have 2,000 children involved in Salvation Army programs, and he hopes to have 2,000 to 3,000 regular volunteers.
"It's a ship still being built, but we're seeing some amazing initial results," Jackson said.
Reprinted with permission of The Billings Gazette