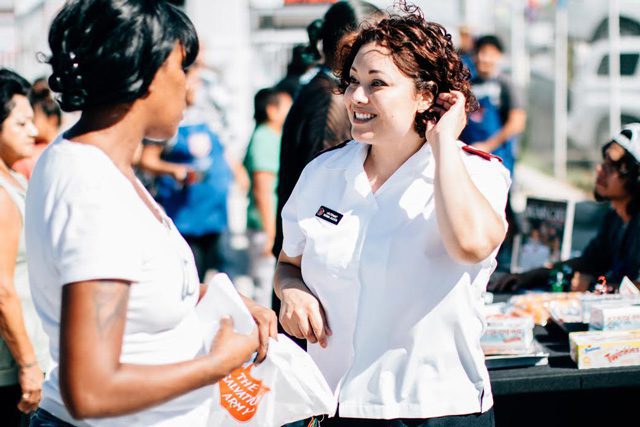 Access Centers open at two corps
The facilities will provide food, showers and case management, among other services
On the heels of a 23 percent year-to-year increase in homelessness in Los Angeles County, The Salvation Army expanded its services to surrounding homeless populations in Bellflower and Lancaster, California, last month.
According to Pilar Buelna, Salvation Army Southern California Divisional Director of Social Services, the corps received funding for the new "access centers" from Los Angeles Homeless Services Authority as a direct result of the passage of Proposition HHH last June. The proposition emphasized making services more accessible to individuals facing homelessness. The LAHSA funding contracts for the access centers are renewable and will be reviewed annually during its three-year duration.
The access centers offer food, showers, laundry services, transportation assistance, storage lockers and case management. Additionally, clients are not required to have an ID, as the centers will help connect them to the Department of Motor Vehicles to obtain one.
The Salvation Army Bellflower Temple Corps and Antelope Valley (Lancaster) Corps made for ideal locations as they were already distributing meals and other services to the homeless in their respective cities. Compared to emergency shelters, Buelna said the access centers are less expensive and are a good service model for the Army given its current outreach to those in need.
"For us, the model fits very well because we're already doing the basics, like passing out the meals at corps," she said. "It's a temporary solution to long-term problems that really need to be addressed. The focus is to get them off the street."
To do this, the case managers at the access centers will connect clients to additional services, whether that be permanent housing, employment or whatever else they may need to get back on their feet.
"The goal is to build relationships with homeless participants and provide support and referrals within the Coordinated Entry System," Buelna said. "The case managers are required to do an intake to determine needs within 24–48 hours of the participants accessing the Access Center. However, services are optional and participants decide when they are ready to participate in follow-up services."
Envoy Manuel Martinez, Bellflower Temple Corps Officer, said the access center fulfills a need in the community as the corps had already been providing meals and bus tokens to 30–40 individuals daily before it opened. The corps has partnered with other community agencies to provide additional services, including medical and psychological services, employment connections, financial education and childcare. Martinez hopes to increase the number of individuals served at the access center by 50 percent in its first year.
"The idea is to help lift them up so they can find employment and permanent housing," he said. "We want to effectively join in the fight to eradicate homelessness in the city. We want to do this so that every day there are fewer individuals without a place to live."
Antelope Valley Corps Officer Lt. Hector Acosta said this year has been eventful for the corps as they have operated a winter shelter in addition to the access center.
"We've created this fluid system of programs we can offer homeless individuals, so as soon as they come out of the shelter, we'll have coffee, donuts or breakfast for them, a caseworker is ready to work with them, and address those obstacles that are causing homelessness," Acosta said.
Acosta thinks of the access center as a great starting point for the area's homeless population.
"It's where somebody can go when they're not quite sure what is available to them or when they are not sure what their status is," Acosta said. "We can triage, figure out what the needs are, and—if we can—resolve some of the issues causing this…That allows for these individuals to be able to receive every single service that is offered in the community, even if it is not The Salvation Army providing it."
Acosta hopes the access center will help its clients get all the support they need to move forward.
"We're not interested in doing handouts," he said. "When you feed someone and that is the end of it, then we're just talking about compassion. What we're doing is social justice. We're actually an answer to what is happening in the brokenness."