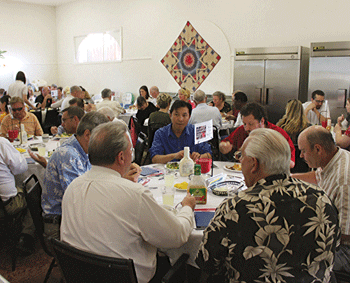 Yuba Sutter makes a progressive move
Corps invites guests to dinner and a tour.
By Stefanie Vrapi
Dozens of advisory board members and friends of The Salvation Army attended the Yuba Sutter (Calif.) Corps' 2nd Annual Progressive Dinner, held May 10.
The event was not a typical Army fete. Instead, it required hands-on participation—and guests needed their walking shoes! The goal of this progressive dinner was for guests to witness the progression in the lives of program beneficiaries—those people re-building their lives through services offered by the Yuba Sutter Corps. Attendees were first given a rundown of church and social services offered by the corps.
"Then we told guests to lace up their shoes and get in the van with us because we were going on a ride," Captain Thomas Stambaugh, corps officer, said.
Diners arrived at the Transitional Housing Center and the Depot Family Crisis center—a shelter for families once on the streets and those struggling with drug and alcohol addictions. Along with enjoying appetizers and a tri-tip dinner, they toured the facilities.
During the tour through the two-bedroom, one-bath transitional center, walkers witnessed the ins and outs of an intermediary house—a facility where Depot graduates can live after their treatment and experience a normal life. Many realized for the first time just how the Army changes lives.
"I didn't know what a proper home was until I came to The Salvation Army," a program beneficiary said while delivering her testimony to the crowd. "I feel like this is my home. I take care of it like it's my own and I feel proud that my children get to live in a place this nice, as they have seen situations much more dire."
At the Depot Family Crisis Center—a refurbished 100-year-old train depot—guests saw what is, for many, the first step in a long road to recovery. The Depot offers a safe place where families can stay and learn to live productive, drug-free lifestyles.
"The changes you see with these families within a few short months are astounding," Stambaugh said. "They come through our doors wrecked and rattled and they leave clean and sober with a fresh outlook."
Guests were able to freely tour the facility, peak into dorm rooms and talk to the clients who served the meals. Applause broke out spontaneously as visitors listened to one success story after another and witnessed how The Salvation Army ministers within their community and works to improve it.