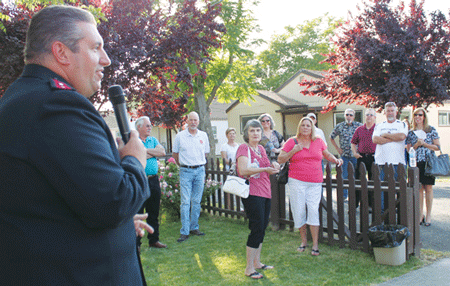 Yuba-Sutter dines and drives awareness
Third annual progressive dinner held during National Salvation Army Week.
By Sydney Fong
The Yuba-Sutter Corps held its third annual progressive dinner on May 15 in conjunction with National Salvation Army Week. Participants witnessed firsthand the corps' life-changing programs while enjoying a three-course meal with fellow supporters.
"We are trying to bring better awareness of what The Salvation Army is doing in this community," Corps Officer Captain Kimberly Stambaugh said. "We have received a lot of support by hosting this event, including gaining some new board members."
Nearly 90 people were transported to each Yuba-Sutter program site, which included the worship center/social services office, transitional housing complex, the Depot Family Crisis Center and the Open Door Center.
"I used to ring the bells for The Salvation Army, but didn't know where the money went," event attendee Sue Brookman said. "It's surprising to know what the Army does in the community—they do a lot of good work. I just thought they helped out when there's a disaster; I didn't realize they help the homeless and families in need."
Diners heard success stories at each stop from individuals who had been or were being affected by the programs.
"It felt good to tell my story," said Jason, a program participant from the transitional housing complex. "It's a way to give back, so people know how The Salvation Army helps people who are in the same situation as me. I wouldn't have gotten back on my feet without The Salvation Army; there's no way."