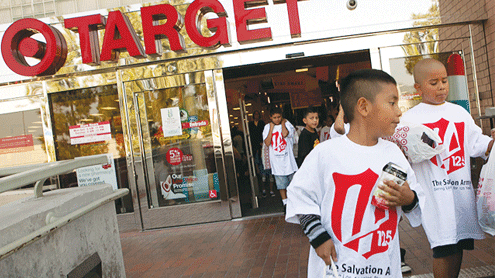 Youth in need shop for success
Target and The Salvation Army join nationwide in providing back-to-school supplies.
July 15 through Sept. 15 were the dates chosen by the Western Territory to partner with nearly 500 Target® stores in hosting the annual Target Back-to-School Shopping Spree. Target also provided 3,000 $80 GiftCards for pre-qualified K-12 students to purchase supplies and clothing needed for school in the fall.
We commend the nearly 117 Western Territroy corps who participated in this event.
The shopping spree involved similar procedures for each corps. Details of the Burbank (Calif.) Corps are detailed below.
By Kimberly Selman
It's not every day that 8-year-old Andrea Campos gets to go shopping and pick out exactly what she wants. But on July 31, that is exactly what she did as part of The Salvation Army and Target national Back-to-School Shopping Spree initiative that gives $80 Target gift cards to 12,000 deserving youth nationwide.
Campos, a member of The Salvation Army Burbank Corps' youth program, was one of 300 children carefully selected according to need from Salvation Army corps and programs throughout Southern California. The participating children, generally accustomed to hand-me-down clothing, were largely from single-parent homes, and low-income households including those dealing with unemployment.
Each  youth was matched with a volunteer chaperone to guide him/her through the store to help select much-needed back-to-school gear.
"My person was really fun and funny," Campos said about her shopping chaperone. Together they left no rack overlooked. "My favorite thing that I bought is a skirt that's blue, a shirt that is blue and a headband," she said.
Volunteers from many different companies and organizations took part in the shopping sprees throughout Southern California.
Brad Evans, one of more than a dozen Disney VoluntEARs who participated at the shopping spree in Burbank, said the event went well and that his little shopper knew exactly what he wanted.
"He was excited to get some nice shirts that he liked and some shorts and we actually had some room for pens and pencils," Evans said. "He seemed pretty excited about getting back to school."
Lt. Kari Rudd of The Salvation Army's Burbank Corps emphasized how special the shopping sprees are for the children and everyone involved.
"They can go to school, they can look good, they can feel good," Rudd said. "[The sprees are] bringing people from different parts of society together so that we can share really in God's love."
For the past three years, Target has awarded all 40 Salvation Army divisions in the U.S. Target GiftCards totaling over $1 million.