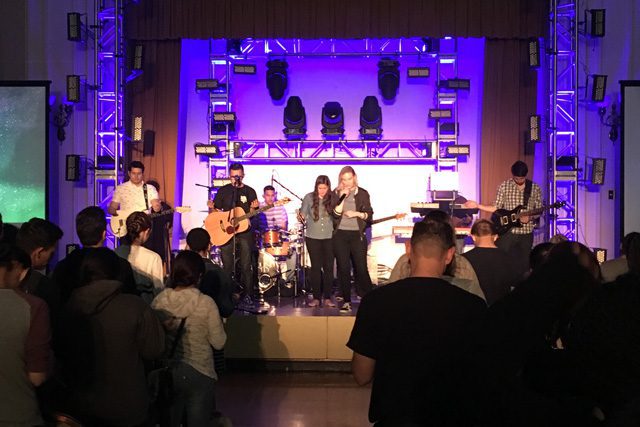 Young adults worship at Commissioning late-night event
By Samuel Hill –
Young adults from across the Western Territory came together for the Young Adult Worship Event at the Pasadena Convention Center in Pasadena, California.
Before the doors opened at 9 p.m., attendees mingled with refreshments just outside the Gold Room.
"Just hanging out with friends and fellowshipping with food before worship was a blast," said Rhys Jones, 18. "It gave everyone that came an easy place to get to know each other."
As the food went, so did the guests into the Gold Room as they were met with music performed by the featured group, Surround the City.
The Southern California-based group performed nine songs throughout the evening, which also included a video presentation between each set of three songs.
"I think that Surround the City did a really good job of bringing the spirit of God into the room tonight," said Anders Wennstig, 19. "The music was great, and it just seemed like everyone in the room was worshipping."
Members of Surround the City kept the most important part of the night in mind.
"There's a lot of smoke, lights and video to look at during the performance but the most important thing to remember is that we are all at the same place as everyone else," said group guitarist, Caleb Danielson-Doria. "We are here to worship The Lord, we're here to give praise to his name for everything that he's done for us and continues to do for us every day."
The evening was styled after the young adult summer retreat Western Youth Institute, which takes place this year during the first week of August.
"Our only hope is that any time that we do this is that people would join in worship with us," Danielson-Doria said. "That people would be able to praise his name, as the Lord would be pleased in what he sees his children do."
Youth interested in attending the Western Youth Institute this August should contact their corps officer.