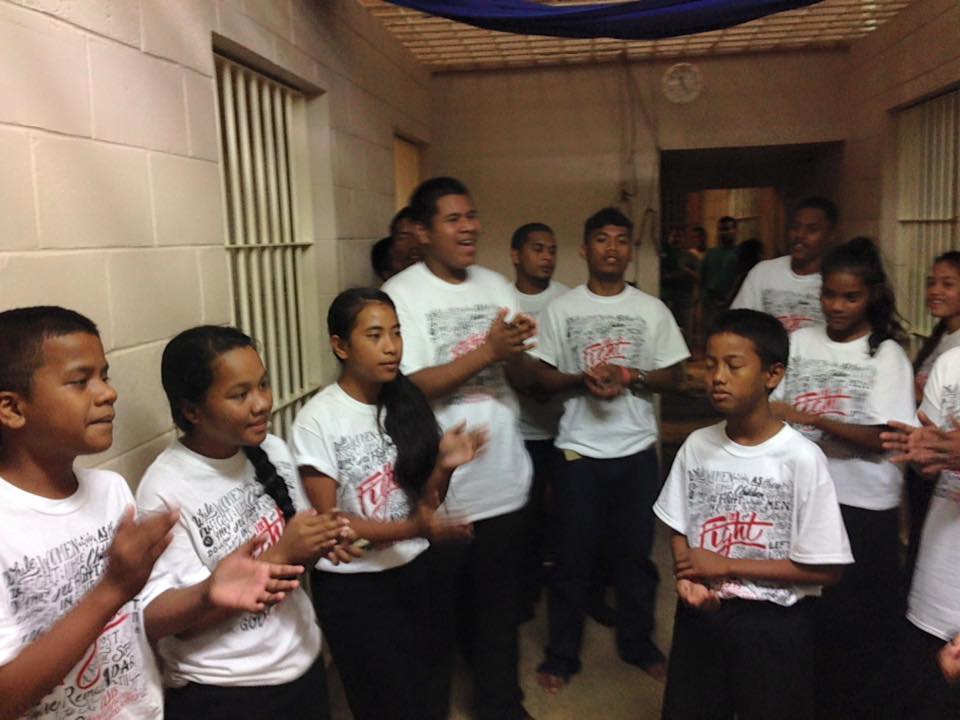 Young adults go to Majuro jail
[gss
gallery ids="17391,17390,17393,17389″]
'I'll Fight Day' promotes servant evangelism
Corps cadets from Rita, Republic of the Marshall Islands, visited the local jail Dec. 5 to observe The Salvation Army's "I'll Fight Day," which annually provides youth the opportunity for servant evangelism—to share the gospel through practical acts of kindness.
The 19 corps cadets considered multiple options and decided to visit the jail in response to William Booth's words: "While men go to prison, in and out, in and out, as they do now, I'll fight."
The jail facilities are limited in Majuro, and according to Major Judy Bennett, Marshall Islands Leadership Training Center director, the jail only houses men. If a woman is convicted of a crime, she serves out her time under house arrest, and no child under 18 faces any type of punishment from the judicial system. With limited jail space, depending on the crime some offenders are sent back to the island they came from.
"It had been a long time since The Salvation Army had visited the Majuro jail," said Major John Bennett, Marshall Islands coordinator, who accompanied the group along with Captain Herine Hampton, Leadership Training Center instructor.
They found 16 people in the jail; not all were inmates—a few staff also joined the meeting.
Corps cadet Ranson Balos led the meeting, during which the group sang two praise songs and one hymn, and prayed for the men.
Balos invited any of the men to speak of God's work in his life, and one man stood up and gave his testimony.
During the message, Balos noted that this was Gospel Day weekend, the time when the Marshallese people remember the brave men and women who came on the ship Morning Star and brought the gospel to these islands.
When he invited all present to stand and raise their right hands to signify to Jesus their willingness to receive and commit themselves to the gospel, every inmate, every corps cadet and every staff member stood and raised their right hands.
"It was a moving experience," Bennett said. He hopes it marks the beginning of a new ministry for the Rita Corps in Majuro.
Participants then shook hands "iakwe iakwe" style, the traditional greeting of Marshallese Christians.
Since all personal items for prisoners must be provided by family or friends, the corps cadets left toilet paper, small towels and bath soap as gifts for the men.