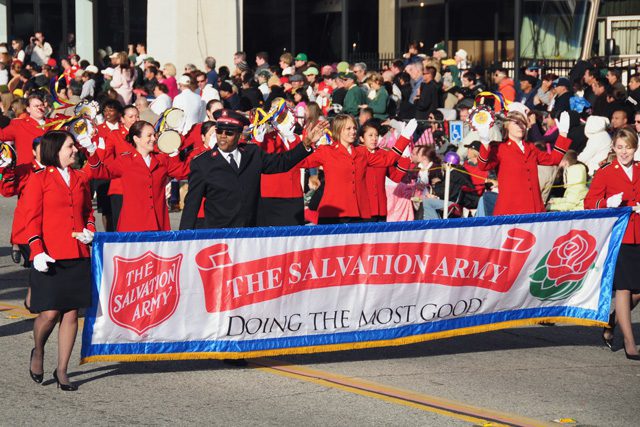 Year at a glance: The Salvation Army Western Territory in 2019
From the centennial celebration of The Salvation Army marching in the Tournament of Roses Rose Parade in Pasadena, California, to the announcement and roll-out of The Way Out initiative, the USA Western Territory had an action-packed year in 2019. As the year comes to an end, New Frontier rounded up some of the major happenings of the West to reflect on in preparation for 2020—the 100th anniversary of the formation of the Western Territory. 
January
Salvation Army celebrates 100 years of marching in Rose Parade 
"It is the world's biggest open air," said Bandmaster Kevin Larsson. "That's why we keep on investing into it…we're playing 'Amazing Grace' or 'Stand up for Jesus' and often the name of the song is displayed on TV, so we can reach millions, millions and millions with that ministry."
Salvation Army extends help to shutdown-affected Americans
In a survey conducted by The Salvation Army National Social Services Department of more than 200 individuals working in the field for The Salvation Army, over 40 percent of respondents cited "food" as the shutdown's most significant impact on their respective programs.
Thatiana's Home opens as West's first emergency safe house for trafficking survivors
Thatiana's Home opened Jan. 27 and is the first 24-hour staffed, 90-day emergency safe home for identified victims of sex trafficking in Orange County.  The safe house can accommodate nine survivors at a time, and takes a trauma-informed, victim-centered and victim-informed approach.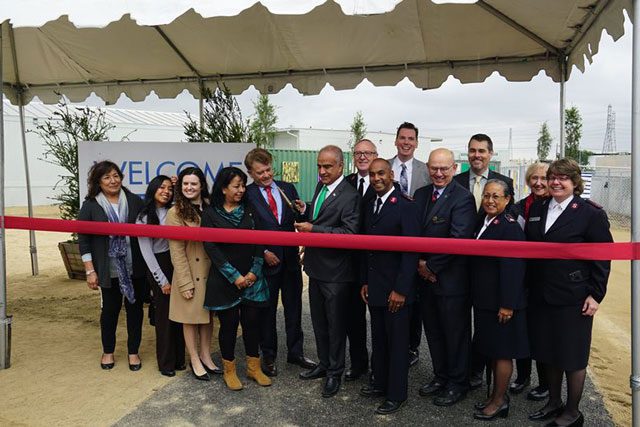 February
Orange County opens temporary emergency shelter
The Salvation Army Orange County (California) and the city of Anaheim held a ribbon cutting Jan. 31 for a 224-bed temporary homeless shelter on the property of the Anaheim Adult Rehabilitation Center (ARC).
Marie Kondo Effect' finds its way into thrift stores
"New Year's resolutions have never had this effect before. There is something bigger going on," said Dalita Lovett, Western Territory Adult Rehabilitation Center (ARC) Command Director of Resource Development. "Marie Kondo's show seems to be really resonating with Americans in a profound way. People are trying to find joy in their lives. The show is propelling that for sure, but I think that a lot of things we're doing in and out of the stores and our donation sites are helping get the word out, as well."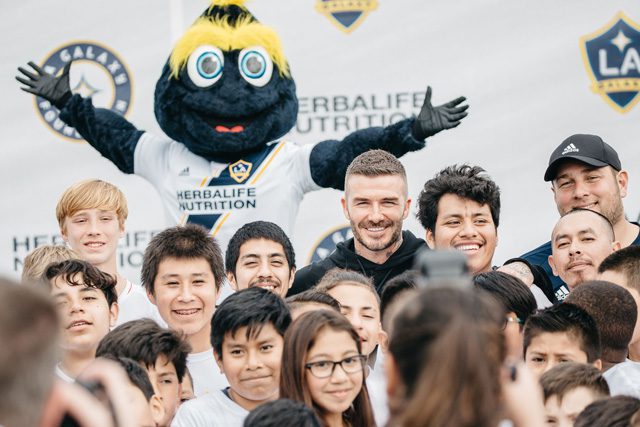 March 
David Beckham, LA Galaxy give Red Shield new soccer field
Funded by the L.A. Galaxy Foundation, David Beckham, Herbalife Nutrition and AEG, the David Beckham L.A. Galaxy Community Field replaces a well-worn field at the L.A. Red Shield Youth Center. The turf field will give 2,000 L.A. youth from the underserved neighborhood a safe place to play soccer each month.
Motorcycle ministry revs up in West
This is not just a motorcycle club; instead it is a ministry of the local corps' CCM to the lost, forgotten and marginalized," said Major Kyle Trimmer, then Western Territorial Men's Ministry Secretary. "Participants combine their love for Christ with a love for riding, taking to the streets to minister through CCM activities locally or regionally, or anywhere in the Western Territory.
Salvation Army partners with Modesto, Stanislaus County to combat homelessness
After exploring their options, the City of Modesto and Stanislaus County decided to partner with The Salvation Army to tackle homelessness with a detailed plan—which includes opening an additional 180-bed shelter in the organization's Berberian Homeless Shelter warehouse building.
Women from the California South Division attend 4th AdultCon
Now our fourth year at AdultCon, The Salvation Army, again, found its niche educating about the problem of human trafficking, bringing awareness to its direct link to the sex-trade industry, and praying with individuals—offering free "spiritual readings" to the displeasure of our psychic reading counterpart who claimed we were "taking all her business" and asked us to change the wording on our sign. (We did, by the way, to "Free Spiritual Encounter.")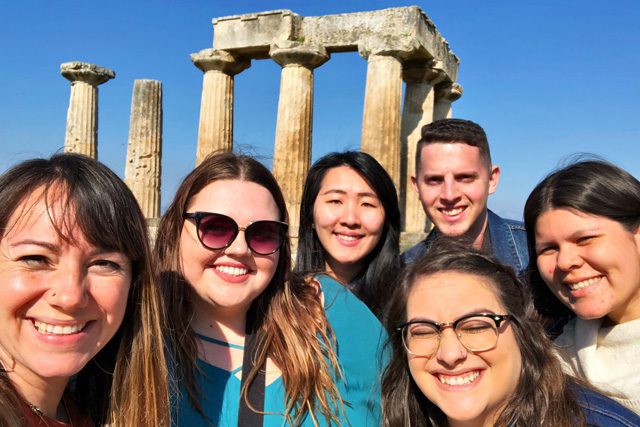 April 
Commissioner Jolene K. Hodder is now 'Senior Commissioner'
"If a High Council is needed, and the Chief of the Staff is unable to fulfill his constitutional role for any reason, I must convene a High Council," said Commissioner Jolene K. Hodder, Western Territorial President of Women's Ministries. "The biggest significance for me is that The Salvation Army continues to give women opportunities that most other churches do not give."
First Justice Immersion Service Corps team heads to Greece
Right in the center of the red light district we found the The Salvation Army's Refugee Day Center (RDC) that provides holistic services to refugees, and the Green Light Project (GLP), which offers a safe place for women working the street who are sexually exploited. We spent our mornings assisting and shadowing the Refugee Day Center's staff, the majority made up of refugees themselves. Refugees serving refugees—it's quite beautiful.
Juneau hosts The Salvation Army Alaska Congress
The Salvation Army held its annual Alaska Congress March 29-31 in Juneau. Each year, Salvationists and friends gather to glorify God, celebrate Alaskan culture and welcome spring. Themed "Fully Alive," the event celebrated fellowship that is fully alive in Christ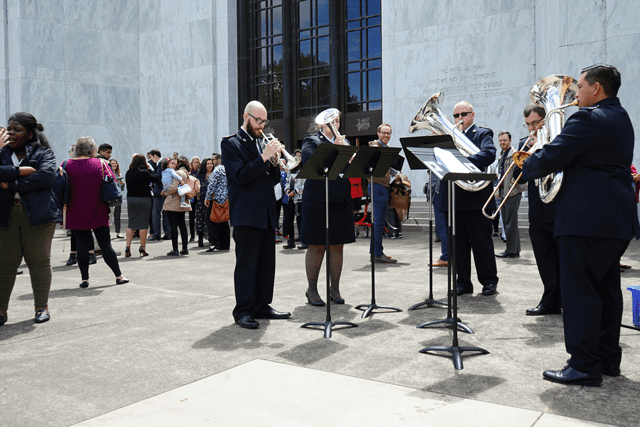 May 
Accepted candidates for Salvation Army officership announced
See the names by division of those accepted as candidates to the College for Officer Training at Crestmont in both the "Messengers of Grace" (2019-2021) and "Messengers of Reconciliation" (2020-2022) sessions. 
Cascade Capitol Day spreads awareness of The Salvation Army
Few things are as symbolic of The Salvation Army as an Emergency Disaster Services (EDS) canteen, brass band and doughnuts. All three were incorporated into the Cascade Division's Capitol Day, during which officers, employees and advisory board members met with elected officials at the Oregon House of Representatives in Salem, Oregon, to raise awareness of The Salvation Army's work.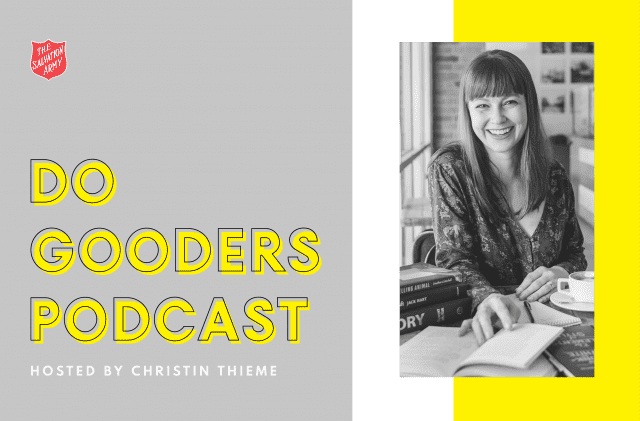 June 
Salvation Army responds to 'new normal' of asylum seekers in border cities
Since early April, over 3,800 people—mostly families from Guatemala, El Salvador and Honduras—have passed through this shelter seeking asylum and, like Cesar, a better, safer life in the U.S. The Salvation Army opened the shelter late in March at the request of the City of Yuma, which quickly became overwhelmed by the number of migrant families being processed at the border. In the past six months, ICE has released over 168,000 migrants traveling as families in U.S. border communities.  
Bakersfield Bridge House opens as Golden State's first
"It's important that we continue to look for new ways to expand our services, to increase the impact we have in transforming people's lives and so the Bakersfield Bridge House is one example of that for the division," said Golden State Divisional Commander Major Darren Norton. "It's a new program that is going to have a real transformational effect on men who come through the ARC program and need an extended stay in a supportive environment and we believe that's important throughout the division."
First-ever Sunbeam Gala honors awardees past and present
Generations of Salvation Army women and girls joined together June 8 at the first-ever Commissioner's Sunbeam Gala at the Sheraton Cerritos (California) Hotel as part of the Western Territory's 2019 Commissioning weekend.
Caring Magazine launches The Do Gooders Podcast
The podcast, hosted by New Frontier Publications Editor in Chief Christin Thieme, aims to help listeners join the fight for good right where they are, in the busyness of life. In each episode, Thieme interviews guests for ideas to make an impact—from what it means to do good, to where to discover joy, what it is really like to be homeless or how to raise kind kids.
Olympia Corps holds Senior VBS
By the week's end, 75 people had attended. Participants included those new to the corps, as well as church people. During the week, from 10 a.m. to 2 p.m., the seniors enjoyed crafts, games, singing and a Bible study on heaven. Lunches were prepared on-site. Coloring was the favorite craft and Bingo the favorite game; the songs were old church hymns.
July 
The Salvation Army has a presence at Pride events throughout the West
When people see The Salvation Army booth at San Francisco Pride, they often do a double-take. The booth, now in its third year, is run by Golden State Division staff, officers and volunteers, who dispense sunscreen, water and information, along with the message from 1 Corinthians 13:4, love is kind. This year's effort also included a prayer request box and a sign that read "free hugs."
Salvation Army commits to doubling impact on homelessness
"If we don't do something about it, we're not living up to the heritage that we have, and indeed, to the expectations the American public can rightfully have of what The Salvation Army is doing," said Western Territorial Commander Commissioner Kenneth G. Hodder. To that end, Hodder launched The Way Out—an initiative to double the Western Territory's impact on homelessness between now and 2024.
New Director of Special Needs Ministries role created 
"The fact that many special needs families cannot, or will not attend church services is devastating," said Captain Christina Arnold, newly appointed Director of Special Needs Ministries for the Western Territory. "Families who desperately need the love of God and fellowship with believers are not getting the opportunity to connect with a Christian community because many churches and programs are not suited to care for the higher needs family members."
Alameda County launches new construction training program
The Salvation Army in Alameda County, California, recently concluded its pilot three-week Construction Training Program, held in partnership with Associated Builders and Constructors, Inc. Northern California Chapter (ABC NorCal) at the Oakland Chinatown Corps—just the latest workforce development program in the Del Oro Division.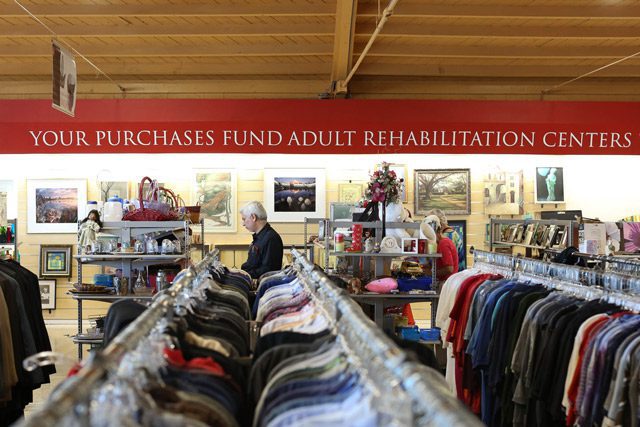 August 
The annual experience gives musicians, dancers and actors the chance to collaborate with those they don't normally see during the year. Many at WMI referred to it as an alternate universe, including special guest Bill Himes, who added that it was a safe space where delegates could experiment with their creativity and develop new relationships.
Salvation Army rolls out vertical structure for West's addiction recovery program
Now the new structure is rolling out territory-wide, shifting the focus to charge each ARC administrator with zeroing in on the rehabilitation program, building community support and ensuring follow up with graduates while new regional directors for retail and for production—who may also be officers—take on the business elements. By standardizing operations and eliminating inefficiencies, coupled with a number of program pivots, the Western Territory aims to ensure the ARC ministry continues to impact lives.
Google gives Salvation Army $1.5M to fight homelessness in Bay Area
The Salvation Army Golden State Division received a $1.5 million gift from Google.orgto focus on solutions for those experiencing homeless in the San Francisco Bay Area. This donation is Google.org's first from its $50 million commitment on June 18, 2019. This gift will support two key Salvation Army facilities addressing the causes and effects of homelessness, increasing the organization's capacity to serve the community.
September 
The Salvation Army celebrates 125 years in Hawaii
The Salvation Army in Hawaii celebrated 125 years of operation Sept. 1 at an event at Kroc Center Hawaii on Oahu, where 350 people witnessed performances by The Salvation Army's Island Brass band, several Divisional hula halau and ballet troupes.
Salvation Army welcomes 14 cadets to officer training in the West
Salvationists and friends assembled Sept. 7 on the front lawn of The Salvation Army Crestmont Campus in Rancho Palos Verdes, California, to welcome 14 cadets of the Messengers of Grace Session.
Salvation Army appoints new leaders of West's rehabilitation programs
When Majors Dina and Henry Graciani were approached by then-Adult Rehabilitation Center (ARC) Commander Major Ron Strickland about becoming ARC officers, they declined. After spending 14 years as corps officers, they loved corps ministry. As children of addicts, both had deeply experienced the impact of addiction and didn't feel like the ARC was a good fit. 
Salvation Army reopens Torrance thrift store
The Salvation Army reopened its Torrance (California) Family Store Sept. 12 as a part of the rollout for its new vertical retail and production structure for its Adult Rehabilitation Centers (ARCs). The 15,000-sq. ft thrift store is regarded as the Western Territory's flagship store because it is serving as the model for all other Family Stores in the West and is the highest grossing in revenue.
Salvation Army publicly announces effort to double impact on homelessness
The Salvation Army hosted city officials, local business leaders, the media and guests in a special event at the Bell Shelter in Bell, California, including a forum and press conference announcing the Army's intention to double its impact on homelessness in the next five years.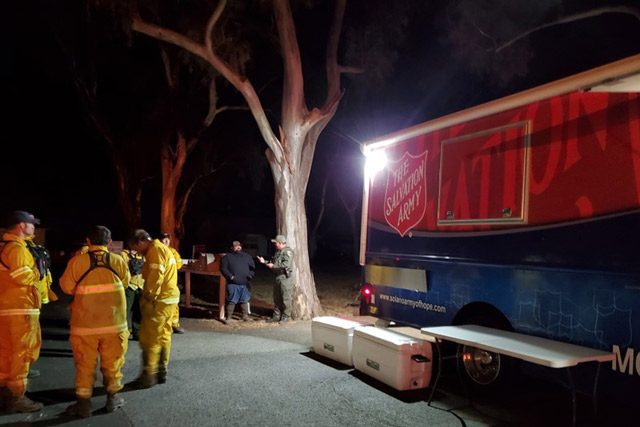 October 
Boise Corps opens new facility that brings all of its services under one roof
The Salvation Army in Boise, Idaho, cut the ribbon Oct. 19 on its new, 45,000-square-foot facility that brings the corps, social services and Booth Marian Pritchett School for pregnant and parenting teens under one roof.
$12M grant helps Salvation Army prevent homelessness
A new $12 million annual grant from the Los Angeles Homeless Services Authority (LAHSA) to The Salvation Army's Community Integration Services (CIS) Shallow Subsidy program aims to help individuals and families avoid homelessness by providing rental assistance in Los Angeles County.
The Salvation Army responds to multiple California fires
Fire crews are working around the clock at both ends of California, as historic winds have fueled an explosion of wildfires across the state. The Salvation Army is serving first responders and impacted residents in the affected areas. California Gov. Gavin Newsom declared a statewide emergency, citing "unprecedented" conditions.
Western Territory hosts International Media Symposium
"The heart of this event is the opportunity it provides those of us involved in video production in The Salvation Army to connect with and learn from each other," said Josh Cowing, Territorial Director of Multimedia Ministries. "Prior to the first symposium in 2008, we weren't even aware of each other. I know the contacts made this week will have lasting impact on our work for years to come."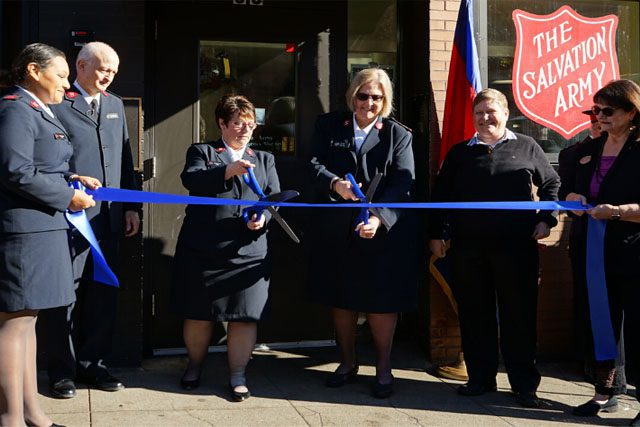 November 
Salvation Army dedicates housing for Camp Fire survivors
The Salvation Army Yuba/Sutter Corps (California) held a ribbon cutting and dedication for eight new transitional homes for families displaced by the 2018 Camp Fire in Butte County. The homes in Olivehurst are an extension of The Salvation Army's long-term recovery program it continues to offer wildfire survivors
Salvation Army cuts ribbon on new program for Portland's homeless women
The Salvation Army's Female Emergency Shelter (SAFES) cut the ribbon Nov. 21 for its new hospitality program in Portland, Oregon. The program, set to open Dec. 2, will add to SAFES' offerings, and will provide basic social services, including hot meals, showers, clothing, laundry facilities, lockers, foot care and healthy activities that foster community. 
Salvation Army partners with BART for kettles
"Partners for Change" will run from Nov. 22 to Dec. 24 and give The Salvation Army Golden State and Del Oro divisions access to place red kettles in the free area of any of the 48 stations during BART hours. Donated funds from BART riders will help provide supportive services for those who seek shelter inside BART stations and on-board trains.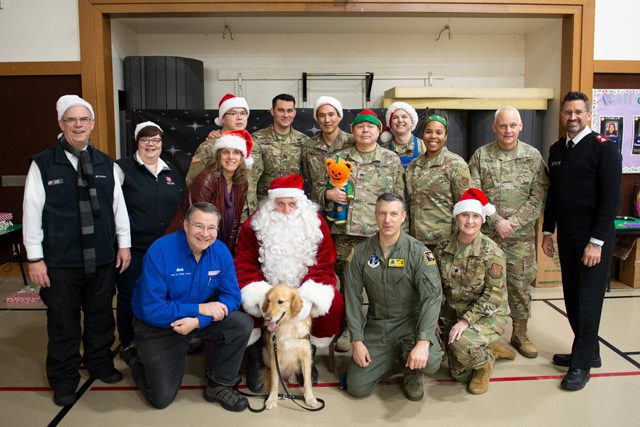 December 
National Guard and The Salvation Army celebrate 50 years of partnership with Operation Santa Claus
The Alaska National Guard and The Salvation Army pair up every Christmas season for Operation Santa Claus to share the joy of the holidays with thousands of children in rural Alaska. This year, which marks five decades of partnership between the two groups, Operation Santa visited the communities of Tuntutuliak and Napakiak—home to a combined 775 residents.