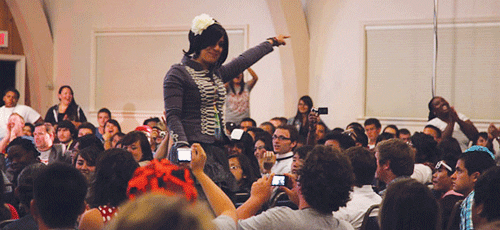 WYI 2011: 'Undignified'
Annual Western Youth Institute takes a new, "undignified" approach.
By Chris Toy
Arriving from across the Western Territory, 220 delegates aged 16-25 gathered at the Golden State Division's Camp Redwood Glen on Aug. 6-12 for the 2011 Western Youth Institute (WYI).
Captains Roy and Paula Wild, territorial youth secretaries' and Jim Sparks, territorial youth leadership development director, put on the event, which had a theme of "Undignified" and focused on the parable of the prodigal son. Guest speaker Craig Bowler shared the parable and how people today can relate to each character in it.
During the first evening program, Captain Joanne Louangamath, Cascade associate divisional youth secretary, spoke on grace.
"How often do we just stop and think about the grace that God gives us freely?" Louangamath asked. "We deserve to die in our sins but God sees us as perfect and holy if we accept his forgiveness."
Bowler wondered, "How goes it with your your soul?" challenging delegates to really be concerned with each other's spiritual well-being.
Michael Collins spoke about forgiveness on the second night. Many young people came forward and wrote on a board the name of the person they needed to forgive or seek forgiveness from. At the end, the board was wiped clean because forgiving means forgetting and moving on. Vengeance belongs to the Lord. Our job is to forgive as God has forgiven us. Forgiveness costs us our dignity.
On the third night, guest speaker Mike Yankowski explained how God gave him a vision to purposefully live homeless for five months in order to gain an understanding what homeless life is all about. Without food, money or any luxuries he set out, traveling to different states trying to survive and see through the eyes of those who have nothing.
Yankowski discovered that even the smallest gesture of kindness or help could change a person's day, week, or even their life. The message that night was simple: Look to the needs of others more than your own needs.
The fourth night featured a game show: Silent Chapel. Each cabin competed in a fun, "undignified" challenge, while remaining silent in order to win.
At the end of the week delegates participated in service projects including garden work at local farms, litter clean up at the beach, and serving meals at senior facilities.
After their day of service, delegates enjoyed a thrift store fashion show. Using clothes from thrift stores, they took to the catwalk showing off their finds and competing for various awards like "Least expensive outfit," "Nerd chic" and "Can't be put in a category."
At the final meeting there were no projector screens or loudspeakers—just a bare chapel to remind delegates that, after the initial high has passed, they will take home only what they learned and the new commitments they made. Captain Roy Wild urged everyone to continue to fan into flame the Spirit of God that was in each person's heart.
Read the full story for each day online at Saynetwork.com/wyi; view each meeting's video at: SAdropbox.com.