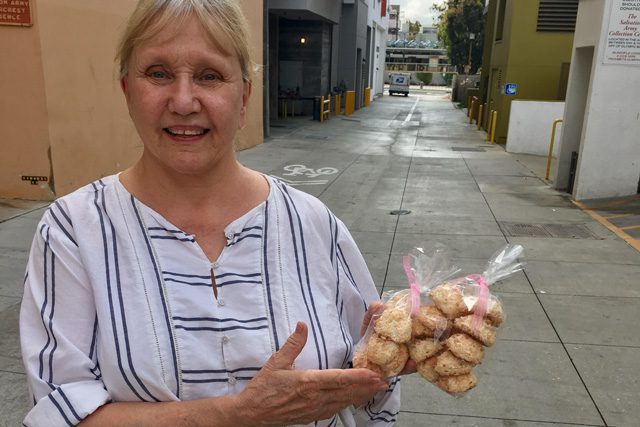 Women serving women
Through time, The Salvation Army has responded to women and their most desperate needs.
By Jolene K. Hodder, Commissioner –
Today this ministry continues, even to women trapped in the sex-trade industry, with gestures that may seem insignificant to casual observers. The seeds, however, are being planted.
"This is the type of 'in the trenches' ministry that The Salvation Army was birthed from, and warfare is real on the front lines of the sex-trade industry," said Lt. Erin Wikle, Santa Monica (California) Corps Officer and leader of the corps' "Sweet Prayers" ministry to local massage parlors.
Back in the early 1900s, thousands of women living in crowded, dilapidated city tenement houses struggled to provide for their families. The fortunate ones earned a meager living as street sellers or house servants, but most had no option but to stay home—determined to keep the family together. Despite their efforts, many of their young children, diseased and living in squalor, died. These women lost hope.
Moved with compassion, Florence Booth, wife of General Bramwell Booth, felt she had to do something, and the idea of a women's program —"Home League"—was born. In 1907, Mrs. General Edward Higgins organized the first official meeting in Leytonstone, England. Programs were simple, consisting of nutritional and child rearing lectures, devotional periods, and a time of fellowship around an Army cup of tea. Unlike most churches of that time, meetings were not limited to members, so attendance soared.
From the beginning, Home League aimed to win families to Christ, promote a purposeful life, work toward the betterment of the home, community and nation, and to link families to the corps for fellowship and service. The program succeeded, until World War II changed everything. Women took up what had been men's work in fields and factories.
Today, the Army's women's programs are still relevant. Many women are drowning, suffocating, dying of thirst. They are looking for answers, for hope, for acceptance, for fellowship. Who but a mother can fully empathize with a young woman who has suffered a miscarriage, or who struggles being shut in with small children all day? Who but a woman can sympathize with the loss of a love relationship or marriage, or the physical and emotional changes of a mature body?
But more than that, women need other women to show them how the gospel affects their womanhood. Women need others who can show them how to be a child of God and what that means in a world where one's personhood is under attack. Women need Jesus.
All over our territory, there are officers and soldiers with hearts full of love and compassion for women in their community. According to Wikle, the Santa Monica Corps' Sweet Prayers, under the leadership of former Corps Officer Captain Kari Rudd, grew from a vision to do something about the horrific reality and increasing prevalence of women being trafficked into the sex-trade industry. Currently, California is one of the top four destinations in the U.S. for human trafficking, with Southern California a hotbed for illegal activity due to its numerous port cities.
Each week, the Sweet Prayers outreach team brings cookies or cupcakes made by Silvercrest resident Sharon Tillman—herself rescued from domestic violence—to the young women working in low-rated, disreputable massage parlors in Santa Monica and Venice Beach. The team's interactions with the women are usually short; they are "welcomed" by the madame or woman in charge and quickly dismissed to the front door. The team explains that they are from The Salvation Army, offers the baked goods, and asks to pray with the women. Meanwhile some members remain in the van, covering the front team in prayer as they enter each parlor. In due time, the group believes God will make a way to bring freedom to those enslaved.
"Week after week, you show up, prayed up, and hope for conversation that lasts longer than the few short seconds that it does," Wikle said. "Consistency, persistency, and a discerning spirit are of equal importance. This week we visited a place that told us not to come back and that our sweets were too sweet…fair enough. We listened and when we visited again, we brought fresh fruit. The woman who runs the massage parlor gave us a strange look when we came back, but then her face somewhat softened when I said, 'We remembered what you said,' and handed her a bag of fresh mangos and apples. Surprised, she thanked us, then quickly offered a piece of candy from the jar sitting on their appointment book. We left, praising God for this seemingly insignificant extension of kindness. It wasn't much. But it was also everything, as we continue to build trust and relationship with those trapped in these dark places."
Whether it is the Ventura (California) Corps hosting a breakfast and Bible outreach for the Brazilian women in the community, Santa Barbara (California) Corps reaching out to the women at their community transitional living center, or Casper (Wyoming) Corps women operating their own coffee café as a witnessing tool, women are still serving women. The Salvation Army women's Bible studies, yoga and Zumba, craft classes, cooking classes, book clubs, financial planning seminars, parenting classes, and other activities are all designed to meet the ever-changing needs of women today.