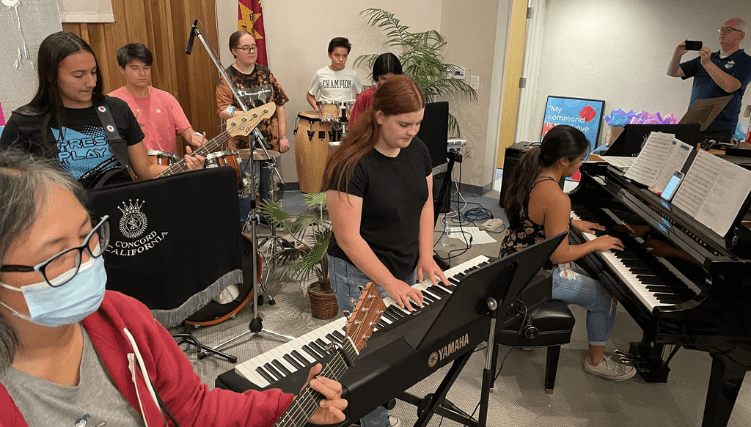 WMI Roadshow brings musical instruction to Concord—the first of its six stops
One-day event gives musicians of all ages a mini-Western Music Institute experience.
"It's like a WMI reunion," someone said, as people gathered in the lobby of The Salvation Army Del Oro Division's Concord (California) Corps July 17, for the first stop of the WMI Roadshow, an outreach of The Salvation Army Western Territory Music Department that provides musical instruction along with an opportunity to connect with one another.
The Roadshow brings together musicians for a mini Western Music Institute (WMI) experience, since WMI will again be an online event due to the ongoing COVID threat.
"If you haven't been for a long time, you forget how great it really is," Territorial Music Secretary Neil Smith said in his opening remarks, reminding everyone that WMI online, for more in-depth instruction, will take place August 2–6. 
"You're important people in the life of a corps," Smith said to the musicians. "We need you."
Unlike traditional WMI, designed for ages 14–25, the Roadshow is open to adults of any age.

"You can be 14 years old and up, which is the WMI age, but we're trying to encourage adults all the way up to whoever participates at the corps to be able to come and share in fellowship," Smith said. He noted that The Salvation Army's musicians have kept the Army flag flying during the past year.
About 65 people participated in Concord, representing corps in both the Del Oro and Golden State divisions. They could choose one or more of three tracks—brass band, singing, and worship team—during the one-day event, which included lunch and a box dinner to take home.  Majors John and Pamilla Brackenbury, Del Oro divisional leaders, attended; Pamilla Brackenbury gave the devotion at the closing concert, when musicians shared what they had worked on that day.
"It is such a beautiful relief to be back in this kind of fellowship with everyone," said Lillian Escobar, 18, from the Turlock (California) Corps. "Seeing all these familiar faces and following this familiar routine makes my heart happy."
The day didn't really begin until after everyone sang the WMI Pep Song, led by enthusiastic volunteers. 
Praise and worship leader Alissa Prince led a large group of vocalists and instrumentalists in learning two songs: "Rest on Us" and "Never Get Over It." She emphasized that the praise and worship team is not a performance group; it's about ushering in the presence of God. 
She noted the importance of choosing a key that allows most people to be comfortable singing—not too high or too low. She also spoke about song choice, how to introduce new songs and the value of repetition while learning them. It's a balance between the new and the more familiar. "We want to attract people with new music, while keeping older members engaged by including songs they know," she said.
Neil Smith led the brass band in two numbers, "Lord, Lift Me Up," and "Shine On." He worked with instrumentalists on getting in sync with each other, and on being aware of their effect on listeners.
He also spoke about the importance of taking music outside the church walls. "We want to bring people into the kingdom of God, instead of just performing for each other, even though that's good, too."
Matt Woods led songsters in three songs: "I Surrender," "I Will Praise You, Lord, With All My Heart," and "With All My Heart." He reminded everyone to consider a song's meaning and stressed the importance of going for it during rehearsals, of not holding back for fear of hitting a wrong note.

"Because if you decide to give it your all on Sunday, thinking God will be with you, it won't work out if you haven't given it your all in rehearsal," he said. He encouraged singers to listen beyond just the person next to them, and to make eye contact with the group leader whenever possible.
And he spoke about the experience of singing in a group.
"Where else do you come together and lift your voices to express a common thought, to praise God?" he asked. "And look at the diversity of this group—different ages, cultures, nationalities—it's special and worth the effort. There is no other experience like it."
In her devotion, Pamilla Brackenbury confessed that while she isn't a musician herself, she couldn't imagine a world without music.
"The power of music has impacted my life," she said. "Friends, music is incredibly powerful—think about the impact you have on the people around you. Music brings people together." 
She quoted Psalm 150: Praise him with the sounding of the trumpet, praise him with the harp and lyre, praise him with timbrel and dancing, praise him with the strings and pipe, praise him with the clash of cymbal, praise him with resounding cymbals (vv. 3–5).
"What a gift music is," Brackenbury said. "Music brings us into the presence of the Lord."
Along with a dinner to go, WMI participants took home their "Sealed Orders," a WMI tradition. On their own, delegates find a place, preferably in nature, to open and reflect upon their orders—a Bible verse, an awareness activity, a meditation and a personal response to God.  
Daniel Grant, from Concord, attended WMI every year he was eligible plus two years on staff. "It's good to fellowship with other Christians and to learn the craft to bring new [people] to the Lord by faith," he said.
The day ended with the closing benediction, "The Lord Bless Thee and Keep Thee."
The WMI Roadshow stops include: Tustin Ranch (California) Corps (7/24), Las Vegas Citadel Corps (7/31), Centennial (Colorado) Corps (8/14), Vancouver (Washington) Corps (8/21) and Southwest Divisional Headquarters in Phoenix (8/28). 
---
 Do Good: