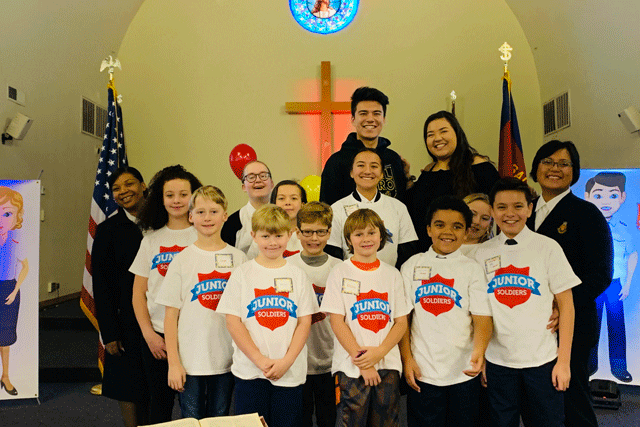 Special needs conference builds confidence, gives practical tips
Concord Corps learns from Northern California Disability Ministry Conference 
By Caramie Petrowsky – 
Last fall, Corps Officer Major AnnMarguerite Jones took the time to learn how to better love all members of the Concord (California) Corps, including those with special needs.
Jones, along with Territorial Director of Special Needs Ministries Captain Christina Arnold and two leaders from the corps, traveled to Mountain View, California, to attend the Northern California Disability Ministry Conference at the Abundant Life Christian Fellowship. 
Two children and one adult in the Concord Corps are on the autism spectrum, and Jones wanted to learn more about autism and how she can best serve those in the congregation who are on the spectrum.  
Conferences such as these are "incredibly important," Arnold said. 
"Trainings help remove some of the misconceptions of disability ministry, build confidence in the leaders and give practical tips for common barriers," Arnold said. "The Salvation Army has a long history of reaching the marginalized for Christ, and the special needs community is one of the most marginalized groups in the world."
At the conference, Jones learned there are more than the five senses—taste, touch, smell, hearing and sight—including proprioception (body awareness or where you are in space), vestibular (sense of movement or sense of balance), nociception (sense of pain) and thermoception (sense of heat or cold).
"This explained why some of our kids and adults have more challenges listening because they are actually more aware or sensitive to the things around them and struggle to process within themselves and those exterior elements at the same time," Jones said. 
Prior to the conference, Jones thought she'd need to develop a new program to help accommodate those with special needs in the corps. The answer turned out to be much more simple. 
"We don't necessarily need another program, we just need to take extra care in loving them by providing individual care," she said. 
Arnold agreed. "Ministry to those affected by disabilities, like all ministry, starts with relationships," she said. 
It can be as simple as finding a volunteer to walk alongside them or to sit with them during church or in the classroom. 
"When we do this, we're also serving their family," Jones said.
Many families with children with special needs don't go to church because they don't want to disturb others or feel embarrassed. The Concord Corps is already good about letting people know that everyone is welcome, but providing one-on-one attention can make a big difference, Jones said. 
A retired Salvation Army officer attends church with her teenage grandson, Scorpy, who has special needs. Often, Jones will sit next to him during the service, near the front where the other children sit together.
"He'll flap his hands gripping his toy snake, rock and sway to the music, and if someone says something from the pulpit, he'll respond," she said. "You know he's paying attention, and he's responding in context. To me, that brings me joy. I know he's there, and he feels a part of the family, which is what it's all about."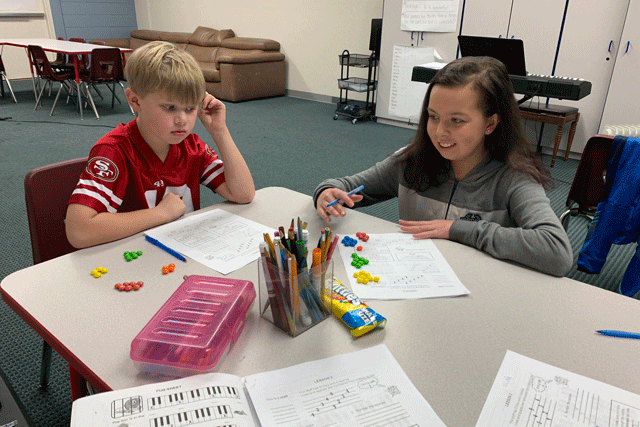 When Jones and her husband, Major Gwyn Jones, arrived at the corps in 2018, some of the volunteers were exasperated with 11-year-old Kieran, who is on the spectrum, and his older brother, both of whom struggled to listen and follow directions. Jones sat down with their father to find out what kind of plan was in place at school, which she then implemented at church.
"The consistent structure of the classes and communication with parents and guardians have helped us come to a better understanding on how to work with each other," she said.
Following the training, Jones purchased assistive devices like fidget spinners, tactile rings, sand timers and bands for the chairs, which have also proved helpful. The boys participated in the Christmas musical and they've made encouraging progress recently.
"We started doing music theory classes and these two boys in particular sat there the whole time listening and participating," she said.
Pleased, Jones snapped a picture to show their dad, a gifted percussionist who helps with music lessons at the corps. 
"That was a huge praise report," she said. "For him to know he could bring the boys and they would get musical instruction was important."
"We may not necessarily have specialized skills or training, but that doesn't stop us from just loving people where they are and giving their families hope that they and their children are welcome to be part of the fellowship and in a safe place," she said. "Despite one's challenges, they can still contribute to the fellowship.  Everyone has unique gifts that can be used to build his Kingdom."