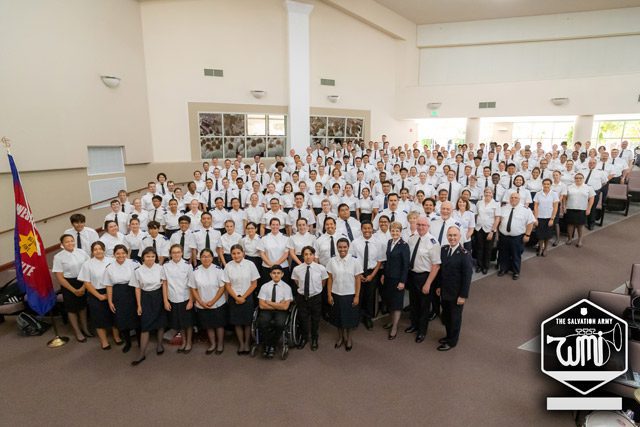 WMI 2019—'We Believe'
More than music: Annual Western Music Institute takes a look at The Salvation Army doctrines.
By Karen Gleason – 
Western Music Institute 2019—WMI—brought together 143 delegates from all over the Western Territory Aug. 2–10 at Pine Summit Camp in Big Bear Lake, California, under the direction of Bandmaster Neil Smith, Western Territorial Music Secretary. Almost 7,000 feet above sea level in an idyllic environment surrounded by sugar pines, youth sharpened their skills, deepened their faith and had fun.
"I love that everyone is just so talented here and we can get together and make beautiful music for God," said delegate Amanda Acosta, from the Santa Cruz (California) Corps.
The annual experience gives musicians, dancers and actors the chance to collaborate with those they don't normally see during the year. Many at WMI referred to it as an alternate universe, including special guest Bill Himes, who added that it was a safe space where delegates could experiment with their creativity and develop new relationships.
"I love that I get to reunite with so many people and we pick up where we left off," said Amaya Ponce from the Caldwell (Idaho) Corps. "We support each other, grow in faith and make music."
Delegate Rhys Jones from the Concord (California) Corps agreed, saying, "The friends that I met at my first WMI are the friends I still have now."
Along with fostering creative expression, WMI focused on what it means to be a Salvationist by examining the 11 Salvation Army doctrines; hence the theme, "We Believe." During chapel meetings, Linda Himes and WMI Chaplains Majors Amy and Rob Reardon, Seattle Temple Corps Officers, brought the doctrines to life, highlighting their current relevance.
The delegates chose a major study area—brass or vocal performance, praise and worship, or creative arts (drama or dance) and an elective that gave them a chance to either try something new or dig deeper into their main interest. Among the 14 electives were beginning ukulele, hip hop dance, music theory, musical theater, timbrels, studying the Bible effectively and college prep for potential music majors. All delegates participated in at least one chorus.
Along with the Himeses from the Central Territory, special guests included Gemma Hinchliffe from the United Kingdom with the Republic of Ireland Territory and Kaitlyn Hardiman from the Southern Territory. 
Musician Bill Himes is well-known in the music world, both in The Salvation Army and beyond. From 1977–2015 he headed the Central Territory's Music and Gospel Arts Department and conducted the Chicago Staff Band. Known for her passion for God's Word, Linda Himes served as Central Territorial Bible Ministries Consultant for 16 years. Retired since 2013, she is a sought-after Bible teacher.
A member of the International Staff Songsters, Hinchliffe has a long career in music and now focuses on music education and children's wellbeing. 
"The most important thing to me is to listen to God and use whatever talent he has given me to honor him," she said—summing up the philosophy of WMI.
Hardiman, who serves as Assistant Divisional Music and Arts Director for the Arkansas and Oklahoma Division, believes dance is a vital ministry component that enables dancers to draw closer to Jesus and that helps build intentional Christian community and relationships with people of all ages and skill levels.
In all, 50 staff members—teachers, supervisors and counselors—kept WMI on track. Delegates appreciated their efforts.
"All of the staff here care so much about our well-being and our progression with our musical talents," said Lillian Escobar, from the Turlock (California) Corps.
A typical WMI day began with breakfast at 8 a.m., just after flag raising, followed by a full day of major, elective and chorus practices, time out for lunch, free time and dinner, another meeting of major studies, and an evening chapel. Refreshments and cabin devotions preceded lights out at 11 p.m. At the daily flag lowering at 5:15 p.m., delegates and staff received "sealed orders." Once the flag came down, everyone found a quiet spot to sit in solitude, open and meditate on the orders, which were devotions on the doctrines.
Free time might mean a hike, swim or nap, or a sports tournament—basketball, volleyball or soccer—with delegates versus staff.
Each day was a little different. On Aug. 5, Jeremiah and Vanessa Gamble of Theater for the Thirsty, who previously led the drama track at WMI for four years, performed their original musical, "The Psalm King," based on the life and psalms of King David.
After the midweek concert on Aug. 6, delegates and staff assembled for quiz night—a special Northwest Division edition. Competition was fierce as teams tackled questions in categories including Back to School, Harry Potter, Sports and Art. 
A highly anticipated annual event was Candlelight Dinner, held off-site at a nearby community center, when delegates and staff dressed up and socialized outside the normal camp environment.
Opportunities to perform for others occurred throughout the nine-day camp. The midweek concert, soloists' night, and the final concert at the Tustin Ranch (California) Corps on Aug. 10 may be viewed on YouTube. On their last night at camp, delegates performed for each other during a worship celebration.
Smith had high praise for WMI 2019.
"It's hard to put into words the WMI 'experience' of this year," he said. "Everything seemed to align in the right way and it was easy to see God's hand on all that took place. After 21 years as s WMI staff member, you'd think that it would be 'same old' but every experience was new and refreshing, from the excitement of our new students and staff to the commitment and the encouragement of the 'old-timers.' Our electives were exciting—well-received and presented—and our Bible studies, ably led by Majors Rob and Amy Reardon and Linda Himes, were soundly and expertly presented. As we were talking about our doctrines and what they mean, it was significant material, but the students and staff were on board and ready and willing to participate—not as a secondary thing really, but after that, the music and arts teaching falls into place and takes care of itself."
Delegate Brendan Reddy, from the Portland (Oregon) Tabernacle Corps, summed up the experience.
"WMI is more than just learning music," Reddy said. "It's about coming together with like-minded, loving people to worship God through the music we learn, [and] it's about being able to build relationships with those loving people that last a lifetime."