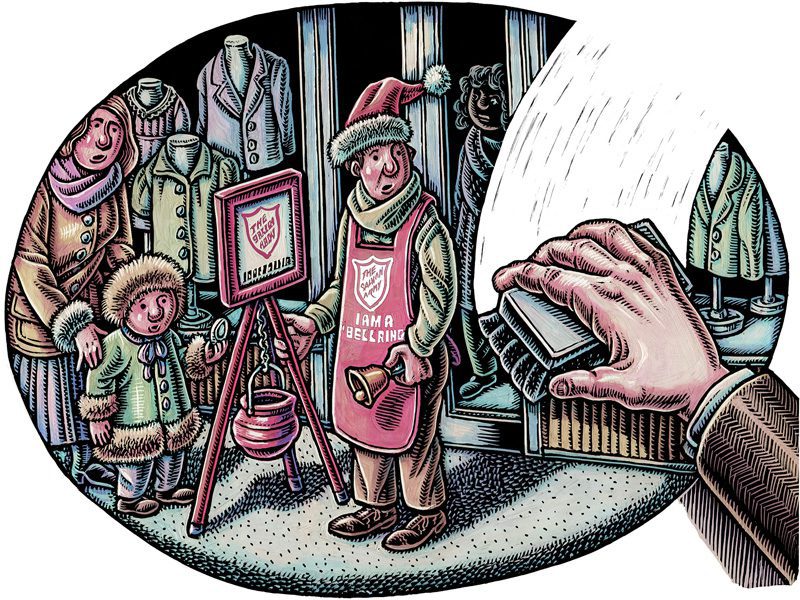 What does the 'retail apocalypse' mean for The Salvation Army? 
Parking spots for Red Kettles have gradually come under threat as the retail industry sees disruption and soaring rents.
By Jared McKiernan – 
The bright yellow vinyl banner stretched across the front of the building just beneath the logo. Its bold black lettering could be read from a quarter-mile away.
"STORE CLOSING."
This particular banner wasn't pinned to a niche boutique or a video rental store. It was plastered across the Walmart Supercenter in the Redbird area of Dallas—a facility shoppers described as "always busy." The world's largest brick-and-mortar retailer was shutting down a store in one of the biggest cities in the U.S. because it had become unprofitable.
And this was no isolated incident.
Six months into 2019, there had already been 20 percent more retail store closures announced than in all of 2018, according to a new report from global marketing research firm Coresight Research. Closures could reach 12,000 stores by the end of the year.
Given the rising cost of commercial rent and the upward trajectory of e-commerce penetration—fueled largely by Amazon's explosive growth—the future of brick-and-mortar retail appears even more precarious than once thought. According to Challenger, Gray & Christmas, Inc., retail led all sectors with 53,248 job cuts through the first two quarters of 2019.
Yet, the "retail apocalypse," as it's come to be known, isn't just felt inside stores,  it's impacting others, too. That includes The Salvation Army, which every holiday season sets up its trademark red kettles on the front porch of many retail stores. 
Manned by volunteers or paid workers, the kettles drive donations to provide food, shelter and social services to more than 23 million Americans annually. Last year, the Red Kettle Campaign raised $142.7 million, accounting for nearly a third of all end-of-year donations to the organization.
An oft-overlooked part of the kettles' success lies in the relationship between The Salvation Army and the retailers who play host to the cash collectors. That relationship quietly relies on the sales generated at these stores. After all, without a thriving business inside, there's no entryway abuzz with foot traffic and potential donors outside.
Retail's shifting and so is fundraising.
The Salvation Army is making plans to offset the retail shift. From 2014-2018, Red Kettle income dipped 1.6 percent—nothing to warrant alarmist fears, but enough for the National Advisory Board (NAB) to take notice. 
This holiday season, The Salvation Army is focusing more on securing new and different kettle partners, including more restaurant chains, which have also fallen victim to the brick-and-mortar burn, albeit at a much slower pace. New data points figure to help them pinpoint the best locations and days and times for kettle placement.
It should also be noted, the vast majority of the stores that are closing don't have kettles out front. Many of them are non-food retailers in the "consumer discretionary" sector, which tends to more closely mirror the economy. Meanwhile, The Salvation Army's highest grossing kettle locations have increasingly become "consumer staples," grocery stores, and—you guessed it—Walmarts, which, despite their spike in store closures since 2016, reported 37 percent year-over-year growth in e-commerce sales during the first quarter of 2019. 
"Almost all of the major grocery stores are investing in technology to implement curbside pickup or home delivery, so there can be an implication wherein our customers aren't passing our red kettles and going through the door," said Dale Bannon, Assistant Community Relations and Development Secretary for National Headquarters. "So that's something to look out for."
That's why The Salvation Army is looking to straddle two distinct objectives: build on what's already been established and position itself toward a future that's going more and more digital. 
One recent example was the launch of its national "Stuff the Bus" collaboration with Walmart. In addition to conducting school supply drives at about 2,800 Walmart stores nationwide on Aug. 3, they set up online registries for back-to-school items at walmart.com.
"That's a good example of investing in an important existing relationship while incorporating an online fundraising component," said Deborah Knutson, Western Territorial Director of Communications, Corporate Relations and Brand Management. "As our brick-and-mortar corporate supporters shift more focus to online sales, we need to be ready to offer them and their shoppers satisfying online giving opportunities as well."
[Kettle] school's in session.
As always, there's nothing more important than recruiting, training and deploying excellent bellringers.
Back in 2017, Western Territorial Commander Commissioner Kenneth G. Hodder set a goal of increasing volunteer hours at the kettle by 25 percent throughout the Western Territory that year. Some corps easily eclipsed that figure, raising their total number of volunteer hours by more than 100 percent from the previous year. 
Two years later, the focus remains much the same. Why? Simply put, volunteers raise significantly more than paid workers and cost much less per hour. In fact, according to data compiled by National Headquarters, volunteers drive in up to five times more gross revenue than paid workers. 
"Volunteers are happy to ring bells and they bring a joy that gravitates others to want to put money in the kettle," said Lt. Tami Moore of the Pocatello Service Unit (Idaho) in a New Frontier Chronicle article. "Not only did we have more volunteerism [in 2017], but we raised more money than in the last several years."
To help promote volunteerism at kettles, The Western Territory created "Kettle Academy" this year, a closed Facebook group designed to support officers and relevant staff as they navigate the logistical challenges of kettle season. Kettle Academy content is shared weekly, and group members are encouraged to share their own ideas, tips and best practices. The group already has some 500 members.
"Volunteers are our very best representatives. They stand kettles because they want to help their neighbors in need," Knutson said. "They are The Salvation Army to the general public—and to our partners."
Cash is no longer king.
What about the donor? How do you go about making kettles a positive experience for them?
Well, according to new research from Capital One, one in four Americans rarely carries cash at all anymore, a trend driven largely by millennials. In fact, people were more likely to spend on their credit card in an average week, with 28 percent of total purchases bought on credit card.
What's more, handwritten checks are becoming relics of a bygone era. 
The world is changing.
This year, National Headquarters will roll out "Kettle Pay," a new cashless giving option, at every kettle in the country. The initiative, which piloted last year in four cities—Seattle, Kansas City, New York City and Dallas—will allow donors to give via Google Pay and Apple Pay. 
"We're becoming a cashless society," Bannon said. "Fewer people are carrying cash. Many people, particularly millennials and Generation Z, are giving through easy pay options. So [the NAB] set out to find a solution to allow people to do just that."
While total kettle revenue dropped slightly in 2018, it was buoyed by an increase in average gift size—a trend that mirrors the organization's direct mail appeals. The hope is, giving more options for the donor at the physical kettle could spark both the average gift size and total number of donors.
It's not just about the money.
Still, with all the talk of Amazon's dominance over the retail industry, it can be easy to forget more than 90 percent of all goods are still purchased in person. And that is good news for the red kettles.
Yet, according to Lt. Colonel Kyle Smith, Western Territorial Communications Secretary, if kettles are viewed solely as a fundraising mechanism, perhaps we're missing the bigger picture.
"The visual presence of The Salvation Army being seen in the streets is probably more valuable than the donations that come from it," he said. "It reminds people that we're here, we're part of the community, that there are people in need. It reminds people of the importance of thinking of others. It's key that we stay seen in the public eye."