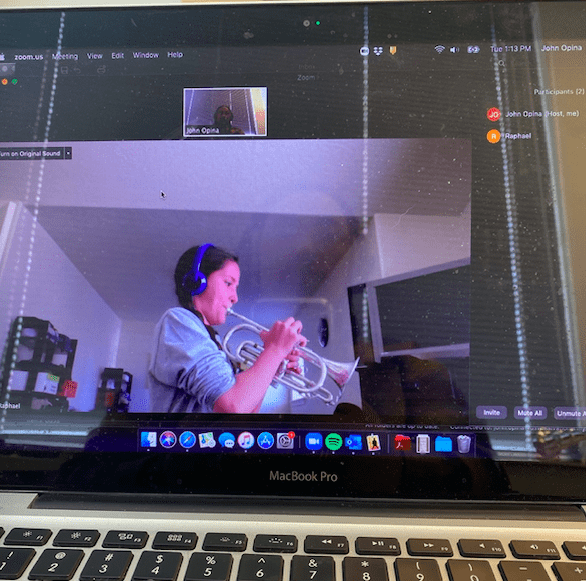 Cascade Division's music lessons keep kids connected during COVID-19
Before the shutdown, Cascade Divisional Music Director John Opina taught music lessons to around 15 students. During the pandemic, his roster has doubled, with students from throughout Oregon and Southern Idaho joining in via Zoom.
As children in the Cascade Division moved to online schooling from home, virtual music lessons have proven to supplement their education while keeping them engaged with The Salvation Army and continuing to develop music skills.
"We—the collective we—have been unable to stay connected with kids in person. There are no lessons in schools. Or private lessons," said Cascade Divisional Commander Major Nancy Dihle.
"But online, John Opina is connecting weekly with dozens of kids per week – both with musical instruction and coaching in life in general. His office is next to mine. I hear it daily. And it warms my heart."
Opina's virtual lessons began at the end of March, following Oregon's shutdown orders March 23.
"It came about with the idea of trying to keep some sense of normalcy with kids in our division as much as possible," Opina said. "Before we did it, most schools hadn't come out with online education yet and parents were trying to figure out what to do."
Music is also one of the things the Army is known for, Territorial Music Secretary Neil Smith said, noting its importance in Sunday worship.
"The best thing we as music leaders do, is build relationships with the young people we work with, so for us to be able to keep the contact, the encouragement and the 'normal' as best we can, is vital," Smith said. "We need these young musicians to feel loved, valued and part of our church family. So lessons online and that contact is important."
Since many parents would normally be coming to the corps for music lessons and groups, the online lessons keep the rhythm going while giving kids something constructive to do and parents a mental break.
Every weekday from 1-5:30 p.m., Opina teaches brass, vocal, guitar and ukulele students in about 30 minute increments. In some cases, the online lessons have touched families who live in areas where the Army doesn't usually offer music lessons.
"At the beginning, when there was no online education yet, a lot of the parents were extremely thankful that there was some sort of structure built into the day for their kids," Opina said. "As online education has come about or expanded, in some areas, it's become a part of their routine."
While part of the division, Southern Idaho, is reopening for in-person worship, the divisional music lessons will remain online until the middle of June, when the school year ends, as corps are limiting contact.
"I think it's an important time," Opina said. "Music and art, throughout history, has always been a reaction to the times…and I think it's important that we, as an Army, continue to reach out and instruct those who we can for music and arts because…a lot of creativity happens and a lot of new music and art can come out of a situation like this."
HOW TO HELP:
If you'd like to make a monetary donation, please click here to make a gift.
Text 'GIVE' to 52000 to make a $10 donation to The Salvation Army. This will automatically add a one-time donation to your next mobile phone bill.
For information about volunteering, please visit volunteer.usawest.org.
To learn more about how to support The Salvation Army's relief efforts, please click here.