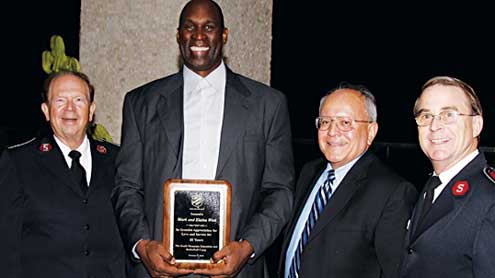 William Booth Society welcomes West
Former basketball star gives back to the community.
"Work as long and as hard as you can with your hands, and when you can't work any longer with your hands, work with your heart."
Former Phoenix Suns basketball star Mark West shared his mother's lifelong motto with members of the Southwest Division's William Booth Society at a reception honoring those Salvation Army donors.
Mark is a real testament to what his mother taught him.
West's life has been a testament to his mother's philosophy. Not only is he a gifted athlete, but also a compassionate and giving one. With a plan to reach out to disadvantaged kids, he approached The Salvation Army 20 years ago with an idea for a weeklong basketball camp at their Phoenix South Mountain Youth Center.
Now, two decades later, the summer camp is still going strong, which allows him more opportunities to touch and change lives.
"Mark is a humble, genuine individual who has given so generously to The Salvation Army…He and his wife, Elaina, have touched the lives of thousands of children and their families," Phoenix and National Advisory Board Member Marlene Klotz-Collins said. "The Salvation Army is blessed by these individuals and could not accomplish what we do without their gifts of time, talents and resources."
The positive fruit of West's labor is evident not only in the lives of his current students, but also his past ones. His alumni are now bringing their own children to the camp.
No trophies are awarded at the end of training. Rather, each participant receives a backpack filled with school supplies. After all, isn't playing basketball with an NBA great a reward in itself?
West credits Elaina for organizing the program each year.
He currently works in the front office for the Phoenix Suns.