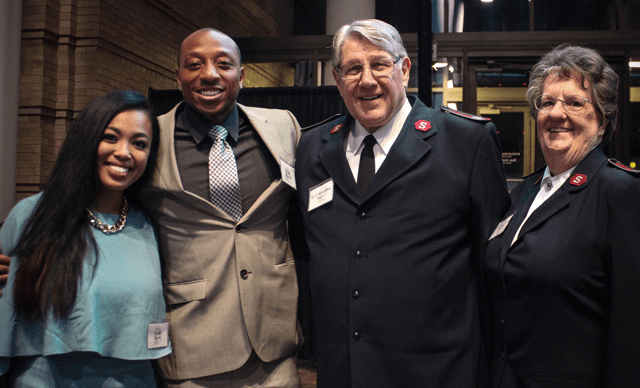 William Booth Society members gather in Denver
Over 175 William Booth Society donors of The Salvation Army Intermountain Division came together September 28 at the Denver Museum of Nature and Science. Each year, The Salvation Army invites members from across Colorado, Wyoming, Utah and eastern Montana to the annual event to acknowledge their support and offer one-on-one time with Divisional Commander Lt. Colonel Daniel Starrett. This year's event also featured special guest Chris Harris Jr., Denver Broncos cornerback #25.
In his annual "State of the Division" remarks, Starrett spoke about the difference these philanthropic gifts make every single day and restated the division's commitment to The Salvation Army mission statement—that is the guiding policy for all divisional programs and services.  
"The Salvation Army's promise of 'doing the most good' is fulfilled in each and every day, because of your generous support," Starrett said.
Three-time Pro-Bowler and Super Bowl 50 champion, Harris grew up in Tulsa, Oklahoma, where his mother enrolled him in The Salvation Army after-school program. Harris has fond memories of those times and is now a strong supporter of the Army's youth programs in and around Denver. He shared his testimonial about The Salvation Army's work and why he believes investing in young people is so important. Harris and his wife, Leah, stayed after the program to sign autographs and take photos.
The Salvation Army established The William Booth Society to recognize and honor individuals, foundations and corporations who make an annual gift of $5,000 or more to support Army programs and services.